What is the greatest movie dinner scene of all time?
Dec 09, 2014 - youtube.com -

249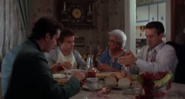 The Italian-American wiseguys in Martin Scorsese's 1990 gangster biopic spend most of their time working up an appetite. After all, dealing with snitches can be hard work as Henry Hill, Jimmy Conway and Tommy DeVito discover when they pick up blabbermouth Billy Batts to dispose of him. Instead of stopping by a diner for greasy takeout, the trio head over to Tommy's mother's where the kind dear cooks them up a treat. A well-known fact by many fans, the Italian mama is played by Scorsese's own mother, Catherine, who frets over the men like they're hungry school boys home for their supper. As the camera swings around the table, giant helpings of a staple Italian dish, spaghetti and meatballs, are devoured by the mobsters. Watching these tough guys break bread and take a moment to enjoy a home cooked meal is as equally important to the story as witnessing them break someone's kneecaps. The scene proved to be so popular that Scorsese even published his mother's recipe for the meal.

Release: September 19th, 1990 | Director: Martin Scorsese | Genre: Drama | Scene Length: 3:20 | Starring: Robert De Niro, Ray Liotta, Joe Pesci

Occasion: Impromptu dinner | Food Served: Pasta and meatballs | Notable Incident: The three wiseguys have the body of Billy Batts in their trunk
Dec 09, 2014 - youtube.com -

173
Lester Burnham is in the throes of a midlife crisis. He hates his job, his body, and his relationships with his wife and daughter. In order to regain control over his life, he takes charge and begins setting things into motion to kickstart his stalled happiness. So what better time to inform his nearest and dearest than over the family's evening meal? What's so spot-on about this scene is that director Sam Mendes essentially mirrors an earlier dinner in the movie, in which Lester's scorned spouse, Carolyn, and his indifferent daughter Janie both berate him. Except for this meal, Lester turns the tables on the pair. "Janie," he says to his offspring, "today I quit my job. And then I told my boss to go f@&k himself, and then I blackmailed him for almost sixty thousand dollars. Pass the asparagus." The back-and-forth between Kevin Spacey and Annette Bening (as his wife) makes this not only one of the best dinner scenes, but one of the film's stand-out moments. Her response to his unemployment turns into a high-pitched rant, over which no-one hears him calmly ask repeatedly for the asparagus. In a gesture to match his new lease on life, Lester slams his plate into the wall. It's hilarious, poignant and something we'd all quite like to do at times.

Release: September 8th, 1999 | Director: Sam Mendes | Genre: Drama | Scene Length: 2:30 | Starring: Kevin Spacey, Annette Bening, Thora Birch

Occasion: Evening dinner | Food Served: Asparagus | Notable Incident: Lester flings his plate at the wall
Dec 09, 2014 - youtube.com -

162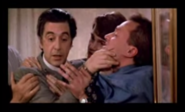 Al Pacino's commanding presence as retired Army Lieutenant Frank Slade in Martin Brest's 1992 drama is what makes this movie one to remember. His booming voice and seize-the-day soliloquys to impressionable college kid Charlie have spawned some of cinema's most memorable scenes, one of which takes place over a Thanksgiving meal. The pair decide to pay Frank's brother a surprise visit over the holiday and so begins an emotionally-charged meal. As Frank's signature style of brutal honesty becomes too much for his sibling Willie, his brother sets about tearing into the former military man. It's a tense moment as Willie explains to the group how it was his brother's own bravado that caused his blindness. The barbs come thick and fast until Frank snaps, and pushes his brother against the wall in a lethal neck hold. The impact of Willie's opinion overwhelms Frank, who bows out quietly in a sombre moment of self-realisation.

Release: December 23rd, 1992 | Director: Martin Brest | Genre: Drama | Scene Length: 6:00 | Starring: Al Pacino, Chris O'Donnell

Occasion: Thanksgiving | Food Served: Turkey with trimmings | Notable Incident: Frank gets his brother in a choke hold
Dec 09, 2014 - youtube.com -

146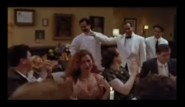 Two Italian brothers relocate from Abruzzo to New Jersey to fulfil a life-long dream of opening their own restaurant. As the local community's interest in Paradise begins to dwindle, the brothers are gifted a reprieve: singer Louis Prima will be stopping by for a meal, sending them into a flurry of activity as they cook up an extensive menu of homespun favourites.

While dinner scenes are commonly used as set dressing or a location to spice up a dialogue-heavy moment, in Big Night, the lavish sequence is all about the food. Knives chop at garlic and herbs. Onions sizzle in well-worn pans. The two bickering brothers spin around the kitchen, consulting handwritten recipes while the camera gazes longingly at the sumptuous spread the siblings bring to life. When the meal is ready the guests seat themselves at a long dining table, choreographed with the same care as is shown the actual cooking. Mouths sup at soup while faces melt with ecstasy at the flavour. The entire scene stretches across the film's final act, culminating in the glorious Timpano - a pasta pie - that's a mouthwatering sight to behold.

Release: September 26th, 1996 | Director: Campbell Scott, Stanley Tucci | Genre: Drama | Scene Length: 12:00 | Starring: Stanley Tucci, Tony Shalhoub, Ian Holm, Isabella Rossellini, Minnie Driver

Occasion: Dinner for Louis Prima | Food Served: Caprese salad, chicken pastina soup, tricolor risotto, timpano, tiramisu | Notable Incident: The brothers end up in a fistfight
5
Close Encounters of the Third Kind
Dec 09, 2014 - youtube.com -

170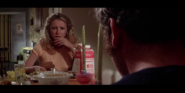 In Close Encounters Of The Third Kind, Spielberg explores the possibilities of one of the biggest questions man has ever posed; are we alone in the universe? It's a big topic and one which the revered filmmaker approaches through the experience of Richard Dreyfus' everyman, Roy Neary. After he witnesses a UFO fly overhead while driving home, he becomes obsessed with the flying saucers - even going so far as to draw out his visions of a strange mountain shape. Spielberg uses Neary's behaviour at the table to mirror his emotional response to the sighting. His 'close encounter' with the spacecraft causes Neary to retreat into a daze, as he sits down for dinner with his family one evening. He piles his plate high with mashed potatoes, and begins to carve them into the mountainous shape from his dreams. As his wife and kids look on in horror at his almost catatonic behaviour, he breaks down into tears, unable to grasp the enormity of his experience.

Release: November 16th, 1977 | Director: Steven Spielberg | Genre: Sci-fi | Scene Length: 2:40 | Starring: Richard Dreyfus, Teri Garr

Occasion: Evening dinner | Food Served: Mashed potatoes | Notable Incident: Roy carves his potatoes into one of his visions
6
Dirty Rotten Scoundrels
Dec 09, 2014 - youtube.com -

123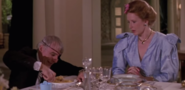 In Frank Oz's 1989 comedy Michael Caine and Steve Martin star as two international con men whose veritable talents are put to the test when they attempt to fleece a series of gullible wealthy women along the Riviera. The film's stand-out scene revolves around a dinner, during which Caine tries to put the moves on a wealthy mark. The beautiful china, ambient lighting and haute cuisine are the perfect mood-setters... that Steve Martin masquerading as Caine's "special" brother Ruprecht completely decimates. Donning an eye patch and squatting on a child's stool, he scoops up a plate of apple sauce with a corked fork ("for his protection.") He's approached by a waiter who asks in a calm voice "Would you like me to take your trident, sir?" before gently taking Ruprecht's cardboard weapon from his grasp. The look of horror on the mark's face is utterly timeless when Ruprecht asks his "brother" if he may go to the bathroom, and proceeds to go. Right there, at the table. "Thank you," he sighs smugly to top off one of the most awkwardly hilarious dinner scenes of all time.

Release: December 14th, 1988 | Director: Frank Oz | Genre: Comedy | Scene Length: 2:00 | Starring: Michael Caine, Steve Martin

Occasion: Evening dinner | Food Served: Soup, applesauce | Notable Incident: Ruprecht soils himself
Dec 09, 2014 - youtube.com -

126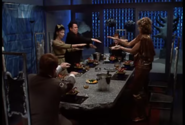 Recently-deceased newlyweds Adam and Barbara Maitland will do anything it takes to remove the Deetz family from their home. For a couple of ghosts it's a tricky task, so they enlist the help of undead guru, Beetlejuice. Learning his skills and honing them to perfection, the undead duo decide to ransack an important business dinner held by family matriarch, Delia Deetz (Catherine O'Hara.) Orchestrating a fiendish plan to ruin the Deetzes' reputation they manipulate the entire dinner party. Delia is the first to rise from her chair, as she leads the congregation in a lip sync and dance to Harry Belafonte's The Banana Boat Song. One by one everyone joins in for what's got to be one of the most surreal dinner parties captured on film from the brilliant mind of Tim Burton.

Release: March 30th, 1988 | Director: Tim Burton | Genre: Horror comedy | Scene Length: 2:00 | Starring: Catherine O'Hara, Winona Ryder, Jeffrey Jones, Glenn Shadix, Michael Keaton

Occasion: Business dinner | Food Served: Shrimp | Notable Incident: The entire party mimes to Harry Belafonte's The Banana Boat Song
Dec 09, 2014 - youtube.com -

114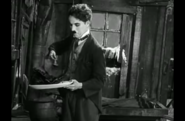 This Charlie Chaplin classic is the one film the late comedian hoped to be remembered for. In his famous role as the Little Tramp - here credited as The Lone Prospector - he journeys across the Alaskan wilderness in hopes of unearthing a wealth of hidden gold. Stumbling into a blizzard he finds refuge in a cabin and along with its resident, Jim, the pair struggle for sustenance as the threat of starvation looms. With an empty larder, the Tramp uses his initiative and cooks up one of his old boots for supper. After arranging it on his plate he plies it with the boiled water like gravy as if it were the epitome of haute cuisine. In one of cinema's most iconic scenes he carves it up with great care and divvies it up between two plates. Separating the nails from his well-shod footwear like bones from a bird, he tucks in heartily. All the while his cabin mate begrudgingly yacks away at the leather.

Release: June 26th, 1925 | Director: Charlie Chaplin | Genre: Comedy | Scene Length: 3:00 | Starring: Charlie Chaplin, Mack Swain

Occasion: Dinner | Food Served: A boiled boot | Notable Incident: The Tramp tries to eat one of his boots
Dec 09, 2014 - youtube.com -

114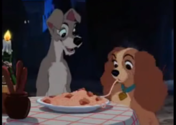 How could any list about famous film dinners be complete without a nod to this classic scene from 1955's Lady And The Tramp? Determined to show his lady love a rollickin' good time, the mutt with a heart of gold shows his street smarts in this sweet first date between two lonely canines. As proof that he knows all the best spots, the pair wander down an alley behind a noted Italian restaurant for a discarded plate of spaghetti and meatballs. For us humans the idea of plucking a pasta dish from the trash isn't the most appealing, but for these two pups it's heaven sent. Rendered in glorious Technicolor, giant meatballs drenched in marinara sauce have never looked so appetising. The high point of this meal comes when the pair each tackle the end of a spaghetti strand, gobbling it up until they meet in the middle. Highly difficult to achieve between two people, Lady and the Tramp manage it with finesse and find love at their end of their noodle. Aw.

Release: June 22nd, 1955 | Director: Clyde Geronimi, Wilfred Jackson, Hamilton Luske | Genre: Animated Comedy | Scene Length: 5:00 | Starring: Lady, Tramp

Occasion: Date | Food Served: Spaghetti | Notable Incident: The two dogs each take the end of a noodle and meet for a kiss in the middle
Dec 09, 2014 - youtube.com -

173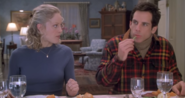 The pressure of meeting one's future in-laws can be immense. Making a good first impression is vital, so not making a complete buffoon of yourself is the top priority. Sadly, for Ben Stiller's try-hard Greg Focker the dinner table conversation gets away from him in one of modern comedy's best ever sit-down meals. Granted, his prospective father-in-law, Jack -played straight-faced by a hilarious Robert De Niro - doesn't make it any easier. His poem recital for his dead mother adds an air of unease to proceedings, before Greg begins to really make matters worse. If his mime for milking a cat isn't cringeworthy enough, he goes on to try and rectify the situation by opening a bottle of champagne. Bad move. The cork shoots from the neck of the bottle, hitting a precious urn and blasting it to smithereens - leaving Jack's mother's ashes strewn across the floor. In a final insult to injury, Jack's beloved cat Mr. Jinx appears and pees all over what's left of his dear mother. It's a truly embarrassing moment that stands as one of cinema's most memorable meals.

Release: October 6th, 2000 | Director: Jay Roach | Genre: Comedy | Scene Length: 3:30 | Starring: Robert De Niro, Ben Stiller

Occasion: Meet the family dinner | Food Served: Ham, green beans, potatoes | Notable Incident: Greg uncorks a bottle which smashes an urn full of ashes
GOAT Staff Score - Movie Dinner Scene
The candidates have been assigned a raw score across a range of criteria. The raw scores have been weighted to reflect the impact that each individual criterion has on the 'Final GOAT Score'. Only weighted scores are displayed in this table. -->TURN DEVICE SIDEWAYS TO VIEW ON MOBILE-->
| | Acting (30%) | Cuisine (20%) | Atmosphere (20%) | Critical Acclaim (15%) | Legacy (15%) | Raw Score | Final GOAT Score |
| --- | --- | --- | --- | --- | --- | --- | --- |
| Goodfellas | 9 | 9 | 8 | 8 | 10 | 44 | 880 |
| American Beauty | 10 | 4 | 10 | 10 | 9 | 43 | 865 |
| Scent Of A Woman | 8 | 7 | 9 | 6 | 2 | 32 | 680 |
| Big Night | 6 | 10 | 6 | 7 | 3 | 32 | 650 |
| Close Encounters Of The Third Kind | 7 | 2 | 7 | 9 | 8 | 33 | 645 |
| Dirty Rotten Scoundrels | 4 | 8 | 4 | 4 | 5 | 25 | 495 |
| Beetlejuice | 3 | 3 | 5 | 2 | 6 | 19 | 370 |
| The Gold Rush | 5 | 1 | 2 | 5 | 4 | 17 | 345 |
| Lady And The Tramp | 1 | 6 | 1 | 3 | 7 | 18 | 320 |
| Meet The Parents | 2 | 5 | 3 | 1 | 1 | 12 | 250 |
GOAT Verdict:
Heaped plates of spaghetti. Billows of laughter. Three gangsters. A scene that's equally as famous as the movie in which its from, the late-night gathering around Tommy's mother's table in Goodfellas is undoubtedly the Greatest Film Dinner Scene Of All Time. Director Scorsese spins a new angle on the genre by allowing us chance to see his mobsters during a moment of downtime, as the three leads return to a warm family homestead for a proper home cooked meal. With a guy in the trunk. After a long hard day's slog, there's nothing more satisfying than a helping of mom's culinary delights. Watching Liotta, De Niro and Pesci exchange banter, while scooping the final drippings of marinara with crusty bread, is enough to make you drop what you're doing and get a mean ragu on the go. The way Scorsese hints at the perfect union of food and family speaks to everyone; these guys might be gangsters, who think nothing of offing someone because they gave 'em a funny look, but when it comes to dinner they're just like us.