What is the greatest film remake of all time?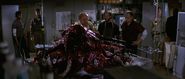 John Carpenter's The Thing mashes sci-fi and horror into a bloody pulp that's both brainy and terrifying, in this chilly tale of an extraterrestrial parasite that assimilates and replicates any host it comes into contact with. From one of horror's most celebrated tension-builders, it's a shape-shifter movie that explores the theme of identity while delivering a slew of memorable set-pieces chock full of gory scares. Based on John W. Campbell's novella Who Goes There?, that story was first adapted for the screen in Howard Hawks' 1951 flick The Thing From Another World. While that earlier effort is anchored in the sci-fi genre, Carpenter's suspenseful take on the story dwells in the horror elements. The isolated Antarctic environment lends itself brilliantly to the intended claustrophobic atmosphere. It's easily one of the scariest sci-fi horror hybrids to grace the screen, largely thanks to its celebrated special effects crew who manifested the ugliness of the creature in all its repulsive glory.

Title (Re-Make/Original): The Thing / The Thing from Another World | Release: 1982 / 1951 | Director: John Carpenter / Christian Nyby

Re-Make Budget: $15 mm | Re-Make Gross: $19 mm | IMDB Rating: 8.2 / 7.0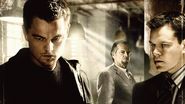 After years of loyalty to his niche genre - the New York gangster flick - Scorsese's jaunt into Boston's Irish mobster community finally rewarded him with well-deserved Oscar recognition. The twisting story of cops, criminals and the tangled webs they all weave enlisted some of Hollywood's finest acting talent; Leonardo DiCaprio, Jack Nicholson, Matt Damon, Mark Wahlberg, Martin Sheen, Vera Farmiga and Alec Baldwin all deliver outstanding performances for this compelling yarn. What many folks don't realise is that its origins are rooted in Hong Kong, where the story was first told by Andrew Lau and Alan Mak in their high-paced thriller, Infernal Affairs. It's simply put one of the finest modern crime films created, that's a cut above the hordes of ensemble crime pics released over the last decade.

Title (Re-Make/Original): The Departed / Infernal Affairs | Release: 2006 / 2002 | Director: Martin Scorsese / Andrew Lau1

Re-Make Budget: $90.0 mm | Re-Make Gross: $132.0 mm | IMDB Rating: 8.5 / 8.1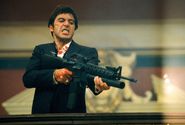 The gangster motif came into its own during the 70s, when a spawn of gun-totin' wiseguys dominated theatres and ushered in a new wave of badassery. One such entry into that canon is Brian De Palma's remake of Scarface. Along with screenwriter Oliver Stone, De Palma switched up the location from Howard Hawks' 1932 original, changing the Italian mobster cliques for the cocaine-fuelled hedonism of the Cuban gangs holed up in Florida. Al Pacino is at his career-best as Tony Montana, a kingpin who lauds his swagger over the Miami drug scene. It's a role that's equally as impressive as his work on The Godfather series for Coppola, and is chiefly responsible for the success of this balls-to-the-wall remake. In what's undoubtedly the flick's most influential element, Montana's iconic catchphrase "Say hello to my little friend" became the icing on top of this legendary movie.

Title (Re-Make/Original): Scarface / Scarface | Release: 1983 / 1932 | Director: Brian De Palma / Howard Hawks

Re-Make Budget: $25.0 mm | Re-Make Gross: $66.0 mm | IMDB Rating: 8.3 / 7.8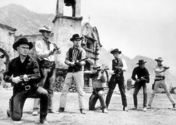 Akira Kurosawa's vast body of work appealed to many American film directors, as his films went on to inspire some of cinema's best U.S. remakes. One such filmmaker was John Sturges, who adapted Kurosawa's Seven Samurai into his crowning Western, The Magnificent Seven. His approach to remaking an already seminal film was simple; take the central idea and relocate it to an environment American audiences could identify with. Casting Yul Byrner, Steve McQueen, James Coburn, Charles Bronson, Robert Vaughn, Brad Dexter and Horst Buchholz as the seven titular gunslingers who vow to protect a Mexican village was a masterstroke. Their 'spurs and sharp shooter' version of the Rat Pack along with some of the most impressive gun fights in celluloid history made a lasting impression on audiences. Its cultural impact similarly affected this current generation of directors as another remake is now in development with Denzel Washington in contention for a starring role.

Title (Re-Make/Original): The Magnificent Seven / Seven Samurai | Release: 1960 / 1956 | Director: John Sturges / Akira Kurosawa

Re-Make Budget: $2.0 mm | Re-Make Gross: $4.9 mm | IMDB Rating: 7.8 / 8.7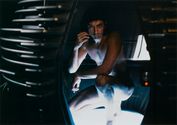 David Cronenberg's sci-fi body-horror The Fly challenged social issues of the 80s through its Academy Award-winning makeup and gross-out special effects. A vastly superior update of Kurt Neumann's 1958 original, which itself is also based on the short story by George Langelaan, it starred Jeff Goldblum as inventor Seth Brundle. A classic "mad scientist", Brundle begins to mutate into a housefly after a drunken attempt at using his teleportation device goes horribly wrong. Cronenberg ventures into revolting areas of Seth's degeneration all while maintaining a romance sub-plot involving Geena Davis' intrepid reporter. The fifties attempt still stands as a solid piece of genre clout, yet there's no doubt that the 1986 version brings to light the terrifying process of change that all humans endure, in a far more visceral manner. After all, how many times does cinema ask its leading men to vomit onto their food?

Title (Re-Make/Original): The Fly / The Fly | Release: 1986 / 1958 | Director: David Cronenberg / Kurt Neumann

Re-Make Budget: $15.0 mm | Re-Make Gross: $40.0 mm | IMDB Rating: 7.5 / 7.0
6
Invasion of the Body Snatchers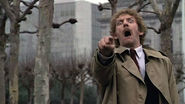 A chilling imagining of a world wherein the familiar presence of one's self is replaced by an emotionless copy, the 1978 remake of Don Siegel's original 1956 version is a far darker contemplation of the same subject matter. While they're both based on the novel by Jack Finney, Philip Kaufman's seventies effort scoops up the story from a small town and plants it in the bustling city of San Francisco. Donald Sutherland heads up proceedings, with stellar supporting turns from Brooke Adams and Jeff Goldblum. The story simmers under the same basic outline - an alien race visit Earth and replace every human with an emotionless simulacra - except this version of events is far more terrifying. In a mass of goop, the recently invaded emerge from cocoons, perfect replicas of the human they've killed. That is, except for the bone-chilling cries they emit every time they see an actual human. It's a genius piece of sci-fi that one-ups the original by adhering to a thoroughly bleak ending.

Title (Re-Make/Original): Invasion Of The Body Snatchers (same) | Release: 1978 / 1956 | Director: Philip Kaufman / Don Siegel

Re-Make Budget: $3.5mm | Re-Make Gross: $25.0 mm | IMDB Rating: 7.4 / 8.0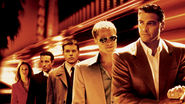 Steven Soderbergh's all-star cast transformed a standard heist story into a dazzling romp that scored massive critical acclaim before it spawned two sequels. Who could blame him for wanting to unite George Clooney, Brad Pitt, Matt Damon, Julia Roberts and Andy Garcia on screen? It's perhaps this very question that spawned the 1960 original, also titled Ocean's 11. Whereas Soderbergh's take is a who's who of hot Hollywood names, Lewis Milestone's original brought the Rat Pack together onscreen. Since dubbed by many critics as a disappointment, it's by no means a terrible flick. The elements are in place, but it lacks the buzz of the 2001 remake. Set off by a cast with undeniable chemistry, there's no dull moments. It seems like Soderbergh just happened to be there with a camera when a bunch of buddies were planning a heist, which makes Ocean's Eleven one of the few remakes to outdo the original.

Title (Re-Make/Original): Ocean's Eleven / Ocean's 11 | Release: 2001 / 1960 | Director: Steven Soderbergh / Lewis Milestone

Re-Make Budget: $85.0 mm | Re-Make Gross: $183.0 mm | IMDB Rating: 7.8 /6.6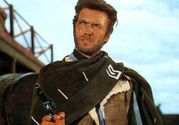 Out of the countless hundreds of spaghetti westerns to emerge from Italy, A Fistful Of Dollars is one of the most iconic. Introducing audiences to Clint Eastwood's Man With No Name, it kickstarted Italian filmmaker Sergio Leone's much-revered Dollars trilogy. While Leone denied his film was a remake - there's plenty of evidence in the finished product to dispute it. Borrowing the precise style Akira Kurosawa used to anchor his films, it's been deemed by many as an unofficial and unlicensed remake of the Japanese director's Yojimbo. Thematically, the parallels are similar, but Leone harmonises Asian and Italian operatic visuals to craft his own sub-genre. You can stand it up against the rest of its contemporaries, but there's simply no other western like it.

Title (Re-Make/Original): A Fistful Of Dollars / Yojimbo | Release: 1967 / 1961 | Director: Sergio Leone / Akira Kurosawa

Re-Make Budget: $100.0 mm | Re-Make Gross: $146.0 mm | IMDB Rating: 8.1 / 8.4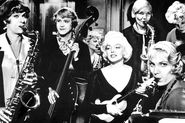 Billy Wilder's screwball comedy is often found at the top of many 'best film ever' lists, having stood the test of time since its release in 1959. Roping in Marilyn Monroe, Tony Curtis and Jack Lemmon as the central leading trio elevated this remake from mere imitation to a far better realised version than its predecessors. Many fans of this classic picture are unaware that it's actually a remake of two earlier works. Before Wilder unveiled his masterpiece - a story of two shady musicians who disguise themselves as women to evade a team of gangsters - it had hit screens in 1935 as French film Fanfare d'Amour, which was itself remade by German helmer Kurt Hoffman in his 1951 rendition, Fanfaren Der Liebe. The bubbling chemistry between Monroe, Curtis and Lemmon along with the gangster backstory make this not only one of the best remakes of all time, but simply put, one of the best movies ever made.

Title (Re-Make/Original): Some Like It Hot / Fanfare D'Amour | Release: 1959 / 1935 | Director: Billy Wilder / Richard Pottier

Re-Make Budget: $2.8 mm | Re-Make Gross: $40.0 mm | IMDB Rating: 7.3 / 7.3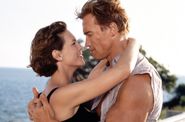 At the time of production, James Cameron's ambitious action comedy was the most expensive movie ever made. Securing a $100 million dollar budget for a blockbuster hardly seems out of the ordinary nowadays, but for a remake of a French comedy? It's a little known fact that Cameron's showy spy caper is actually adapted from Claude Zidi's 1991 film, La Totale! Bringing in Arnold Schwarzenegger to handle the lead role signalled the swift change from lightweight French affair to balls-out Hollywood blockbuster fare. As secret spy Harry Tasker, Schwarzennegger and on-screen wife Jamie Lee Curtis riff off each other in one of the most gratuitous actioners ever crafted. From explosions, crazy set pieces, and utterly bonkers plot turns it's Cameron at his most fun. It's an exceptional remake that jazzes up the original with a hefty dose of gung-ho Americana.

Title (Re-Make/Original): True Lies / La Totale! | Release: 1994/1991 | Director: James Cameron / Claude Zidi

Re-Make Budget: $100.0 mm | Re-Make Gross: $146.0 mm | IMDB Rating: 7.2 /6.2
GOAT Staff Score - Film Remake
The candidates have been assigned a raw score across a range of criteria. The raw scores have been weighted to reflect the impact that each individual criterion has on the 'Final GOAT Score'. Only weighted scores are displayed in this table. -->TURN DEVICE SIDEWAYS TO VIEW ON MOBILE-->
| | Acting (30%) | Direction (30%) | Writing (20%) | Critical Acclaim (10%) | Homage(10%) | Raw Score | Final GOAT Score |
| --- | --- | --- | --- | --- | --- | --- | --- |
| The Thing | 9 | 8 | 10 | 8 | 10 | 45 | 890 |
| The Departed | 10 | 9 | 8 | 10 | 2 | 39 | 850 |
| Scarface | 5 | 10 | 3 | 9 | 5 | 32 | 650 |
| The Magnificent Seven | 7 | 5 | 6 | 6 | 7 | 31 | 610 |
| The Fly | 4 | 6 | 9 | 4 | 9 | 32 | 610 |
| Invasion Of The Body Snatchers | 8 | 4 | 5 | 3 | 8 | 28 | 570 |
| Ocean's Eleven | 3 | 3 | 7 | 5 | 6 | 24 | 430 |
| A Fistful Of Dollars | 1 | 7 | 2 | 7 | 4 | 21 | 390 |
| Some Like It Hot | 6 | 1 | 4 | 2 | 1 | 14 | 320 |
| True Lies | 2 | 2 | 1 | 1 | 3 | 9 | 180 |
GOAT Verdict:
Narrowly beating out The Departed, John Carpenter's The Thing nabs the top slot as the Greatest Remake Of All Time. Deemed a box office flop upon release, it went on to become a cult favourite that still stands up to scrutiny some 32 years later. For his Antarctic tale about a group of scientists at the mercy of a shape-shifting invader, Carpenter drew audiences into their paranoid mindsets as a way of getting under the skin. An updated take on the 1951 pic, The Thing From Another World, it betters that sci-fi classic by taking more risks in every arena.

But, where can its success as a remake, and as a successful genre film be pinpointed? The bulk of its effectiveness lies in its setting and effects; it's hard to imagine anything worse than the isolation Kurt Russell's MacReady and co. face up in the wintry climes surrounding their research outpost. Until the giant alien beastie makes its way to their camp, that is.

As it works its way through the group, the film's special effects maestros showcase their skills in a manner that's rarely seen in cinema today. It's their work, the creation of many different versions of the alien captured mid-way through its mutation, that quickens pulses and sends shivers down spines. The very fact that this hideous monster never reveals its true face, hiding inside the disguise of man, is just downright sinister. Outclassing the original in every sense, the spot-on reactionary acting, sharp direction and superb special effects make The Thing absolutely the greatest film remake of all time.