What is the greatest mythological creature of all time?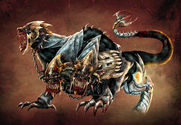 With a name that appears in Mass Effect, the Hercules television series, and Dante's Inferno, it's no wonder that Cerberus is still alive and well in contemporary pop culture. Much of the three-headed creature's fame was derived from its obvious connections to a domesticated guard dog, an image which has endured through eons of human development, and from its symbol as an otherworldly protector. Interestingly enough, the number of heads on Cerberus was never truly agreed upon by ancient historians, although the majority sided with three. Some notable outliers were Horace, who claimed 100 heads, and Hesiod, who claimed 50. While in the service of Hades, Cerberus guarded the gates of the Underworld and prevented the living from entering, but also ensured that the dead remained in their resting grounds.
Culture of Origin: Ancient Greek | Appearance: A three-hounded hound with non-canine feaures, including a mane formed from snakes, a serpentine tail, and the claws of a lion. | Region of Habitation: The Underworld
Traits: Assigned as the primary guard for the Gates of the Underworld, consuming only live and raw meat for its diet. | Most Famous Media Portrayal: Harry Potter and the Sorcerer's Stone, 2001 (under a different name)

Much like the world's collective sense of disappointment when told that dinosaurs had avian origins (and thus had feathers), there were likely large numbers of medieval scholars who found themselves dismayed at the basilisk's cockerel connection. Modern depictions of the basilisk have either been crocodilian or serpentine, but few have shown the feathered side of the creature, which is due to its origins as the spawn of a snake and bird. The basilisk's weaponry – venom, fire, and sharp claws – were impressive enough, but they may have been overshadowed by its prominent feathers and rooster-like wings, which many artists were keen to include. While the basilisk's contemporary image may have been altered for a more intimidating effect, there's plenty to be said about the uniqueness of its original (and bizarre) design.
Culture of Origin: Roman, Early Medieval European | Appearance: A small but ferocious reptilian creature, sometimes marked by distinctly avian features such as a beak and wings. | Region of Habitation: Cyrene, Cantabria
Traits: Capable of breathing fire, excreting potent venom, and killing witnesses upon eye contact. | Most Famous Media Portrayal: Harry Potter and the Chamber of Secrets, 2002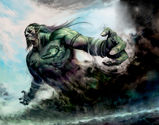 Disney's take on Aladdin may have given the world a distinct and memorable impression of a genie (or jinn, djinn, or jann, depending on your source), but the reality behind these creatures is almost as fascinating as Robin Williams' performance. The jinn, according to Arabic and Islamic mythology, were near-identical to humans in regards to behavior, cultural dynamics, and everyday life, but they differed in their powers and appearance. Jinn were seen as beings made from living fire, and were known to change into various living and inanimate forms, usually to conceal themselves or to play tricks on humans. In addition, they were able to cross extreme distances with speed, paying no mind to things such as oceans or mountain ranges. Ibn Taymiyyah, a 13th century Sunni scholar, characterized the jinn as manipulative and crude creatures, known to toy with the human perceptions of miracles and magic for amusement.
*Culture of Origin: Arabian | Appearance: Animal or humanoid figures formed entirely from smokeless fire. | Region of Habitation: The alternate plane of Djinnestan
Traits: Similar to humans, jinn may act with malice or kindness, but are often known as tricksters when interacting with humans. | Most Famous Media Portrayal: Aladdin, 1992*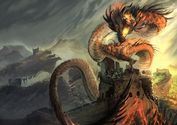 Dragons are one of the most popular mythological creatures in the known world, spanning nearly every continent and appearing in a dozen variations. The European archetype of the dragon generally involved an element of evil or greed, but the eastern view of dragons was more eclectic, encompassing both aggressive and peaceful creatures. In Japan, specifically, the dragon was a revered symbol of nature and spirituality, and various shrines were constructed throughout the country to pay homage to the creatures. Many Japanese dragons also possessed numerous heads, tails, and arms, and were distinguished by their extremely long bodies, which were far more serpentine than their European counterparts. In Japan, the dragons were even able to work their way into astrological charts and cosmological observations, reinforcing their position as celestial and powerful beings.
Culture of Origin: Japanese | Appearance: Long, generally wingless creatures with colorful scales and prominent claws, often with features from various animals. | Region of Habitation: Miyajima, widespread throughout Japan
Traits: Often able to transform into humans or other animals, presided over lakes, rivers, and seas. | Most Famous Media Portrayal: Dragonball Z, 1989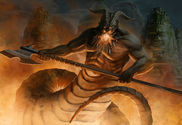 Sadly enough, the world has not received a proper media adaptation of naga just yet. While World of Warcraft featured serpent-humanoid hybrid creatures with the same name, the true scale and force of the naga, as told in Sanskrit mythological tales, has never come to light. The naga appeared throughout Asian schools of thought and religious circles, including Jainism, Buddhism, and Hinduism, and were initially depicted as massive cobras with a habit of aggression (and, in some rare cases, peacefulness). The naga were known to patrol rivers, lakes, and oceans, both for a sense of freedom and to satisfy their innate curiosity. While some philosophies and later texts reformed the personality of the naga into a generally more benevolent creature, their physiology – that of a forceful serpent – has never been altered significantly.
Culture of Origin: Sanskrit | Appearance: Enormous serpentine creatures, typically water-dwelling and modeled after the cobra. | Region of Habitation: The Mekong River, Pahang, Vrindavan, widespread throughout the Philippines and Java.
Traits: Known in Buddhism to be protectors of a sacred mountain, and occasionally seekers of enlightenment. | Most Famous Media Portrayal: World of Warcraft, 2004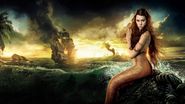 Humanity has always been fascinated by the sea, either out of fear or a need to explore, and the mermaid is perhaps the most fitting symbol of this relationship. It was one of the few mythological creatures to appear globally and maintain a relatively consistent appearance, regardless of era or geographic positioning. The mermaid's body, which combined humanoid and aquatic features, had a striking resemblance to the general shape of a seal, which may have explained some of the sightings by fishermen or sailors. It was the basis for hundreds of stories throughout the ages, especially in the tales of Hans Christian Andersen, which had a decidedly darker ending than the Disney adaptation. Many years later, mermaids have maintained their spotlight in the media and pop culture, and they show no sign of disappearing under the waves any time soon.
Culture of Origin: Assyrian, later globalized | Appearance: Women with humanoid upper bodies and aquatic - in most cases, scaled and fin-adorned - lower bodies. | Region of Habitation: The Aegean Sea, the Isle of Man, widespread throughout China, the Caribbean, Cambodia, and Eastern Europe.
Traits: Proficient at swimming underwater and breathing with hidden gills, sometimes luring sailors to their deaths from rock perches. | Most Famous Media Portrayal: The Little Mermaid, 1989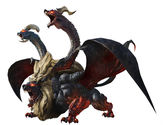 The word Chimera, in modern contexts, is commonly associated with rogue genetic experimentation. In its original form, however, the Chimera was a hideous monster far beyond any scientific byproduct, capable of breathing fire and wreaking havoc wherever it went. In most stories, the Chimera was formed from three animals, and had family ties to the infamous Lernaean Hydra and Cerberus. The Chimera was, unlike many of its mythological brethren, geographically tied to Lycia. Numerous depictions of similar monsters have been uncovered in civilizations around the world, including one in Egypt, which represents of the earliest examples of a hybrid creature. While the Chimera itself may not wander the hills of Turkey any longer, genetic engineering may have given redoubled hope to fans of this cross-bred creation.
Culture of Origin: Ancient Greek | Appearance: A creature formed from multiple animal features, including a lion's body, the head of a goat, and a serpentine tail. | Region of Habitation: Lycia
Traits: Possessing extreme speed and power, able to breathe streams of fire. | Most Famous Media Portrayal: Wrath of the Titans, 2012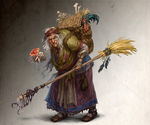 Baba, the first word of this creature's name, has a strong relation to the word "grandmother" in various Slavic languages (especially Russian and Polish). This may be due to the fact that despite Baba Yaga's hideous appearance, reliance on strange magic (including a chicken-legged hut and a flying mortar), and reputation for revenge, she was also depicted as a motherly figure in the woodlands, reflecting the natural connection that many other mythological creatures possessed. Baba Yaga's forest isolation was not atypical for Slavic mythology, but her deformed and sickly body painted her as a horrifying figure, and the image was worsened by her ability to fly and chase down travelers. Although Baba Yaga was able to provide help to those she deemed worthy, there were few ways to escape from her clutches if she felt slighted.
Culture of Origin: Slavic | Appearance: A hideous, overgrown woman with a chicken-legged hut and a flying mortar, commonly depicted with a pestle or mop in hand. | Region of Habitation: Eastern Europe
Traits: Able to float through forests in an oversized mortar, typically providing supernatural aid or dangers to wanderers. | Most Famous Media Portrayal: Bartok the Magnificent, 1999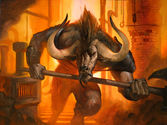 If there anything's more terrifying than being trapped inside of an impossibly large labyrinth, it's being trapped inside with the man-bull creature the labyrinth was designed to contain. The labyrinth of Daedalus was one of the most famous engineering projects in mythology, and within its walls was the Minotaur, a creature spawned from a human mother and bull father. Although its mother cared deeply for the beast, it was too savage to be left unchecked, and was eventually contained within Daedalus' labyrinth. Years later, the hero Theseus made his name by decapitating the creature and putting an end to its roaming within the dark halls. Although the Minotaur is depicted as a monster in most contemporary media, a great deal of mythological writing emphasizes the bond between the Minotaur and its human mother, Pasiphae.
Culture of Origin: Ancient Cretan | Appearance: A towering humanoid creature with a distinctly bull-like head. | Region of Habitation: Crete
Traits: Formed from a human mother and a bull father, the minotaur was imprisoned in a Cretan labyrinth to contain its strength and rage. | Most Famous Media Portrayal: Percy Jackson & the Olympians: The Lightning Thief, 2010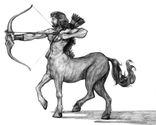 Anybody involved in distance running has probably, at one point or another, wished that they could gain the centaur's defining trait: an equine lower body. With a full set of powerful legs, hooves, and a swishing tail, the centaur was a symbol of foreignness to the Greeks, and often represented primal behavior and belligerence in legends. In one memorable instance, a brawl instigated by drunken centaurs at a wedding celebration devolved into slaughter. Disney's Hercules, surprisingly, presented one of the creature's most accurate portrayals, considering the aggressive and stubborn nature of its lead centaur. Chiron, the ferryman for the Underworld, was perhaps the most well-known centaur in Greek mythology. He stood in stark contrast to the undisciplined masses of his species due to his temperament, medicinal knowledge, and general kindness.
Culture of Origin: Ancient Greek | Appearance: A hybrid creature with the upper body of a human, and the lower body of a horse, including hooves and a tail. | Region of Habitation: Thessaly, Magnesia, Laconia, Elis
Traits: Known for their intimidating physiology and penchant for violence, often known to fight humans with little provocation. | Most Famous Media Portrayal: The Chronicles of Narnia: The Lion, the Witch and the Wardrobe, 2005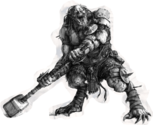 The Norse were renowned for their elite class of raiders, known as Vikings (a term which would later become a misnomer for the entirety of the Norse). Modern media has preserved the ferocity, strength, and brutality of these warriors, and as a result, one might imagine how powerful a creature had to be in order to frighten the Vikings. The jötunn were a race of giants living in one of the neighboring Nine Worlds, and were known to run the aesthetic gamut, from appearing as malformed or flawless as their human counterparts. Numerous sagas pitted the jötunn against the major and minor gods, and there were often instances of interspecies procreation or marriage throughout the tales. Despite their nature, there was also a great deal of power assigned to the giants. Many of the jötunn held dominion over aspects of nature or cosmology, and despite their exile from the realms of the gods, they were fated to murder a great number of their superiors during the apocalyptic battles of Ragnarök.
Culture of Origin: Norse | Appearance: Varies tremendously based on individuals, typically described as monstrous (with claws and fangs), or as beautiful and humanoid. | Region of Habitation: The world of Jötunheimr

Traits: Immense size and strength, enabling the giants to rival the gods of Asgard and Vanaheimr. | Most Famous Media Portrayal: Trollhunter, 2010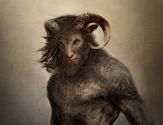 Much like the centaur, satyrs often have a misunderstood and whitewashed presence in mythology. While the satyr (and its Roman counterpart, the faun) was known for its love of parties and music, these same interests often gave the creatures an air of vice, since they were fond of excessive drinking and lavishness. Many satyrs shared a bond with nature and were eager to play their pipes, but were also known to the Greeks as lustful and bawdy creatures. In fact, an entire genre of plays – known as satyr plays – characterized the satyr as a base ingredient for burlesque performances, throwing in as much comedy and drunken reverie as possible. Today, the satyr lives on in vases and murals, and it is typically (and fitfully) depicted with drinking cups and festival surroundings.
Culture of Origin: Ancient Greek, Roman | Appearance: Bipedal, bearded humanoids with equine features, including tails and pointed ears. | Region of Habitation: African coastal zones, Libya, widespread throughout Greece.
Traits: Infamous for their hedonistic pursuits, regularly indulging in parties, feasts, and bouts of pipe-playing. | Most Famous Media Portrayal: Hercules, 1997
GOAT Staff Score - Mythological Creature
The candidates have been assigned a raw score across a range of criteria. The raw scores have been weighted to reflect the impact that each individual criterion has on the 'Final GOAT Score'. Only weighted scores are displayed in this table. -->TURN DEVICE SIDEWAYS TO VIEW ON MOBILE-->
| | Otherworldly Characteristics (30%) | Uniqueness (20%) | Power (20%) | Historical Prevalance (20%) | Representation in Media (10%) | Raw Score | Final GOAT Score |
| --- | --- | --- | --- | --- | --- | --- | --- |
| Cerberus | 11 | 9 | 10 | 8 | 5 | 43 | 920 |
| Basilisk | 6 | 7 | 9 | 11 | 8 | 41 | 800 |
| Jinn | 12 | 12 | 3 | 3 | 2 | 32 | 740 |
| Dragon (East Asian) | 5 | 5 | 12 | 6 | 11 | 39 | 720 |
| Naga | 9 | 6 | 6 | 7 | 3 | 31 | 680 |
| Mermaid | 8 | 2 | 1 | 12 | 12 | 35 | 660 |
| Chimera | 7 | 11 | 7 | 2 | 4 | 31 | 650 |
| Baba Yaga | 10 | 10 | 5 | 1 | 1 | 27 | 630 |
| Minotaur | 4 | 8 | 8 | 4 | 6 | 30 | 580 |
| Centaur | 3 | 4 | 4 | 9 | 9 | 29 | 520 |
| Jotunn | 1 | 3 | 11 | 5 | 7 | 27 | 480 |
| Satyr | 2 | 1 | 2 | 10 | 10 | 25 | 420 |
GOAT Verdict:
Any creatures tasked with guarding the entrance to the Underworld are bound to be impressive, but Cerberus is in a class of his own. Numerous films, novels, and video games have been quick to capitalize on the imagery and namesake of the creature, and there is a wealth of ancient texts discussing the role of Cerberus within the world of Greek mythology (including the labors of Hercules). The concept of a giant, three-headed canine is interesting on its own, but it is reinforced by similar mythological dogs around the world, including the blood-covered hounds of Norse mythology. Cerberus is more than just an individual creature; it's a symbol of discipline, an enduring image within Greek mythology, and the progenitor of the "hellhound" trope, which persists to this day. This creature is also, perhaps, the best link between dog lovers and the concept of canine loyalty, furthering his legacy as a viable pet as well as Underworld guardsman. And, since each of Cerberus' heads operates independently, they'll have to negotiate and decide which of them receives the honor of the greatest mythological creature of all time.