What is the greatest heist scene of all time?
Nov 18, 2014 - youtube.com -

120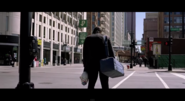 Robbing banks has been a generally accepted pastime of supervillains since the dawn of comic book publication, but almost every attempt was either foiled or glossed over with cartoon violence. When Christopher Nolan's Batman series portrayed the Joker's crack at heist operations, however, all bets were off. Even from the first shots, the robbery shows a level of tactical coordination and efficiency that most conventional heist films lack. The thugs manage to wear clown masks that somehow come off as plausible, and the Joker himself is shuffled into the ranks of the thieves, demonstrating his cunning and ruthlessness in a single sweep as he pits the team against one another. This scene has everything that a well-done heist needs – action, suspense, some gunplay, and a getaway that won't be leaving the record books anytime soon.

Release: 2008 | Director: Christopher Nolan | Budget: $185 mm | Key Actors: Christian Bale, Michael Caine, Heath Ledger, Gary Oldman, Aaron Eckhart, Maggie Gyllenhaal, Morgan Freeman

Rotten Tomatoes Score: 94% | IMDB Score: 9.0 | Box Office Gross: $1 B
Nov 18, 2014 - youtube.com -

110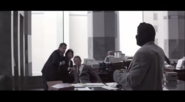 With a few money bags and high-powered assault rifles, Heat may have defined the bank robbery genre for decades to come. Michael Mann's high-octane hit found a strong focal point in its armed robbery scene, which pulls no punches as it heads from the bank's interior to the crowded city streets, all the while trailing the "heroes" of the attempt. A full team of robbers, spanning from Val Kilmer to Robert DeNiro, keep the camera constantly moving and panning between operatives, further amplifying the sense of chaos that accompanies the heist. In the urban escape portion, the echoes of gunfire – which were captured using blank rounds and not altered using dubbing – fill the streets with bold, deafening cracks, and grant Heat a sense of unparalleled realism. This guns-blazing approach to bank robberies would later influence the video game series Payday, and live on in the minds of action film fanatics everywhere.

Release: 1995 | Director: Michael Mann | Budget: $60 mm | Key Actors: Al Pacino, Robert DeNiro, Tom Sizemore, Jon Voight, Val Kilmer

Rotten Tomatoes Score: 86% | IMDB Score: 8.3 | Box Office Gross: $187.4 mm
Nov 18, 2014 - youtube.com -

115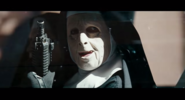 For a film that deals with a string of robberies, it helps to be specific. While the earlier heists are generally pulled off without a hitch (and with the help of some very strange masks), the ensuing operations of the Boston-based gang are met with less success, but more entertainment. The armored truck robbery in The Town is memorable for a variety of reasons, but it generally owes its pulse-pounding atmosphere and sense of frenetic energy to the heist's catastrophic failure. Ben Affleck's surprisingly masterful directing lent a sense of desperation to the van chase, folding the architecture of Charlestown, Massachusetts into a narrow and dizzying labyrinth that seemed equally dangerous for both the criminals and law enforcement. Bleak colors, stylish violence, and the scramble for survival make The Town one of the most unique and nail-biting heist sequences ever filmed.

Release: 2010 | Director: Ben Affleck | Budget: $37 mm | Key Actors: Ben Affleck, Rebecca Hall, Jon Hamm, Jeremy Renner, Blake Lively

Rotten Tomatoes Score: 94% | IMDB Score: 7.6 | Box Office Gross: $154 mm
Nov 18, 2014 - youtube.com -

106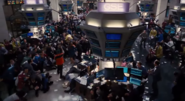 Christopher Nolan has never tried to hide his obsession with dramatic action sequences, and with the several million dollars he was given for The Dark Knight Rises, this is especially evident. Bane, the terrifying mass of brains and brawn played by Tom Hardy, takes on a stock exchange with the same bold and violent energy that defined him in the film's midair opening sequence. Nolan makes careful use of his oversized set, banks of spark-producing assemblies, and low camera angles to create a gripping and surprisingly intimate moment of terror. Tracking shots linger on the width of Bane's back, while synthesized vocal elements give the villain an otherworldly and even robotic aspect. Nolan used Bane as a fulcrum for the entire heist scene, balancing the dread of the moment around Tom Hardy's monologues and brutality with his own trademark style.

Release: 2012 | Director: Christopher Nolan | Budget: $230 mm | Key Actors: Christian Bale, Michael Caine, Gary Oldman, Morgan Freeman, Anne Hathaway, Tom Hardy, Marion Cotillard, Joseph Gordon-Levitt

Rotten Tomatoes Score: 88% | IMDB Score: 8.6 | Box Office Gross: $1 B
5
The Place Beyond the Pines
Nov 18, 2014 - youtube.com -

123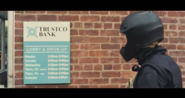 Most bank robberies are carried out with a full team at the mastermind's back, but The Place Beyond the Pines cuts out the excess and strips the heist down to its core: a motorcycle-riding gunman with a penchant for screaming and climbing onto countertops. Ryan Gosling's character is the opposite of his role in Drive, fixated on aggression and demonstrating a fundamental lack of control at every turn. Everything about this scene exudes anger and instability, including its minimalist soundtrack and muted color palette. The tracking shots lead into shaky, sweeping views of the bank lobby, and at times, the camera gives the impression of struggling to even keep up with the gunman. Not every heist goes to plan, but The Place Beyond the Pines is proof that even successful heists can put a knot in your stomach.

Release: 2012 | Director: Derek Cianfrance | Budget: $15 mm | Key Actors: Ryan Gosling, Bradley Cooper, Eva Mendes, Ray Liotta

Rotten Tomatoes Score: 80% | IMDB Score: 7.4 | Box Office Gross: $35.5 mm
Nov 18, 2014 - youtube.com -

128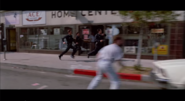 There's always an unmistakable sense of style and strangeness to a Tarantino film, and Reservoir Dogs is no exception. While the film may not put a spotlight on the actual moment of the robbery, Mr. Pink's gun-toting, suit-sprinting, car-dodging escape from the jewelry shop is one of the most bizarre getaway scenes in cinematic history, and succeeds in capturing the frantic energy of a heist. Or, in this case, a heist gone wrong. The scene makes use of several tracking shots with minimal stabilization, as well as borderline slapstick close-ups of the officers in pursuit. The absence of a musical score only highlights the staccato rhythm of shoes on pavement, and the distant drone of police sirens. Mr. Pink's mad dash to acquire his escape vehicle – and the over-the-shoulder, handheld filming technique while inside the car – cements this Reservoir Dogs scene in heist history.

Release: 1992 | Director: Quentin Tarantino | Budget: $1.2 mm | Key Actors: Harvey Keitel, Tim Roth, Chris Penn, Steve Buscemi, Lawrence Tierney, Michael Madsen

Rotten Tomatoes Score: 92% | IMDB Score: 8.4 | Box Office Gross: $4 mm
Nov 18, 2014 - youtube.com -

107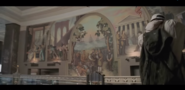 In the world of heist planning, there are two distinct schools of thought: the Trojan horse approach, or the shoot-into-the-ceiling approach. Inside Man mixes and matches with these tactics, but leans heavily on the former concept, entering the building under the auspices of a cleaning crew with janitorial garb. When the levy breaks and Clive Owen begins to bark commands, however, the latter school of thought comes down like a sledgehammer. Inside Man portrays a remarkably clean and surgical approach to the seizure of a bank, and Clive Owen's reliance upon tricks such as false accents and smoke canisters only reinforces his role as a true professional. Another fantastic element in Inside Man's heist presentation is Clive Owen's confrontation with a patrolling officer, which begins with a revolver being aimed through a crack in the bank's doors. When it comes to loud and fast heists done properly, Inside Man is a prime contender.

Release: 2006 | Director: Spike Lee | Budget: $45 mm | Key Actors: Denzel Washington, Clive Owen, Jodie Foster, Willem Dafoe

Rotten Tomatoes Score: 86% | IMDB Score: 7.7 | Box Office Gross: $184.3 mm
Nov 18, 2014 - youtube.com -

107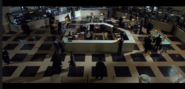 It's impossible to discuss heist films without taking a step back to examine old-school robberies. Public Enemies puts the spotlight on the notorious gangster, John Dillinger, and his exploits in the field of bank robberies. Johnny Depp wears the long coat and fedora as well as anybody from Dillinger's heyday, and the overt, Thompson-wielding seizure of the bank – done in defiance of both alarms and approaching policemen – remains true to Dillinger's character. No detail was spared in recreating the lives of these gangsters and their assaults, and this is especially evident in the film's first bank robbery. Depp gives the gangster an air of style and unique (albeit warped) philosophy, assuring the hostages that his band is not after their money, but the money of the bank. The period costuming and brisk pace of the getaway shootout give Public Enemies a rightful leg up in the competition.

Release: 2009 | Director: Michael Mann | Budget: $100 mm | Key Actors: Johnny Depp, Christian Bale, Marion Cotillard

Rotten Tomatoes Score: 69% | IMDB Score: 7.0 | Box Office Gross: $214.1 mm
Nov 18, 2014 - youtube.com -

98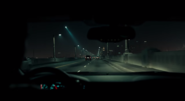 As the nameless driver (played by Ryan Gosling) tells the two balaclava-wearing thieves before the heist, "I give you a five minute window. Anything happens in that five minutes and I'm yours." Five minutes, in edited film time, is all Ryan Gosling needs to prove that a good heist scene doesn't require rappelling ropes or explosives. In fact, it doesn't even require footage of the actual heist. The driver's true talent is his cold and calculated strategy for getaways, which requires an unassuming speed, a police radio scanner, and a handy supply of toothpicks. In one of the slowest getaway scenes in cinematic history, Ryan Gosling ferries the criminals by blending into the nocturnal L.A. traffic, and defines his character without ever saying more than two words. Drive feeds

on the tension and understated danger of its crime world, fueled by a 1980s-esque electronic soundtrack and a silver Chevy Impala.

Release: 2011 | Director: Nicolas Winding Refn | Budget: $15 mm | Key Actors: Ryan Gosling, Carey Mulligan, Bryan Cranston, Christina Hendricks, Ron Perlman

Rotten Tomatoes Score: 93% | IMDB Score: 7.8 | Box Office Gross: $76.1 mm
Nov 18, 2014 - youtube.com -

92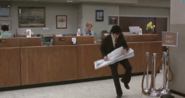 Not all heist scenes need to be a maelstrom of violence and automatic gunfire, as evidenced by Al Pacino's quieter heist film, Dog Day Afternoon (which happens to be based on a true story). With the intention of stealing money for his wife's gender reassignment surgery, Pacino and his partners only get as far as drawing their guns before the heist begins to go downhill. One partner rapidly backs out, and bouts of diabetic complications or asthma force the robbers to begin releasing their hostages in a steady stream. The scene's snappy dialogue, lack of background music, and awkward exchanges are what gives Dog Day Afternoon its quirky tone and gallows humor. In just one scene, the film managed to spell out its central predicament and mood, while also molding the framework for one of Hollywood's most infamous heist-gone-wrong tales.

Release: 1975 | Director: Sidney Lumet | Budget: $1.8 mm | Key Actors: Al Pacino, John Cazale, Charles Durnin

Rotten Tomatoes Score: 97% | IMDB Score: 8.1 | Box Office Gross: $50 mm
GOAT Staff Score - Heist Scene
The candidates have been assigned a raw score across a range of criteria. The raw scores have been weighted to reflect the impact that each individual criterion has on the 'Final GOAT Score'. Only weighted scores are displayed in this table. -->TURN DEVICE SIDEWAYS TO VIEW ON MOBILE-->
| | Intensity (30%) | Cinematography (25%) | Acting (20%) | Sound (15%) | Special Effects (10%) | Raw Score | Final GOAT Score |
| --- | --- | --- | --- | --- | --- | --- | --- |
| The Dark Knight | 9 | 9 | 10 | 9 | 10 | 47 | 930 |
| Heat | 10 | 8 | 7 | 10 | 9 | 44 | 880 |
| The Town | 8 | 6 | 4 | 7 | 8 | 33 | 655 |
| The Dark Knight Rises | 4 | 10 | 6 | 6 | 7 | 33 | 650 |
| The Place Beyond the Pines | 6 | 6 | 5 | 2 | 5 | 24 | 510 |
| Reservoir Dogs | 7 | 5 | 2 | 3 | 2 | 19 | 440 |
| Inside Man | 3 | 2 | 9 | 5 | 4 | 23 | 435 |
| Public Enemies | 5 | 1 | 3 | 4 | 6 | 19 | 355 |
| Drive | 2 | 4 | 1 | 8 | 3 | 18 | 330 |
| Dog Day Afternoon | 1 | 3 | 8 | 1 | 1 | 14 | 290 |
GOAT Verdict:
When Christopher Nolan set out to craft a sequel to Batman Begins, expectations were already high. What nobody anticipated, however, was just how flawless The Dark Knight would be. The opening sequence in the film, which manages to skirt around Heath Ledger's Joker long enough to let a sense of mystique and instability take root, succeeds in portraying a heist that's almost too good to be from a comic book film. Hans Zimmer and James Newton Howard gave the scene an impeccable score, with its music swelling but never rising to the point of distraction or overstating the tension. The action is fast-moving, fluid, and takes the viewer to every level and stage of the heist, never pausing for too long or defusing the scene's energy. The true payoff in this scene is the Joker's reveal and climactic shootout with the bank manager, followed by a truly memorable and brazen escape into Gotham's traffic in a yellow school bus. The Joker's heist has it all – menacing gunplay, a highly technical infiltration scheme, and an unforgettable introduction by one of cinema's most recent "classic" villains. When it comes to the greatest heist scene of all time, The Dark Knight steals the crown.