What is the greatest volcanic eruption of all time?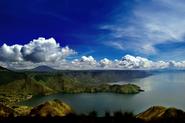 Deep in the mountainous jungles of Sumatra in Indonesia sits the picturesque Lake Toba. It's a place thriving with natural beauty, what a difference a few tens of thousands of years can make. The lake was formed about 70,000 years ago when a massive VEI 8 supervolcano exploded, it was the deadliest volcano in human history. The event plunged the entire earth into a 6-10 year volcanic winter, decreasing global temperatures by up to 27 °F. The event was estimated to have killed a significant percentage of the human population at the time, drastically altering the genetic makeup of the entire human race.

Location: Sumatra, Indonesia | Occurred: 73,000 years ago.
Volcanic Explosivity Index: 8 | Volcanic deposit volume: 670 cubic miles
Death Toll: Left only tens of thousands humans alive | Pyroclastic Flume Destruction Range: 7,722 sq. miles
2
Minoan Eruption (Santorini)

The Minoans were the most vibrant civilization of the Bronze-Age in the Mediterranean. They inhabited the islands of modern day Greece for over 500 years. But their very existence was put into jeopardy when the volcanic island of Thera exploded. The massive eruption is now estimated to be the second most powerful in modern history. The blast completely destroyed the Minoan settlemet of Akrotiri and many nearby islands were permanently affected. Chinese records indicate the blast may have caused a decade long volcanic winter. The Minoan culture eventually crumbled and the entire course of history in the Mediterranean was turned on its head.

Location: Santorini, Greece | Occurred: 1627-1600 BCE
Volcanic Explosivity Index: 6-7 | Volcanic deposit volume: 14 cubic miles
Death Toll: Unknown | caused fall of Minoan Empire, inspired numerous Greek myths
3
Central Atlantic Magmatic Province
Two words: Destroyed Pangaea. This volcano created entire continents. It is assumed to be the primary catalyst for the Triassic-Jurassic extinction event. The magma flow was estimated at up to 3 million cubic miles, that's enough magma to fill 75% of the Mediterranean Sea. Continuous eruptions from this event persisted for over 600,000 years! It's hard to even imagine a volcano of this magnitude in modern times, so let's all cross our fingers that we never witness it for ourselves.

Location: Pangaea | Occurred: 201 million years ago.
Volcanic Explosivity Index: Unknown | Volcanic deposit volume: 3 million cubic miles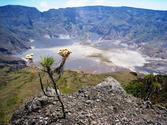 1816 was known as the "Year Without a Summer"; the Mount Tambora eruption of 1815 can be credited for originating the name. This massive stratovolcano caused crop failures and livestock deaths throughout the Northern Hemisphere, eventually leading to the worst famine of the 19th century. The swift, explosive eruption produced 4 times as much energy as Krakatoa, instantly razing the entire island of Sumbawa. The eruption was the largest in recorded history, it was heard 1,600 miles away, and ash fell at least 800 miles away.

Location: Lesser Sunda Islands, Indonesia | Occurred: 1815
Volcanic Explosivity Index: 7 | Volcanic deposit volume: 38 cubic miles
Death Toll: 71,000 | Heard: 1,600 miles away | Ash Found: 800 miles away
5
Oruanui Eruption (Lake Taupo)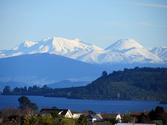 The largest known eruption in recent geologic times. Most of modern day New Zealand was affected by ash fall, with 18 cm ash layers being reported in the Chatham Islands over 1,000 km away. The pyroclastic flow was estimated to have climbed over 5,000 feet, engulfing nearby mountain ranges. So much material flowed from the eruption that entire valleys were filled with sediment and the land was flattened. The massive caldera is now partially filled by Lake Taupo.

Location: North Island, New Zealand | Occurred: 26,500 years ago.
Volcanic Explosivity Index: 8 | Volcanic deposit volume: 280 cubic miles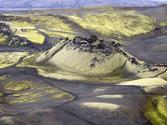 The deadliest volcano, and one of the deadliest natural events in modern history. Iceland's Lakagigar volcanic system erupted continuously from 1783 to 1784. While the volcano's explosion was less impressive than the others on our list, this volcano proved to be a methodical assassin, as it slowly released millions of tons of highly-toxic gas over a period of 5 months. The gas killed 50% of Iceland's livestock, with the resulting famine killing 25% of the Icelandic human population. As the gas traveled east it caused crop failures in Europe and droughts in India, leaving the final death-toll at approximately 6 million people.

Location: Iceland | Occurred: 1783
Volcanic Explosivity Index: 6 | Volcanic deposit volume: 3.6 cubic miles
Death Toll: 6 Million | Lava Fountain Height: 4,600 Ft | Toxic Gas Output: 8 mm tons hydrogen fluoride, 120 mm tons sulfur dioxide.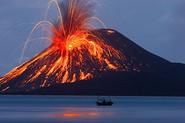 The single loudest sound ever heard in modern history was the Krakatoa explosion of 1883. The blast turned deaf anyone within 10 miles of the tiny Indonesian island, and it was heard in Perth Australia over 3,000 miles away. Recordings from barographs located throughout the world at the time indicated that the volcano's shockwave fully circled the earth 7 times! The eruption released huge quantities of pyroclastic flows and volcanic ash, it also unleashed a series of massive tsunamis that ravaged the nearby islands. The final death toll is estimated to be 36,000 people, but some believe the number to be closer to 120,000.

Location: Krakatoa Island, Indonesia | Occurred: 1883
Volcanic Explosivity Index: 6 | Volcanic deposit volume: 38 cubic miles
Death Toll: 36,000 | Heard: 3,000 miles away | Ash Height: 50 miles
8
Yellowstone Supervolcano
Ahhh ever-majestic Yellowstone; the land of grazing bison and whimsical geysers. But America's first National Park wasn't always this charming. Over a range of several million years, 3 supervolcanoes exploded and forever altered the landscape of the park and all the land around it. The largest of which erupted 2.1 million years ago and formed the massive Island Park Caldera (it spans over 80km from Wyoming to Idaho). As a reference, the largest Yellowstone event released 2,500 times as much ash as Mount St Helens!

Location: Yellowstone National Park, USA | Occurred: 2.1 million years ago
Volcanic Explosivity Index: 8 | Volcanic deposit volume: 600 cubic miles

The largest volcanic event on earth in the last 300 million years formed the massive Ontong Java oceanic plateau. The plateau covers an astonishing 770,000 sq. miles; an area roughly the size of Alaska. The volcano is estimated to have extruded nearly 24 million cubic miles worth of basalt, enough material to fill the Arctic Ocean. The total volcanic area covered 1% of the earth's surface!

Location: North of the Solomon Islands | Occurred: 125 million years ago.
Volcanic Explosivity Index: Unknown | Volcanic deposit volume: 24 million cubic miles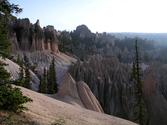 Long considered the largest known explosive eruption in Earth's history, this behemoth of a supervolcano completely changed a vast section of the United States West. Some researchers claim the aerial impact from the event reached as far as the Caribbean. The eruption was estimated to be so large that volcano scientists in 2004 recommended adding a new level 9 classification to the VEI scale for the La Garita event.

Location: San Juan Mountains, Colorado, USA | Occurred: 27 million years ago
Volcanic Explosivity Index: ~9.2 (unofficial) | Volcanic deposit volume: 1,200 cubic miles
GOAT Staff Score - Volcanic Eruption
The candidates have been assigned a raw score across a range of criteria. The raw scores have been weighted to reflect the impact that each individual criterion has on the 'Final GOAT Score'. Only weighted scores are displayed in this table. -->TURN DEVICE SIDEWAYS TO VIEW ON MOBILE-->
| | Geologic Impact | Human Impact | Hollywood Rating | Cultural Significance | Final GOAT Score |
| --- | --- | --- | --- | --- | --- |
| Lake Toba | 6.25 | 12.60 | 10.35 | 12.00 | 41.20 |
| Minoan Eruption (Santorini) | 3.75 | 11.20 | 11.50 | 10.80 | 37.25 |
| Central Atlantic Magmatic Province | 12.5 | 9.80 | 2.30 | 6.00 | 30.60 |
| Mount Tambora | 5.00 | 7.00 | 9.20 | 9.60 | 30.80 |
| Oruanui Eruption | 7.50 | 8.40 | 6.90 | 4.80 | 27.60 |
| Lakagígar (Laki) | 2.50 | 14.00 | 3.45 | 7.20 | 27.15 |
| Krakatoa | 1.25 | 5.60 | 8.05 | 8.40 | 23.30 |
| Yellowstone Supervolcano | 8.75 | 2.80 | 5.75 | 2.40 | 19.70 |
| Ontong Java Plateau | 11.25 | 4.20 | 1.15 | 3.60 | 20.20 |
| La Garita Caldera | 10.00 | 1.40 | 4.60 | 1.20 | 17.20 |
GOAT Verdict:
Exhibiting the rare trifecta of generational human impact, endless Hollywood story-line material, and forever altering the cultural history of the human race, the Lake Toba volcanic eruption is our pick for the greatest volcanic eruption of all-time. We encourage anyone visiting Indonesia to make the trek to the island of Sumatra and witness the stunning beauty of the largest volcanic lake in the world. You might even dare to imagine the utter chaos that the volcano under the lake wreaked on this picturesque landscape so many thousands of years ago. But understand that the sleeping giant is still down there somewhere, counting down the days until it decides to explode again and change the course of history.