What is the greatest unsolved movie mystery of all time?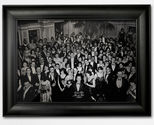 Moments before the credits roll, the camera lazily zooms down a hallway until resting on a framed photograph on a wall of The Overlook Hotel. A scene of celebrating partygoers fills the screen, while the camera continues to hone in on a familiar face. Above the caption "Overlook Hotel, July 4th Ball, 1921" we now see Jack Nicholson's caretaker-writer. But... how could he be in a picture taken in the 1920s, if his first time to the Overlook was in the 1980s? The true nature of the hotel's influence - while explored considerably in Stephen King's novel - is left up in the air by Stanley Kubrick, whose desire to create a blend of impossible realities makes for quite a slew of headscratching events across the movie.
Release: May 23rd, 1980 | Director: Stanley Kubrick | Writer: Stanley Kubrick, Diane Johnson | Genre: Horror | Lead Actors: Jack Nicholson, Shelley Duvall
IMDB Score: 8.5 | Oscars (Nominations): 0 (0) | Type of Mystery: Plot, character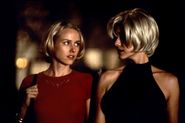 A mobius strip of interconnected sub-plots, each tangled up in their own bizarre circumstances, Mulholland Drive is seemingly impossible to unravel. This is Lynch, so that matter is par for the course. Originally intended to serve as the pilot for a TV series, the filmmaker undertook reshoots to construct the film's final reel - when everything cascades into a jumble. The biggest thinker emerges towards the end, when Betty and Rita return to their apartment after visiting Club Silencio. First a mysterious blue key appears in Rita's purse that slots into the blue box initially discovered in her belongings. That's mysterious enough in and of itself, until Rita slides it home and twists it in the lock. A thud is heard as the square drops to the floor, prompting Betty to return to the bedroom only to find Rita has disappeared. Where has she gone? What did the blue box signify?
Release: October 19th, 2001 | Director: David Lynch | Writer: David Lynch | Genre: Mystery | Lead Actors: Naomi Watts, Laura Elena Harring
IMDB Score: 8.0 | Oscars (Nominations): 0 (1) | Type of Mystery: Plot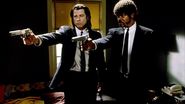 The lynchpin for a whole series of interconnected stories in Quentin Tarantino's sophomore feature is a simple, everyday object; Marsellus Wallace's suitcase. As a plot device it figures into most of the segments, albeit in varying degrees of importance, with its value coming to light during the film's final vignette. Open the case - with the 666 combination - and your face is bathed in an ethereal yellow light. What could be so important that Vincent and Jules are willing to face the two unhinged robbers to protect it? A lot of discussion on the topic has evoked a range of possibilities; some are convinced it's Wallace's soul, others opt for the likelihood that it's just diamonds. Twenty years on, Tarantino and co-writer Roger Avary still haven't offered a definitive explanation...
Release: September 23rd, 1994 | Director: Quentin Tarantino | Writer: Quentin Tarantino, Roger Avary | Genre: Drama-thriller | Lead Actors: John Travolta, Samuel L. Jackson, Uma Thurman, Bruce Willis
IMDB Score: 8.9 | Oscars (Nominations): 1 - Best Original Screenplay (7) | Type of Mystery: Prop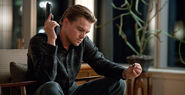 Christopher Nolan's warped reality headscratcher left audiences plagued by one unsolved query as they exited the theater; what was going on with that spinning top? Throughout the movie, much attention is called to each character's totem; a personal item that allows the bearer comfort knowing that they are either in the real world or a dream world. Much is made of Cobb's journey to reconcile his wife's death while learning to be a father to his children, which is what makes the last shot of the film so maddening. As his totem - the spinning top - endlessly circles on a table top, the shot cuts to black leaving viewers without a clear resolution. Does it topple over, thereby suggesting he's back in reality? Or does it continue to spin forever, meaning he's still stuck in limbo?
Release: July 13th, 2010 | Director: Christopher Nolan | Writer: Christopher Nolan | Genre: Thriller | Lead Actors: Leonardo DiCaprio, Marion Cotillard, Ellen Page, Joseph Gordon Levitt
IMDB Score: 8.8 | Oscars (Nominations): 4 - Best Achievement In Cinematography, Best Achievement in Sound Mixing, Best Achievement in Sound Editing, Best Achievement in Visual Effects (8) | Type of Mystery: Character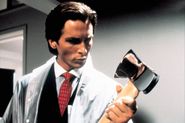 Patrick Bateman, the charming, vapid, narcissistic antihero of American Psycho isn't just a perfectly coiffed yuppy. He's also a serial killer, whose baser instincts urge him to senselessly murder those around him he identifies as threats to his status; or he just feels like offing. Whatever his motives may be, the biggest sting in Mary Harron's fantastic take down of 80s hedonism comes at the film's end when he admits to the killings only to have his confession rebuffed by his peers. No one takes him seriously. His contemporaries politely steer conversation away from the topic, as if it's of minor significance. As he himself states in the closing outro, "this confession has meant nothing" which suggests he's either the world's deadliest killer, or the owner of a wild imagination...
Release: April 14th, 2000 | Director: Mary Harron | Writer: Mary Harron, Guinevere Turner | Genre: Thriller | Lead Actors: Christian Bale
IMDB Score: 7.6 | Oscars (Nominations): 0 (0) | Type of Mystery: Plot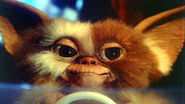 Gremlins' hero, a teenager called Billy, receives a gift from his father that no other kid in class would ever be able to top; a mogwai called Gizmo. The cute furball sings, giggles and happily chirps away like a cross between a cat and a guinea pig. The strict instructions he's given along with Gizmo insist that if he wants to take care of the pet he must adhere to them. The first states that he never get the animal wet, the second that he never expose him to bright light and the third - and most troublesome - is that he never, ever feed him after midnight. What's never addressed, but made fun of in the sequel, are the specifics of the final rule. What if Gizmo is in a different time zone, does that affect when he can eat? But the biggest problem is that really, every moment from midnight to 11.59pm the next night is technically 'after midnight.'
Release: June 8th, 1984 | Director: Joe Dante | Writer: Chris Columbus | Genre: Horror-comedy | Lead Actors: Zach Galligan, Phoebe Cates
IMDB Score: 7.2 | Oscars (Nominations): 0 (0) | Type of Mystery: Mythology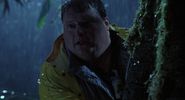 In answering one of man's most intriguing questions - what were dinosaurs really like? - Jurassic Park makes great effort to provide its own scientific reasoning. The point being that it's science fiction, meaning that the possibility of cloning dinosaurs from millions of years ago is an unlikely achievement. Those details aside, there's still one mystery that has stumped viewers since the film debuted back in 1993. At a key moment, one of the park's programmers, Denis Nedry, sneaks off to deliver an aerosol can stuffed with dino embryos. The relentless rain storm foils his plan and he skids off road only to be confronted by Dilophosaurus, that proceeds to blind him and kill him. The canister rolls into the mud, and flows into a stream, and we never find out what happened to the budding life within.
Release: June 11th, 1993 | Director: Steven Spielberg | Writer: Michael Crichton, David Koepp | Genre: Action | Lead Actors: Sam Neill, Laura Dern, Jeff Goldblum
IMDB Score: 8.0 | Oscars (Nominations): 3 - Best Sound, Best Sound Effects Editing, Best Visual Effects (3) | Type of Mystery: Plot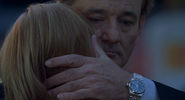 Their star-crossed romance coming to an end, Bill Murray's ageing actor Bob prepares to part from Scarlett Johansson's Charlotte. Leaning in for their final embrace, he whispers something in her ear that's since been discussed in great detail. Why? Because it's so low in the mix it's inaudible to viewers. In the script, Sofia Coppola didn't specify any particular dialogue to accompany the moment and so Murray improvised the whispered line he breezily utters. As the film is now twelve years old, it's beginning to accumulate a cult classic status - and a large portion of that is a result of this scene. Perfectly capturing a snapshot moment between two people, their final parting will no doubt be the subject of further scrutiny as the years wear on.
Release: September 12th, 2003 | Director: Sofia Coppola | Writer: Sofia Coppola | Genre: Drama | Lead Actors: Scarlett Johansson, Bill Murray
IMDB Score: 7.8 | Oscars (Nominations): 1 - Best Original Screenplay (4) | Type of Mystery: Dialogue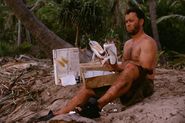 The story of Tom Hanks' stranded Fed Ex worker, who crash lands on a deserted island is filled with many mysteries. Most of which revolved around Chuck Nolan's behaviour, for example why did he throw Wilson away when that deflated ball was his only friend? While that may be an intriguing quibble to debate, the biggest mystery of the entire film is a two-pronged riddle. After he washes up on the beach and begins to acclimatise, Chuck fishes a few lone FedEx packages from the water, including one bearing a pair of angel wings that we see a woman handling at the beginning of the movie. Even in this extraordinary circumstance, Chuck plans on keeping the FedEx promise by getting the package to its intended recipient. The 'keeping hope' factor is undoubtedly why he holds onto it, but why not open it? It could have had a satellite phone in it.
Release: December 22nd, 2000 | Director: Robert Zemeckis | Writer: William Broyles Jr. | Genre: Drama | Lead Actors: Tom Hanks
IMDB Score: 7.7 | Oscars (Nominations): 0 (2) | Type of Mystery: Prop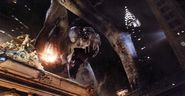 From its hideous gaping jaws to its countless arachnid legs, the Cloverfield monster appears like a entity constructed as an homage to the sci-fi genre. Apart from its terrifying aesthetic, towering above the scattered New York crowds, there's many other factors to consider when trying to figure out one, humdrum question: where did it come from? Whereas most monster capers isolate the creature's beginnings, Cloverfield focuses on the small-scale human experience to its attack. This is why the film is such a unique slab of genre filmmaking; however, it would be satisfying to know where exactly it came from. All we know as revealed by director Matt Reeves, is that it's a baby of its species that emerged from the ocean's murky depths. How did it get there, who are its parents, and more importantly, where did it go at the end of the movie are all mysteries that remain unanswered.
Release: January 18th, 2008 | Director: Matt Reeves | Writer: Drew Goddard | Genre: Horror | Lead Actors: Mike Vogel, Lizzy Caplan, Jessica Lucas
IMDB Score: 7.1 | Oscars (Nominations): 0 (0) | Type of Mystery: Character
GOAT Staff Score - Unsolved Movie Mystery
The candidates have been assigned a raw score across a range of criteria. The raw scores have been weighted to reflect the impact that each individual criterion has on the 'Final GOAT Score'. Only weighted scores are displayed in this table. -->TURN DEVICE SIDEWAYS TO VIEW ON MOBILE-->
| | Intrigue (30%) | Enjoyment Factor (20%) | Storyline Contribution (20%) | Critical Response (15%) | Fan Reaction (15%) | Raw Score | Final GOAT Score |
| --- | --- | --- | --- | --- | --- | --- | --- |
| The Shining | 10 | 8 | 6 | 7 | 10 | 41 | 835 |
| Mulholland Drive | 9 | 6 | 7 | 10 | 5 | 37 | 755 |
| Pulp Fiction | 8 | 5 | 8 | 8 | 7 | 36 | 725 |
| Inception | 7 | 9 | 4 | 9 | 6 | 35 | 695 |
| American Psycho | 6 | 7 | 10 | 5 | 3 | 31 | 640 |
| Gremlins | 4 | 2 | 9 | 4 | 8 | 27 | 520 |
| Jurassic Park | 2 | 10 | 3 | 1 | 9 | 25 | 470 |
| Lost In Translation | 5 | 4 | 2 | 6 | 2 | 19 | 390 |
| Cast Away | 3 | 1 | 5 | 3 | 1 | 13 | 270 |
| Cloverfield | 1 | 3 | 1 | 2 | 4 | 11 | 200 |
GOAT Verdict:
At the heart of The Shining lies a mystery tangled in the supernatural that director Stanley Kubrick never answers. Seasonal caretaker Jack Torrance and his family stay at The Overlook over the winter to tend the hotel and its grounds, until he becomes influenced by unseen evil forces and plots to murder his wife and child. In a spin on the haunted house trope, Jack becomes an agent of the hotel's sinister presence as spectral figures from the establishment's chequered past engage with him. At one point, his wife Wendy locks him in a larder only for the ghost of former caretaker Grady to come along and release him. But how can spooks possess the ability to have an effect on the real world? If that weren't bizarre enough, the ending shot of a 1920s photograph featuring Jack proves the point Grady makes earlier; he was always the caretaker. It's an impossible conundrum to try and decipher, and one that was never given a proper explanation by Kubrick.