What is the greatest tree of all time?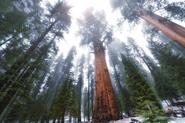 The most voluminous tree alive on earth today. The Giant Forest at Sequoia National Park is home to hundreds of behemoth trees, but being in the presence of Sherman feels like royalty. Now a national icon and host to thousands of tourists a year, this giant sequoia is one of the most beloved and famous trees of all time. The tree was named after the Civil War General William Tecumseh Sherman in 1879. With what seems like an impossibly wide girth, and a height that may as well go up to infinity, witnessing The General in person should be on every GOAT fan's bucket list.
Location: Sequoia National Park, California | Type: Giant Sequoia | Age: ~2,500 Years | Height: 275 Feet | Girth: 79 Feet | Volume: ~52,500 Cubic Feet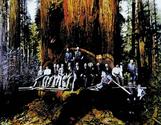 The largest single-stem organism to ever live on earth. This tree made General Sherman look like a sapling. The massive coast redwood, located in Northern California's Grove of Titans, was felled by a storm in 1905. Loggers harvested the wood from the tree, and it was said to have a trunk volume of over 90,000 cubic feet, and weight of 7.26 million pounds. It was over twice the mass of General Sherman! While it's hard to even find objects large enough to use as a reference, consider the fact that this tree was over 2.5 times the volume of a 747 aircraft!
Location: Fieldbrook, California | Type: Coast Redwood | Age: ~700 Years | Year Deceased: 1905 | Height: Unknown | Girth: ~119 Feet | Volume: >90,000 Cubic Feet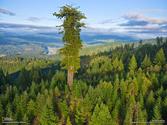 The tallest tree on earth. With a location that is kept highly secret to ensure the conservation of these giant trees, Hyperion is the tallest coast redwood in a region known to tree researchers as The Grove of Titans. Not discovered until 2006, Hyperion perfectly exhibits the intrigue and rarity of a true GOAT. Researchers always knew that hugely tall trees existed in this part of the world, but no one had ever confirmed the astonishing 380 foot height of Hyperion until less than 10 years ago. The tree gives us hope that there may be other GOATs yet to be discovered.
Location: The Grove of Titans, California | Type: Coast Redwood | Age: ~750 Years | Height: 380 Feet | Girth: 48 feet | Volume: ~18,600 Cubic Feeet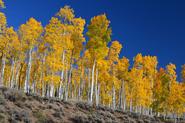 Certainly the heaviest, and possibly the oldest living organism on the planet. Pando is a clonal colony of quaking aspen trees in the Fishlake National Forest in South-Central Utah. The roots of Pando are 80,000 years old. It was alive during the Paleothilic Era, when Neanderthals still walked the earth. With over 40,000 stems, the tree weighs 13 million pounds, that's slightly less than the Eiffel Tower! See it in the fall, when the leaves of the massive organism burn with a vivid gold color. Walking among this forest of a tree will be an experience you'll never forget.
Location: Fishlake National Forest, Utah | Type: Quaking Aspen | Age: ~80,000 Years | Height: Up to 100 Feet | Total Weight: 6,600 Tons | Total Area: 106 Acres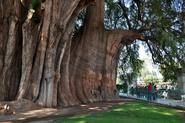 The stoutest trunked tree on earth. This beast of a Montezuma cypress is located on church property in the center of Santa Maria De Tule, a small town in far southern Mexico. With a mind-blowing trunk circumference of 137.8 feet, the Arbol del Tule is almost twice as stout as your typical above ground pool! The tree is also known for its gnarled bark creating animal like patterns, such as lions and elephants.
Location: Santa María del Tule, Oaxaca, Mexico | Type: Montezuma Cypress | Age: ~1,500 Years | Height: 116 Feet | Girth: 138 Feet | Volume: ~29,000 Cubic Feet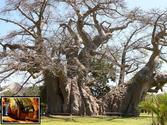 This tree is a functioning bar and wine cellar. And while the TGS staff has been to our fair share of obscure watering holes, we can't say we've ever tipped a pint inside the trunk of a tree. The gargantuan baobab is located on the Sunland Farm in South Africa. It's been alive for over 1,000 years and has been operating as a pub open to the public since 1933. Complete with 13 foot high ceilings and seating for up to 15, this is not only one of the greatest trees, but also one of the greatest drinking establishments on earth.
Location: Sunland Farm, South Africa | Type: Baobab | Age: ~1,060 Years | Height: 72 Feet | Girth: 109.58 Feet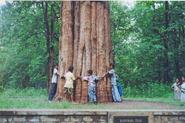 The largest and oldest teak tree on earth. The tree is located in the Parambikulam Wildlife Sanctuary in southern India. With an astonishing 21.5 foot girth, and a height of 113 feet, the wood within the tree has a market value of over $600,000! The local populations believe the tree to be sacred. According to tribal belief, when the first attempt was made to chop down the tree, the open cuts in the trunk oozed with red blood. Thus the tree was named Kannimara, which roughly translates to "Virgin Tree". Whether you believe the legend or not, this astonishing specimen is surely one of the greatest trees of all time.
Location: Parambikulam Wildlife Sanctuary, South India| Type: Teak | Age ~450 Years | Height: 131 Feet | Girth: 21.5 Feet
8
Unnamed Bristlecone Pine (Harlan Bristlecone)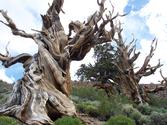 The oldest non-clonal tree on earth. The twisted, leathered appearance of the Bristlecone Pine gives away their age, in many cases they've lived for over 5,000 years! And the oldest of them all was discovered by tree researcher Tom Harlan in 2013. At 5,064 years old, this un-named, un-known location, bristlecone pine in the White Mountains of California is the oldest single living organism on earth (non-clonal). The world has changed drastically over the course of 5 millennia, but the Bristlecones have been a constant, slowly growing and thriving through it all
Location: White Mountains, California | Type: Bristlecone Pine | Age: ~5,064 Years | Height: <30 Feet | Girth: < 15 Feet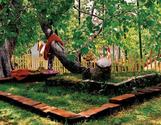 The oldest human-planted tree on earth. The Jaya Sri Maha Bodhi is a fig tree that is one of the most sacred relics in the Buddhist culture. The tree was planted in modern day Sri Lanka by the daughter of the Indian emperor Ashoka over 2,000 years ago. The tree has survived the rise and fall of numerous dynasties, and it has been protected as a religious site by many kings throughout the generations. Today, thousands of Buddhists visit the tree every year to pay their respects.
Location: Anuradhapura, Sri Lanka | Type: Sacred Fig | Age: ~2302 Years | Height: ~30 Feet | Girth: ~8 Feet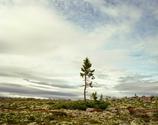 The oldest individual clonal tree on earth. This weathered and windbeaten Norway Spruce is located on Fulufjallet Mountain in Sweden. Carbon-dating of the roots proved the tree to be 9,550 years old. It was alive during the time of mammoths, shortly after the last ice-age. Few things in this world are as constant as Old Tjikko and you can make a confident wager that it will persevere for countless future generations.
Location: Fulufjället Mountain, Sweden | Type: Norway Spruce | Age: ~9,550 Years | Height: 16 Feet | Girth: < 10 Feet
GOAT Staff Score - Tree
The candidates have been assigned a raw score across a range of criteria. The raw scores have been weighted to reflect the impact that each individual criterion has on the 'Final GOAT Score'. Only weighted scores are displayed in this table. -->TURN DEVICE SIDEWAYS TO VIEW ON MOBILE-->
| | Physical Drama | Longevity | Natural Beauty | Cultural Significance | Weighted Score |
| --- | --- | --- | --- | --- | --- |
| General Sherman | 70.00 | 17.50 | 78.75 | 20.00 | 186.25 |
| Lindsey Creek Giant | 87.50 | 5.00 | 87.50 | 5.00 | 185.00 |
| Hyperion | 78.75 | 7.50 | 70.00 | 15.00 | 171.25 |
| Pando | 43.75 | 25.00 | 61.25 | 10.00 | 140.00 |
| Árbol del Tule | 61.25 | 12.50 | 35.00 | 40.00 | 148.75 |
| Sunland Baobab | 52.50 | 10.00 | 43.75 | 35.00 | 141.25 |
| Kannimara Teak | 35.00 | 2.50 | 52.50 | 45.00 | 135.00 |
| Unnamed Bristlecone Pine (Harlan Bristlecone) | 26.25 | 20.00 | 26.25 | 25.00 | 97.50 |
| Jaya Sri Maha Bodhi | 8.75 | 15.00 | 17.50 | 50.00 | 91.25 |
| Old Tjikko | 17.50 | 22.50 | 8.75 | 30.00 | 78.75 |
GOAT Verdict:
While not the tallest, oldest, or largest tree on our list, General Sherman gets our vote for the title of The Greatest Tree of All Time.   The General gets strong scores across the board, including high marks for Physical Drama, Longevity, and Natural Beauty.  Couple the physical grandeur of this tree, with it's importance to American outdoor culture and conservation, and you've got a tree that can only be called one thing:  The GOAT.