What is the greatest role-playing video game of all time?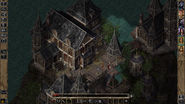 Prior to the Forgotten Realms offerings from Black Isle Studios, most of the games based around tabletop RPGs had either flopped, or fell short of commercial success. When the first Baldur's Gate entry hit the market, however, there was a true market for its character-driven tales, streamlined recreation of D&D rulebooks, and challenging but rewarding combat system. Baldur's Gate 2 was an example of a sequel that capitalized upon the strengths of its predecessor, while also strengthening any weaknesses. This sequel gave the interface and player interaction a much more user-friendly style, as well as giving the plot some much-needed direction and momentum. Baldur's Gate 2 brought tabletop to the masses, as well as the home computer. Even today, no RPG enthusiast's collection is complete without a copy of this masterpiece.

Release: 2000 | Developer: Interplay, Black Isle Studios | Engine: Infinity | All Version Sales (Units): 5.00 million

Defining Traits: isometric party-based dungeon crawling, rich party banter and interactions, pioneer of choice and consequence in computer role-playing games | Metacritic Score: 95 | Available Classes: fighter, ranger, paladin, thief, bard, mage, cleric, druid, barbarian, monk, sorcerer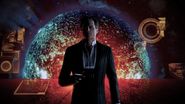 Years after many of Bioware's greatest successes, the Mass Effect franchise exploded onto the market and set a new standard for RPGs, and action games in general. With a unique science-fiction setting that blended new technology and ancient myth, the first Mass Effect title set the stage for a grand intergalactic struggle. Its sequel was written and animated with the jaw-dropping thrills of a Hollywood movie, and sharpened the first game's combat to a razor edge. Galactic exploration became daring and challenging, and the player truly assumed the role of Commander Shepard, pacing across the Normandy's decks and pausing to examine ship models in your personal quarters. Mass Effect 2 walks the tightrope of RPG and interactive film, trusting you in your moral judgments but forcing you to view their repercussions, whatever they may be. Pulse-pounding military strikes may not be the cornerstone of an RPG, but their inclusion never hurts.

Release: 2010 | Developer: Bioware | Engine: Unreal 3 | All Version Sales (Units): 4.81 million

Defining Traits: Cinematic storyline and cutscene quality, real-time or pausable shooting mechanics, galactic exploration | Metacritic Score: 94 | Available Classes: Adept, soldier, engineer, vanguard, sentinel, infiltrator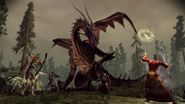 Carving out a niche in the fantasy RPG genre can seem nigh impossible for modern titles, especially when every release must contend with established franchises such as Warcraft and Lord of the Rings, but you wouldn't know it by looking at Bioware's 2009 release, Dragon Age: Origins. As a spiritual successor to both the Baldur's Gate series as well as the canceled third entry in Bioware's Knights of the Old Republic series, this title had a world of expectations behind it, and it delivered with spectacular flourish. The world of Ferelden was steeped in lore and century-old blood feuds, and felt plagued with the encroaching Darkspawn forces, who were as likely to siege a city as they were to ambush your group on a forest trail. The characters were deep, cleverly-written, and carried a certain warmth that made them feel like true companions around the party's campfire zone. Party-based combat may be nothing new in the RPG world, but Dragon Age: Origins set a mile-high bar for future titles in the genre.

Release: 2009 | Developer: Bioware | Engine: Eclipse | All Version Sales (Units): 4.64 million

Defining Traits: pausable party-based combat, deep and engaging lore, a unique dark fantasy setting | Metacritic Score: 91 | Available Classes: warrior, rogue, mage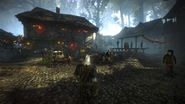 Some titles emerge from the most unexpected places, and The Witcher is no exception. Based on a series of Polish novels, The Witcher introduced the monster-hunting Geralt with all of the sex, violence, and debauchery of its source material. The Witcher 2 is another release that managed to improve as a sequel, making the combat faster, bloodier, and more efficient than ever before. The game's story, which focuses on the hunt for a murderer of kings, will take you through misty swamps and battle camps, all the while offering glimpses of a dirty, sweaty, gory world where questions about racism, class stratification, and drug addiction are hardly swept under the rug. The Witcher 2 boasts incredible voice-acting and character interaction, and it manages to feel both free and laden with adventure in spite of its narrowly-focused plotline. The Witcher is ostensibly a story about hunting down monsters, but at its core, it poses one question: will you eventually become a monster, too?

Release: 2011 | Developer: CD Projekt | Engine: REDengine | All Version Sales (Units): 1.64 million

Defining Traits: real-time hack-and-slash combat, novel-quality plotline and pacing, a gritty and violent universe | Metacritic Score: 88 | Available Classes: training in basic combat, magic, alchemy, and swordsmanship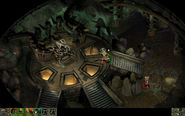 While Planescape: Torment may be another D&D title, its world shares remarkably little with the conventional fantasy setting of the Forgotten Realms. The game begins with your character awakening and finding that he has become immortal, and from there, the search for answers begins. Much of the game was designed around the storyline, dialogue, and exploration, which meant that combat was essentially an afterthought. But Torment proved that blades and chainmail were not essential ingredients for a well-crafted RPG, as its mysterious, reality-bending universe(s) drew you toward the quest for explanations rather than loot. The characters were deep and troubled, and their struggles felt both meaningful and worthy of resolution. Years later, Torment is still fondly remembered as one of the best and unusual RPGs ever put to disc.

Release: 1999 | Developer: Black Isle Studios | Engine: Infinity | All Version Sales (Units): 20,000

Defining Traits: early usage of alignment-shaping through actions, protagonist immortality, a strange and memorable setting in the Planescape multiverse | Metacritic Score: 91 | Available Classes: fighter, mage, thief
6
Star Wars: Knights of the Old Republic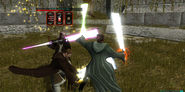 With a franchise like Star Wars, brand recognition alone can generally guarantee a profit for any new title, regardless of the genre. When the programming veterans at Bioware put out Knights of the Old Republic, however, the game sold for another reason: it was a work of art. Rather than relying on the film franchise to anchor their storyline, Bioware created a world that had previously only been seen in comic books and novels. The Old Republic was a seedy, war-torn place full of swoop gangs and chrome-clad Sith troopers, and the plot's insistence upon high-stakes encounters serves to amplify the tension. This title rolled out some of Star Wars' most memorable expanded universe characters, such as the misanthropic HK-47, and brought its cast to life with well-written dialogue and superb voice-acting. Whether sweeping the ocean floor in a submersible, or fighting your way through a plummeting cruiser before it enters the atmosphere, Knights of the Old Republic isn't satisfied with showing you action – it makes you feel it.

Release: 2003 | Developer: Bioware | Engine: Odyssey | All Version Sales (Units): 2.29 million

Defining Traits: party-based entry in the expanded universe of Star Wars, tightly-woven and thrilling storyline, morality system that had practical implications | Metacritic Score: 93 | Available Classes: soldier, scout, scoundrel, Jedi consular, Jedi sentinel, Jedi guardian
7
The Elder Scrolls: Oblivion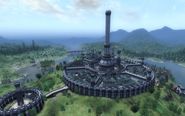 Long before Skyrim, Bethesda set its sights on recreating the world of Tamriel. While the lore of The Elder Scrolls was already fairly rich, Oblivion gave the player the chance to enter its world like a living museum, daring it to touch the scenery and interact with its props more frequently than any previous Scrolls title. The quests in Oblivion were varied and sometimes hidden amongst ruins and moonlit gardens, and half of the joy was simply in finding these gems. Players had a large assortment of classes and specializations to choose from, and personal preference in gameplay and immersion granted you a rare opportunity to live in Tamriel as you pleased. You could pilfer noble homes for diamonds and bejeweled helms, or you could scour the forests, hunting wild game and foraging berries for your meals. There were no limitations on who you could become, or how you were expected to play. And that, truly, is the essence of an RPG.

Release: 2006 | Developer: Bethesda | Engine: Gamebryo and Havok | All Version Sales (Units): 7.41 million

Defining Traits: vast selection of quests and methods of advancing your character, impressive voice-acting from recognizable actors, the ability to roam freely throughout Tamriel | Metacritic Score: 94 | Available Classes: acrobat, agent, archer, assassin, barbarian, bard, battlemage, crusader, healer, knight, mage, monk, nightblade, pilgrim, rogue, scout, sorcerer, spellsword, thief, warrior, witchhunter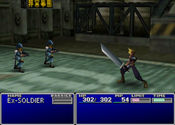 Ask any Final Fantasy enthusiast to give their opinion on the death of a beloved Final Fantasy VII character, and you'll go down one of the deepest rabbit holes in gaming history. Final Fantasy VII was one of the most expensive games produced for its time, but the results still hold up over 15 years after its initial release. The characters were well-rounded and exceedingly memorable, the worlds were enormous, the plot was complex and mature, and the combat system was pared down to make it accessible for casual players and long-term fans alike. When people discuss this title, there is no way to avoid the inevitable praise for the supporting cast – namely Cloud and Tifa – and the ensuing heartbreak over one of the most shocking murders in RPG history. Final Fantasy VII is worth a playthrough, if only to understand why it's so cherished.

Release: 1997 | Developer: Square | Engine: Proprietary | All Version Sales (Units): 22.81 million

Defining Traits: utilization of 3D graphics before it became a common trend in RPGs, numerous mini-games and activities, well-developed and likeable characters | Metacritic Score: 92 | Available Classes: white mage, Uhlan, machinist, red mage, knight, monk, time mage, breaker, archer, black mage, Mononofu, Shikari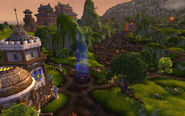 There are few words of praise for World of Warcraft that haven't already been said by its legions of dedicated players. At one time, Blizzard's megahit had an astounding 12 million subscribers, which should serve as a testament to the game's addictive style and polished presentation. The lore of World of Warcraft has years of franchise material to work with, and the world itself was crafted to be a faithful representation of Azeroth and its strange locales. The combat was fluid, the branching skill trees were liberating and encouraged experimentation, and the videogame trope of raiding – especially in its earliest 40-player version – was unparalleled in its epic scope. World of Warcraft may lack the player agency and concise plotlines of a single-player title, but the sheer size and immersion of its world makes it an RPG for the ages.

Release: 2004 | Developer: Blizzard Entertainment | Engine: proprietary engine All Version Sales (Units): 20.51 million

Defining Traits: Holder of the Guinness World Record for most MMO subscriptions, expansive lore from the Warcraft franchise, highly competitive player-versus-player brackets | Metacritic Score: 93 | Available Classes: warrior, druid, mage, paladin, shaman, monk, warlock, hunter, death knight, rogue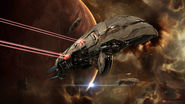 Unlike most RPG titles, Eve Online has no real story. There are plenty of lore entries which help to establish the universe and an overarching series of events, but the driving, pounding action of a plotline is suspiciously absent. Even a fellow MMO, World of Warcraft, gives its story some attention with extended quest chains and themed raids. Eve Online was, in some ways, as cold and detached from the player as the omnipresent space vacuum. This was part of the allure, however. Eve Online was immersive because it asked you to become a realistic pilot, pursuing your own goals while also adhering to the central tenants of survival and personal gain. The player base dictated the politics and fluctuating stock prices of this world, and mega-corporations were forged and broken solely by the actions of pilots and high-ranking bureaucrats within the player community. Role-playing does not always mean leveling up and assigning points. Sometimes, it means becoming as cynical and cutthroat as the pilots around you.

Release: 2003 | Developer: CCP Games | Engine: Trinity | All Version Sales (Units): 80,000

Defining Traits: incredibly steep learning curve, exploration and combat in an open universe, player-driven politics and economics | Metacritic Score: 69 | Available Classes: modifications to the player's ship, including speed, damage, defense, and industrial hauling upgrades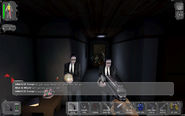 Cyberpunk may not be as associated with RPGs as fantasy, but Deus Ex makes a compelling argument against that notion. Focused around an augmented super-soldier tasked with uncovering bizarre global conspiracies, Deus Ex sometimes has trouble playing itself seriously, since some of its gravity is stripped away by horrid voice-acting and low-resolution texture models. But beyond the campy flaws, Deus Ex told a complicated, adult story with a style of gameplay that felt oddly trusting to the player, allowing you to make your own path with freedom. The game's engine allowed you to stack boxes and access areas that you weren't supposed to see, or to manipulate explosives to propel yourself through distant windows. The augmentation canisters used for upgrades created an early system of adaptive play styles, granting you access to increased strength or immunity to particular types of damage. Deus Ex, all in all, was not an RPG focused around leveling up and becoming more powerful. It was an exploration of transnational cover-ups, player direction, and the ability to become immersed in the character you controlled.

Release: 2000 | Developer: Ion Storm | Engine: Unreal 1 | All Version Sales (Units): 3.78 million

Defining Traits: Amazing freedom of choice and progression, an immersive cyberpunk world, campy voice-acting | Metacritic Score: 90 | Available Classes: augmentations to various limbs and senses using upgrade canisters
GOAT Staff Score - RPG Video Game
The candidates have been assigned a raw score across a range of criteria. The raw scores have been weighted to reflect the impact that each individual criterion has on the 'Final GOAT Score'. -->TURN DEVICE SIDEWAYS TO VIEW ON MOBILE-->
| | Storyline (30%) | Combat System (20%) | NPC Interactions (20%) | Immersion Factor (15%) | Legacy (15%) | Raw Score | Final GOAT Score |
| --- | --- | --- | --- | --- | --- | --- | --- |
| Baldur's Gate 2 | 8 | 6 | 10 | 9 | 10 | 43 | 845 |
| Mass Effect 2 | 11 | 8 | 7 | 5 | 7 | 38 | 810 |
| Dragon Age: Origins | 9 | 5 | 11 | 8 | 3 | 36 | 755 |
| The Witcher 2 | 6 | 11 | 6 | 10 | 1 | 34 | 685 |
| Planescape: Torment | 10 | 2 | 8 | 7 | 5 | 32 | 680 |
| Star Wars: Knights of the Old Republic | 7 | 3 | 9 | 3 | 4 | 26 | 555 |
| The Elder Scrolls: Oblivion | 5 | 4 | 4 | 6 | 9 | 28 | 535 |
| Final Fantasy VII | 4 | 7 | 5 | 1 | 6 | 23 | 480 |
| World of Warcraft | 2 | 9 | 2 | 4 | 11 | 28 | 460 |
| Eve Online | 1 | 10 | 1 | 11 | 2 | 25 | 445 |
| Deus Ex | 3 | 1 | 3 | 2 | 8 | 17 | 350 |
GOAT Verdict:
There are a thousand things to be said about Baldur's Gate 2, and nearly all of them are good. It can be rare to find a sequel that actually improves and enhances the central experience of a game, but it's often far rarer to find a sequel which manages to preserve the mystique, wonder, and foreignness of its universe. A racing-the-clock storyline tasked you with hunting down the rogue wizard Jon Irenicus, while also tackling the question of your own morality and impending conversion into the son of the Murder God. Choices were often muddled by invisible consequences, and the wrong party composition could lead to clashing ideals and fatal in-fighting. In going against the open exploration structure of its predecessor, Baldur's Gate 2 offered a more directed world that was packed with witty side characters, complex moral decisions, and unbelievably detailed environments. Surprises came in the form of ambushes and long-forgotten foes, and some of the greatest moments of joy came from realizing that the locked chest could simply be bashed open, or finding out how to manually attack neutral characters. For the first time, players felt a sense of empowerment and authority in their own judgment, and it made the world – as well as your discoveries – feel alive and enchanting. Baldur's Gate 2 can rest comfortably on the throne as the greatest RPG of all time.