What is the greatest recycled fashion trend of all time?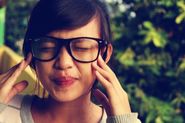 Glasses, now one of the most revered items in the fashion world, spent a long time without recognition. From their inception in the late 1200s up to early 1900s, they were generally considered a sign of weakness, frailty, or handicap. However, at the beginning of the 20th century, Teddy Roosevelt helped elevate the status of glasses to stately intelligence, and jazz musicians made them cool, hip, and even relevant to counter culture. In the years that followed, glasses never really went out of style, although the type that were in varied widely. Big frames were popular in the 30s, 40s, and 50s when jazz musicians and beat poets embraced the horn rimmed look. Round frames came in with the 60s, thanks to John Lennon opting to keep them as his trademark style despite his rock star status. They came back majorly in the 80s, with even bigger and more exaggerated frames, but by the 90s that look was considered goofy and outmoded. The 2000s, however, saw a resurgence of big framed glasses of all styles, from the "Buddy Holly" and horn-rimmed look of the 30s to 50s to oversized 80s frames. In fact, this look made so much of a comeback that those with 20/20 vision are buying empty or clear frames just to cultivate the big glasses look.

Origin: The first glasses were developed in Italy in 1286 - glasses became bigger in 1800s and 1900s as bifocals and trifocals were developed | Initial Popularity in Fashion: Glasses were overall considered a sign of weakness until the early 1900s when Teddy Roosevelt wore them, further popularized in 30s by jazz musicians | Fun Fact: Benjamin Franklin invented them to correct his own vision issues.

Reboot: bigger glasses have come back into style staring in the 2010s, after initial popularity in the 80s | Cultural Association: hipster, nerd, John Lennon, Buddy Holly | Use in High Fashion: designers now make glasses - Donna Karen, Ray Ban | Pair With: Any outfit!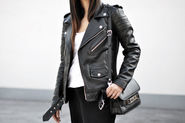 Arguably, the leather jacket is such a staple that it never really went out of style, but that is exactly what makes it such a great and timeless rehashed fashion item. These coats were initially made for the military to be practical in combat, and were appropriated by biker and "greaser" culture in the 1950s. They became the symbol of the rebel and the outlaw, and have never lost that badass edge. These jackets made a big comeback in the 2010s and for the first time were also introduced to the high fashion world. Today, hip leather jackets come in all shapes and sizes, from form-fitting women's jackets that can be worn to dinner to punk or metal jackets with band logo insignia and studs.

Origin: brown leather jackets were first worn by aviators in the US and England | Initial Popularity in Fashion: 1950s - motorcycle stereotype, Marlon Brando, James Dean | Fun Fact: leather jackets with the fleece "flight collar" were popularized by the film Top Gun

Reboot: 70s and 80s with punk fashion, today as both punk fashion and high fashion | Cultural Association: punk, rebel, 50s, metal, high fashion, sexy | Use in High Fashion: often word on the runway as part of winter and fall collections | Pair With: jeans, black pants, dresses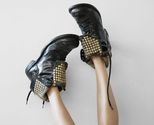 Another practical item that originated with the military, the combat boot first caught on in the 1960s, when hippies would wear boots and other bits and pieces of military uniforms as an ironic protest against the Vietnam War. The counterculture realized how comfy and durable these boots are, as well as how tough they make you look, and decided to appropriate them. These shows never quite went out of style, but were traded off between groups: after the hippies, the punks wore them in the 70s and 80s, and in the 90s they were associated with grunge and rebellious youth in general. Today, there are companies like Doc Marten that specialize in making boots for punks, metalheads, goths, and fashionites.

Origin: The earliest known soldiers to wear them were in the Roman Empire; The British started wearing them in the 1660s in battle | Initial Popularity in Fashion: Hippies wore them ironically during the 1960s as a form of protest against the Vietnam War. | Fun Fact: There are many variations, such as the hobnail and the jack, and many countries have their own unique style of boots for combat

Reboot: 80s onward - punk and metal subculture picked them up as a fashion statement | Cultural Association: army, hippies, punk, metal, rebellious teen | Use in High Fashion: usually not worn on the runway | Pair With: straight fitting jeans, graphic tees, dresses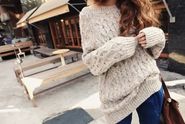 The sweater is also timeless; it was one of the first shirts ever, invented by those in the British Isles as a way to keep warm during winter. Early sweaters were made from wool, usually died blue, and fully intended for function and not fashion. However, as time went on, they became one of the most beloved staples in the fashion world. They first became big in the 20s, when designers like "Coco" Channel decided to include sweaters in their fall and winter fashion lines. These warm and fuzzy outfit completers stayed big until the 1950s, when the sweater vest was introduced, but fell out of favor in the 60s as they were associated with "squares" and not the counterculture. They made a big comeback in the 80s when it was stylish for women to wear oversized sweaters with leggings, and also in the 2000s with the advent of the hipster fashion aesthetic. It's now back in style to pick out oversized and patterned sweaters from thrift stores to complete any outfit. While some complain that the look is tacky, the comfort that comes with pulling on an oversized sweater really can't be overstated.

Origin: first knitted out of wool in the 15th century in English Channel islands | Initial Popularity in Fashion: in the 1920s designers like "Coco" Channel began making sweaters to be fashionable as well as functional | Fun Fact: English people call pull-over sweaters "jerseys" and the phrase has stuck as the name of a sports team shirt

Reboot: the oversized or patterned "thrift store" sweater look came back in style in the early 2000s as part of hipster fashion | Cultural Association: comfort, warmth, fashion, Europe, hipster | Use in High Fashion: Were not considered a high-fashion item until the 1920s, now often part of designer catalogues | Pair With: leggings, jeans, as an over-layer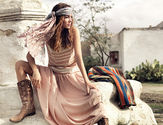 Although cowboy boots were initially created to be worn when riding and roping cattle, the makers always had fashion in mind. Cowhands wanted a boot they could wear to ride and to go into town, and they were inspired by all the beautiful patterns they saw in Mexican art and on Native American tapestries. As such, the cowboy boot was born. In the early days, these boots would be custom designed and fitted for the wearer. They didn't really catch on in the fashion world until the 2000s, when they were introduced to the runway and lower level fashion as part of the all-around boot craze. Newer fashion cowboy boots are typically a bit shorter than the knee-length originals, since they aren't being used for riding, and the heels are typically a bit shorter to fit in with modern boot styles.

Origin: Cowboys in the 1800s needed boots that were good for work and would look good in town too - these replaced regular workboots during the cattle drive era, patterns in spired by Mexican influence | Initial Popularity in Fashion: Popular from mid-1800s to early 1900s while cattle culture was big, went out before jazz era | Fun Fact: Those who are serious about cowboy boots will use a "boot hook" or a "boot jack" to help them fit and put them on.

Reboot: 2010s - became a fashion staple when boots got big again in the fashion world - newer style is shorter with smaller heel | Cultural Association: cowboys, cattle drives, Southwest, Midwest, west, fashion boots | Use in High Fashion: Expensive leather cowboy boots are often featured on the runway | Pair With: straight-fitting jeans, button down shirts, dresses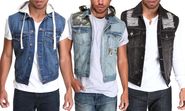 The vest has been around for a while in one form or another; its first appearance was in 1666 in the courts of England when the vest became a part of the male suit. Since then, it has popped in and out of popular fashion. After the 50s, the sweater vest became passé, but the leather vest was worn by hippies. Punk, motorcycle, and metal culture all adapted the practice of wearing a leather or denim vest decorated with patches and pins of bands or associated clubs, studs, and painted-on names. In the 2000s, the vest as inspired by punk and metal culture became popular again with mainstream fashion.

Origin: Made popular by Charles II of England in 1666 to teach thrift to the nobles | Initial Popularity in Fashion: First made "cool" by biker culture in the 1960s and 70s - usually denim or leather | Fun Fact: The Brits call tank tops vests and they call pullover vests tank tops

Reboot: Vests became cool again as an offshoot of metal and punk culture in the 2000s; the sweater vest also came back as a hip fashion statement. | Cultural Association: bikers, punks, hipsters, hippies, metal counterculture | Use in High Fashion: not usually associated with high fashion, except the occasional variations on designer sweaters or leather jackets | Pair With: jacket or shirt underneath, jeans, pants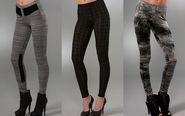 Although leggings have existed as an article of clothing since the 1600s and possibly earlier, they didn't really make their appearance in the mainstream and high fashion worlds until the 1960s. In the 60s they were worn with skirts and slip-on or ballet flats as a simple yet classy fashion statement. They weren't big in the 70s, but came back in the 80s as a pairing with the oversized sweater. They also made a recent resurgence in the 2010s in the form of patterned and colorful leggings, and are often paired with oversized shirts, dresses, miniskirts, or just plain t-shirts.

Origin: Worn in Europe from 13th to 16th centuries under trousers, leather leggings worn by Native Americans | Initial Popularity in Fashion: 1960s with ballet flats or slip-ons, 80s - wearing gym wear as street wear, patterned leggings | Fun Fact: in their very early forms, leggings used to be two pieces, much like socks or stockings

Reboot: 2005 - comeback alongside skinny jeans, worn under mini-skirts or oversized sweaters | Cultural Association: dancewear, fitness, yoga | Use in High Fashion: worn under classy dresses on the runway | Pair With: slip-ons, ballet flats, boots, skirts, dresses, sweaters, workout clothes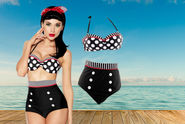 America took a while to embrace swimwear, although other cultures have been wearing it for centuries. Once we did finally come out of our shell, we took off with new innovations on the bathing suite, and it wasn't long before the two-piece was born. Even though early two-piece bikinis only showed off a little bit of the midriff and usually had shorts for bottoms, they still caused quite a stir in society, so much so that they were banned from some beaches and pools, and women wearing these suits became some of the first "pin up" photos sold in magazines like Playboy. These classic suits were usually decorated with polka dots, stripes, or sailor-inspired prints. This style was big for a while, but in the late 40s, the war caused a fabric shortage, social standards were loosened, and as a result, the string bikini we know today came to popularity. This style stayed big for years, and is still the prevailing trend among high-fashion swimwear shows. However, in the 2010s the classic pin-up style came back. It's now possible to again find a slightly more modest, and much more decorative, two piece suit.

Origin: The first depictions of the bikini are from ancient Greco-Roman art, but the first bikinis for wear were developed in the 1930s in America | Initial Popularity in Fashion: from the 1930s to the 1950s, two-piece bathing suites became popular, often characterized by shorts for bottoms, polka dots, sailor-influenced styles, or stripes | Fun Fact: The string bikini first came to popularity over the pin-up style because of the fabric shortage during the 1940s

Reboot: In the 2000s the pin-up style bikini came back in style after years of the string bikini's reign | Cultural Association: sexy, beach, pin up, Marylyn Monroe, Betty Paige | Use in High Fashion: usually not in modern swimwear shows, as the string bikini is still popular there | Pair With: sunglasses, red lipstick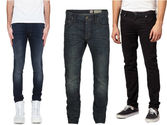 Form-fitting pants have been around since the French courts in the 1600s, and the form-fitting, or "skinny" jean became popular in the 1950s when performers like Elvis and actors like James Dean wore them in concert and on screen. Women wore them too, like the "drainpipe jeans" that Audrey Hepburn made famous. The pants lost mainstream popularity in the 60s with the advent of bell-bottoms and flares, bit they were still big in the 70s and 80s punk subcultures and made a big comeback in the 80s. More recently, skinny jeans became popular in the 2010s as part of hipster or "scene" fashion, and as a derivative of the punk and metal styles.

Origin: Tight-fitting trousers were first made popular in the 1660s in France by the court of Louis XIII - came back in style in early 1800s in Europe and America as a throwback to the French style | Initial Popularity in Fashion: Elvis in the 1950s, Audrey Hepburn in the 60s with "drainpipe jeans," rockabilly in the 70s, Teddy Boy/punk in the 70s, metal in the 80s with acid washed/light colored jeans | Fun Fact: Some Islamist groups find these pants offensive because of their tight fit.

Reboot: 2010s - mall culture, Hot Topic, part of resurgence of metal/punk popularity, expanded to include men's fashion, hipster | Cultural Association: punk, metal, hipster, modern | Use in High Fashion: leather or pleather straight-leg pants get paired with loose-fitting shirts or nice dresses | Pair With: boots, sneakers, heels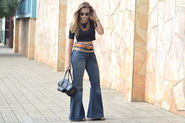 These pants were first popularized by sailors in the British and American Navies. They wore pants that were tight at the top and loose-fitting at the bottom in order to be rolled up easily when they had to get in the water, and called them "bell bottoms." These pants became immensely popular in the 60s with hippie culture, and were characterized by tight knees and huge flares at the bottom. They were also big in the 70s during disco culture, but dropped off after that, until the 90s. The pants made their comeback and from the mid-90s until the turn of the century when they were all the rage, reappearing in more subdued styles such as the "boot cut" and "flare," which were less big at the bottom than the original bell bottom. However, in the 2010s skinny jeans made their comeback and bell bottoms once again fell out of favor.

Origin: Sailors in the British and American Navy coined this tradition, and since then it has become part of the uniform. It has been speculated they started because the legs are easy to roll up, but no one is sure. | Initial Popularity in Fashion: 1960s and 70s, hippie and disco eras (bigger during disco) | Fun Fact: Early sailors also coined the name

Reboot: 90s and 2000s - turn of the century - boot-cut and flare, looser fabric at the knee, often worn with sneakers | Cultural Association: hippies, disco, counter culture, retro, turn-of-the-century | Use in High Fashion: Exaggerated flairs still make an appearance sometimes as denim couture | Pair With: loose floral top, button-down, graphic tee
GOAT Staff Score - Recycled Fashion Trend
The candidates have been assigned a raw score across a range of criteria. The raw scores have been weighted to reflect the impact that each individual criterion has on the 'Final GOAT Score'. -->TURN DEVICE SIDEWAYS TO VIEW ON MOBILE-->
| | Universally Flattering (20%) | Practicality (20%) | Comfort (20%) | Eye-catching (15%) | Affordability (15%) | Cultural Relevance (10%) | Raw Score | Final GOAT Score |
| --- | --- | --- | --- | --- | --- | --- | --- | --- |
| Big Glasses | 10 | 8 | 8 | 6 | 3 | 4 | 39 | 695 |
| Leather Jacket | 7 | 10 | 4 | 9 | 4 | 7 | 41 | 685 |
| Combat Boots | 8 | 9 | 7 | 8 | 2 | 5 | 39 | 680 |
| Cozy Sweater | 9 | 6 | 10 | 1 | 9 | 3 | 38 | 680 |
| Cowboy Boots | 6 | 7 | 5 | 7 | 1 | 10 | 36 | 580 |
| Vest | 5 | 4 | 6 | 5 | 5 | 8 | 38 | 530 |
| Leggings | 2 | 3 | 9 | 4 | 10 | 1 | 29 | 500 |
| Pin-up Style Bikini | 1 | 1 | 1 | 10 | 8 | 9 | 30 | 420 |
| Skinny Jeans | 4 | 5 | 3 | 3 | 6 | 2 | 23 | 395 |
| Bell Bottoms | 3 | 2 | 2 | 2 | 7 | 6 | 22 | 335 |
GOAT Verdict:
The official Greatest Rehashed Fashion Item of All Time is big glasses. Not only are glasses already a practical choice for those who need them as well as a fashion item, big glasses are actually more practical for many, since they allow the viewer to see better out of their peripheral vision as well as directly. They also look good on just about everyone, and make you look smarter as well as more attractive. What's more, they've made an extremely successful comeback, and defied fashion predictions – nobody thought that the giant 1980s bifocal look would ever come back in style, but it has, in a big way. All of these things add up to make big glasses the greatest of all time.