What is the greatest natural disaster film of all time?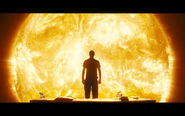 In recent years, science has taken as much interest in outer space as film production companies. This film featured a team of scientists sent to restart the sun using a stellar bomb, and while the physics behind the story are far from bulletproof, they were presented in a manner that seemed consistent enough to be enjoyable. The film was already ripe with tension due to Earth's inevitable failure, but it was heightened by subplots about religious extremism, betrayal, and the nature of consciousness. Sunshine's all-star cast also enabled the film to reach new heights due to its accomplished acting and fantastic inter-character chemistry, which helped to sell the concept of a multinational coalition of physicists, engineers, and researchers. Sunshine has as much pseudo-science jargon as any other natural disaster film, but its realism hides the cracks.

Release: 2007 | Director: Danny Boyle | Writer: Alex Garland | Production Company: Moving Picture Company, DNA Films, UK Film Council, Ingenious Film Partners

Leading Actors: Rose Byrne, Cliff Curtis, Chris Evans, Troy Garity, Cillian Murphy | Budget: $40 million | Box Office Gross: $32 million | RottenTomatoes Score: 75%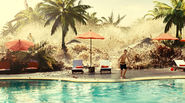 Compared to some of the more high-octane thrillers and apocalypse-courting films on the list, The Impossible is a shockingly human story which relies on the true definition of "disaster." Revolving around the Bennett family and their experience with a tsunami in Thailand, the film focuses its attention on the desperate search for missing children rather than thousand-ton bombs or ground-fracturing lava fissures. The film was critically acclaimed due to its powerhouse performances from Ewan McGregor and Naomi Watts, and managed to place the viewer into one of the most chaotic and frightening episodes in recent history. Considering the story's origins in the real-life experiences of a tsunami survivor, it's hard not to feel connected to the characters' struggles, and embrace the grittiness that director Juan Antonio Bayona instilled in every scene.

Release: 2012 | Director: Juan Antonio Bayona | Writer: Sergio G. Sánchez | Production Company: Apaches Entertainment, Telecinco Cinema

Leading Actors: Naomi Watts, Ewan McGregor | Budget: $45 million | Box Office Gross: $180.2 million | RottenTomatoes Score: 81%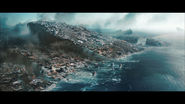 Few films are as direct about their subject as Roland Emmerich's 2009 blockbuster, which capitalized on the hysteria surrounding 2012 and its Mayan apocalypse. John Cusack was the leading presence behind the film, and his efforts to save his family and evade the planet's destruction served as the driving (and personal) force behind a film of epic proportions. The film emphasized its offbeat and often tongue-in-cheek moments, but didn't hold back in flaunting its budget. There were state-shattering volcanic eruptions, set pieces involving massive "Ark" boats, and more sequences involving the narrow escape of a city than any action film to date. 2012 didn't take itself nearly as seriously as its namesake end-of-the-world prophecy, and succeeded in bringing a stunning array of visuals and tsunami-torn Los Angeles streets to the screen.

Release: 2009 | Director: Roland Emmerich | Writer: Harald Kloser, Roland Emmerich | Production Company: Columbia Pictures

Leading Actors: John Cusack, Chiwetel Ejiofor, Amanda Peet, Oliver Platt, Thandie Newton, Danny Glover, Woody Harrelson | Budget: $200 million | Box Office Gross: $769.7 million | RottenTomatoes Score: 39%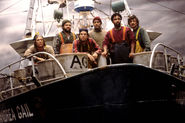 The sea has long been considered an inhospitable and outright cruel environment by sailors, and The Perfect Storm expertly illustrated this concept with the plight of a doomed swordfish-catching vessel. Grounded in the real story of the Andrea Gail, the film called upon nonfiction accounts of the crew's struggle for survival and the grief of the victims' families. For the story's film adaptation, a massive amount of well-rendered CGI transformed the experience into an immersive and terrifying experience. The film's all-star cast, including George Clooney and Mark Wahlberg, lent familiar faces to the story, and provided solid performances to heighten the film's rollercoaster of emotions. While the film was not as well-received as other films in the genre, it managed to immortalize the crew of the Andrea Gail, and told a touching and inspirational story in the process.

Release: 1997 | Director: Wolfgang Petersen | Writer: William D. Wittliff, Bo Goldman | Production Company: Warner Bros., Baltimore Spring Creek Productions, Radiant Productions

Leading Actors: George Clooney, Mark Wahlberg, Diane Lane, John C. Reilly, Mary Elizabeth Mastrantonio, William Fichtner, Bob Gunton, Karen Allen | Budget: $120 million | Box Office Gross: $328.7 million | RottenTomatoes Score: 47%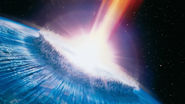 When Hollywood makes a film about meteors striking the Earth, they're always sure to pad the cast list with some of the best names in cinema. Deep Impact featured an ensemble cast and took a wide view of the planet's impending doom, which was set to arrive in the form of a seven-mile-wide comet. The film marked one of Elijah Wood's defining films in his transition to more "adult" Hollywood blockbusters, and managed to outsell Armageddon, which dealt with the same planet-destroying terror. The film also dealt with significantly darker themes than its Michael Bay counterpart, since it actually portrayed the repercussions of breaking a comet into several fragments and allowing them to strike the Earth. Despite the deaths of millions of people and untold carnage, the citizens of Deep Impact's Earth were still ready to rebuild, carry on, and embrace the human element behind disaster films.

Release: 1998 | Director: Mimi Leder | Writer: Bruce Joel Rubin, Michael Tolkin | Production Company: DreamWorks Pictures, The Manhattan Project, Zanuck/Brown Productions

Leading Actors: Robert Duvall, Téa Leoni, Elijah Wood, Vanessa Redgrave, Maximilian Schell, Leelee Sobieski, Morgan Freeman | Budget: $80 million | Box Office Gross: $349.4 million | RottenTomatoes Score: 47%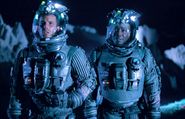 Bruce Willis and Ben Affleck may have no business strapping in as astronauts and attempting to save the world, but Michael Bay was determined to prove the opposite with his 1998 disaster film. Pitted against the nigh-identical Deep Impact, Armageddon had a largely playful tone and relied on the relationships between its characters to keep the plot afloat. Although it may have been laughable to send a team of oil rig drillers into space for the purpose of dispatching an approaching asteroid, Michael Bay managed to frame the mission's circumstances so that it seemed entertaining, if not bizarre. The star-studded cast ensured sizable box office results, and the Bay's emphasis on (literally) explosive visuals gave the asteroid-killing crusade an impressive and polished presentation. Armageddon is a far cry from being flawless or cinematically stirring, but it's a memorable entry in the hall of disaster film legends.

Release: 1998 | Director: Michael Bay | Writer: Jonathan Hensleigh, J. J. Abrams | Production Company: Touchstone Pictures, Jerry Bruckheimer Films, Valhalla Motion Pictures

Leading Actors: Bruce Willis, Billy Bob Thornton, Liv Tyler, Ben Affleck, Will Patton, Keith David, Michael Clarke Duncan, Steve Buscemi | Budget: $140 million | Box Office Gross: $553.7 million | RottenTomatoes Score: 39%
Long before its 2006 theatrical remake, The Poseidon Adventure was the definitive film involving disastrous ocean liner voyages. Gene Hackman was the leading force behind the film, portraying a reverend with questions of faith and existence, and also served as the head of a band of survivors onboard the ship. While other natural disaster films show a wide range of perspectives and continents to reveal the extent of global damage, The Poseidon Adventure confined its action and thrills to the inside of a single vessel, which heightened the tension significantly. It featured gravity-defying rolls as a result of the ocean's waves, flooded corridors with amplified drowning risks, and explosions to further complicate the situation. This was the ultimate film about man against nature, and was content to let its drama carry the storyline without resorting to conspiracies or violence between competing survivors.

Release: 1972 | Director: Ronald Neame | Writer: Stirling Silliphant, Wendell Mayes | Production Company: Kent Productions, Ltd.

Leading Actors: Gene Hackman, Ernest Borgnine, Red Buttons, Carol Lynley, Shelley Winters, Roddy McDowall, Stella Stevens, Jack Albertson, Pamela Sue Martin, Arthur O'Connell, Eric Shea, Leslie Nielsen | Budget: $4.7 million | Box Office Gross: $93.3 million | RottenTomatoes Score: 79%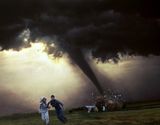 In the cinema world, a movie based purely on loud, dumb, and visually impressive stunts is not always considered to be a failure. The epitome of this concept is Twister, a 1996 film revolving around a team of storm chasers and an unnaturally large tornado. For much of the film, the characters attempt to chase down and disable this roaming beast, only to find that their programmed algorithms are helpless in the face of its extreme power. Many audience members probably groaned at the pseudo-science being performed onscreen, particularly regarding the idea of stopping a tornado using an improbable research device, but there were enough entertaining set pieces and CGI thrills to fill its 113-minute runtime. Twister's acting and science may have left something to be desired, but its unabashed delight in tornado destruction is still admirable.

Release: 1996 | Director: Jan de Bont | Writer: Michael Crichton, Anne-Marie Martin, Joss Whedon | Production Company: Warner Bros. Pictures, Universal Pictures, Amblin Entertainment

Leading Actors: Helen Hunt, Bill Paxton, Jami Gertz, Cary Elwes | Budget: $92 million | Box Office Gross: $494.4 million | RottenTomatoes Score: 58%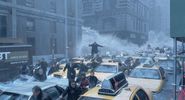 After hits like Independence Day, Roland Emmerich seemed to turn to a more serious (and socially aware) tone for his ensuing releases. This film, which starred Dennis Quaid and Jake Gyllenhaal, took the idea of global warming and fluctuating climates to an extreme, and pitted man against one of the fiercest snowstorms in cinematic history. Emmerich marketed the film with jarring images of a frozen-over Statue of Liberty, and relied on the technically impressive CGI to propel its storyline along. Much like Deep Impact, a somewhat optimistic ending was tempered by the realization that the Earth had no miracle cure or deus ex machina scheme to repeal the planet's massive covering of ice. Rather than allowing humanity to turn back the clocks, The Day After Tomorrow expected its world to live with its choices and carve out a new life amongst the devastation.

Release: 2004 | Director: Roland Emmerich | Writer: Roland Emmerich, Jeffrey Nachmanoff | Production Company: Centropolis Entertainment, Lionsgate, The Mark Gordon Company

Leading Actors: Dennis Quaid, Jake Gyllenhaal, Ian Holm, Emmy Rossum, Sela Ward | Budget: $125 million | Box Office Gross: $544.2 million | RottenTomatoes Score: 45%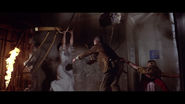 Many disaster films portray a random event emerging from tremendous bad luck, but there is a subgenre of natural disaster which relies upon humans as the catalyst. The Towering Inferno's main fixation, which is also referenced in its title, is a 138-story building which catches fire due to shoddy electrical work and human overreaching. The film had a high degree of technical merit as well as cinematographic value, and managed to realistically portray the burning of a skyscraper. Much like its natural disaster film kin, of course, the film relies on an unexpected and implausibly successful plan to reverse the damage. The film was fairly well received critically and managed to succeed at the box office as well, making it one of the more successful entries in the genre.

Release: 1974 | Director: John Guillermin | Writer: Stirling Silliphant | Production Company: 20th Century Fox, Warner Bros. Pictures, Irwin Allen Productions, United Films

Leading Actors: Steve McQueen, Paul Newman, William Holden, Faye Dunaway, Fred Astaire, Susan Blakely, Richard Chamberlain, Jennifer Jones, O. J. Simpson, Robert Vaughn, Robert Wagner | Budget: $14.2 million | Box Office Gross: $139.7 million | RottenTomatoes Score: 77%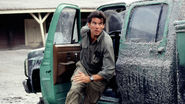 While Pierce Brosnan may have had several close calls as a decorated secret agent, one of his most challenging foes came in the form of a Washington volcano. Dante's Peak featured Brosnan as Dr. Dalton, a volcanologist, but placed the actor in a surprisingly passive role. Rather than trying to disarm the volcano through a Hollywood-style plot full of technobabble, Dr. Dalton and the town's mayor, played by Linda Hamilton, were forced to escape from the impending lava using any means necessary. The film itself was far from a shoe-in for major awards, but it entered pop culture as one of the surprisingly few volcano films with a big budget. In addition, its lava effects and newspaper-shred ash were well done, and showcased the technical merit of the film's design teams. Despite some contrivances in the plot and acting, Dante's Peak is a staple of the natural disaster genre.

Release: 1997 | Director: Roger Donaldson | Writer: Leslie Bohem | Production Company: Pacific Western Productions

Leading Actors: Pierce Brosnan, Linda Hamilton, Charles Hallahan, Elizabeth Hoffman, Jamie Renée Smith | Budget: $116 million | Box Office Gross: $178.1 million | RottenTomatoes Score: 27%
GOAT Staff Score - Natural Disaster Film
The candidates have been assigned a raw score across a range of criteria. The raw scores have been weighted to reflect the impact that each individual criterion has on the 'Final GOAT Score'. Only weighted scores are displayed in this table. -->TURN DEVICE SIDEWAYS TO VIEW ON MOBILE-->
| | Scale of Disaster (30%) | Visual Effects (20%) | Acting (20%) | Intensity (15%) | Fan Reception (15%) | Raw Score | Final GOAT Score |
| --- | --- | --- | --- | --- | --- | --- | --- |
| Sunshine | 11 | 8 | 10 | 10 | 8 | 47 | 960 |
| The Impossible | 6 | 9 | 11 | 11 | 11 | 48 | 910 |
| 2012 | 9 | 11 | 2 | 9 | 3 | 34 | 710 |
| The Perfect Storm | 1 | 10 | 8 | 8 | 6 | 33 | 600 |
| Deep Impact | 8 | 4 | 6 | 2 | 5 | 25 | 545 |
| Armageddon | 10 | 5 | 1 | 6 | 2 | 24 | 540 |
| The Poseidon Adventure | 2 | 2 | 9 | 7 | 10 | 30 | 535 |
| Twister | 4 | 7 | 7 | 1 | 7 | 26 | 520 |
| The Day After Tomorrow | 7 | 6 | 3 | 4 | 4 | 24 | 510 |
| The Towering Inferno | 3 | 1 | 4 | 5 | 9 | 22 | 400 |
| Dante's Peak | 5 | 3 | 5 | 3 | 1 | 17 | 370 |
GOAT Verdict:
The approaching death of the Earth isn't something to be dealt with passively, according to the crew in Sunshine. While other films have shown international efforts to save the planet, they almost always take place on the Earth itself, and rarely venture out toward the sun. For Sunshine's ragtag band of scientists, the personal element was invaluable to the plot, and the tension between crew members was as dangerous as the solar flares and lack of oxygen. The film's sheer scope was enough to make it a memorable experience, but it was heightened by unique situations and deadly situations which other disaster films never broached. Zealots onboard the craft challenged the mission's very concept of salvation and importance in the universe, and these themes were more than simply a conflict between characters. They were a true attempt to delve into deep and introspective questions about creation, destruction, and religion, and it gave the plot an added layer of meaning and intrigue. Sunshine may not have been the blockbuster earning champion that its production studios expected, but it was the greatest natural disaster film of all time.