What is the greatest film plot twist of all time?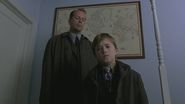 M. Night Shyamalan's cinematic debut reintroduced the art of the twist to polarising effect. A large majority of audiences and critics alike were astounded by the film's closing reveal, while others lambasted the filmmaker's deft misdirection. A chilling supernatural thriller, the relationship between little Cole Sear - the ghost whisperer - and Dr. Malcolm Crowe takes centre stage, following the pair's crusades to assist the dead with their unfinished business. The 'twist' is specifically announced by Cole midway through the movie, in a confessional to Malcolm when he utters the infamous line "I see dead people", but is never applied to the dead man by his side. When the truth is unveiled - that Malcolm died from the fatal gunshot at the beginning - the audience and Dr. Crowe simultaneously experience the same realisation; you see what you want to see. As Crowe watches his wife exhale through chattering teeth (a sign of a nearby supernatural entity), the reality hits him: he is one of those dead people. This sombre moment prompts a hasty review of every scene in which Crowe appears, leading to the shocking fact that we've never seen him engage with anyone other than young Cole. It's a tremendous feat of smoke and mirrors that Shyamalan has never bettered.

Release: 1999 | Director: M. Night Shyamalan | Screenwriter: M. Night Shyamalan | Budget: $40 million | Box Office Gross: $673 million

IMDB Rating: 8.2 | Rotten Tomatoes Rating (Audience): 85% (89%) | Google Results "film title twist": 651,000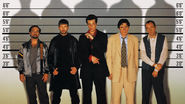 Kevin Spacey's smooth swaggering walk is perhaps one of the finest "gotcha!" twist moments in film history. It was a moment that blew moviegoers away back in 1995. The intricate plot of The Usual Suspects, is explained in flashbacks by disabled criminal Verbal Kint in the cosy office of a flustered Customs Agent. An entertaining and compelling story in itself is recanted by the seemingly innocuous Kint, who refers to an enigmatic figure behind the entire botched heist - Keyser Soze. With little reason to hold him, they let him go, only to moments later realise that from start-to-finish the entire "plot" had been cooked up by Kint, who pieced together a web of lies and deceit based on items in the Agent's office. This moment, interspersed with the tracking shot of Kint's getaway walk gradually losing his supposed limp, reveals the true identity of that very kingpin. Verbal Kint IS Keyser Soze. Nobody saw that one coming.

Release: 1995 | Director: Bryan Singer | Screenwriter: Christopher McQuarrie | Budget: $6 million | Box Office Gross: $34 million

IMDB Rating: 8.7 | Rotten Tomatoes Rating (Audience): 88% (96%) | Google Results "film title twist": 1,210,000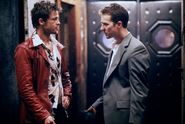 Similarly to The Sixth Sense, upon repeat viewing Fight Club's cunning twist can be easily detected early on in the movie. The "split personality" motif may have been exhausted throughout fiction but for David Fincher's adaptation of Chuck Palahniuk's nihilist, neo-noir novel the story's central conceit hinges on this completely unexpected final reveal. The tale of millennial angst is led by Edward Norton's unnamed Narrator, a young modern male who's victim to the alluring grasp of capitalism. That is, until he meets the charismatic Tyler Durden, his antithesis, who introduces him to a world of self-betterment via an underground fighting ring. Events come to a head as the Narrator poses the question to Tyler "Why do people think that I am you?" - followed by a sequence of shots from earlier in the movie that splinter through his mind. Except Tyler is strangely absent and replaced by our leading man, because Durden is simply a fractured part of the Narrator's personality. They're the same person. While in retrospect, the clues and hints sprinkled throughout are all too obvious, from the scene when the Narrator confronts his boss and beats himself up to the fact that Tyler and Marla never speak are just two. But it's this one line repeated like a mantra that should rightly alert audiences to the truth that'll make you facepalm: I know this, because Tyler knows this.

Release: 1999 | Director: David Fincher | Screenwriter: Jim Uhls | Budget: $63 million | Box Office Gross: $100 million

IMDB Rating: 8.9 | Rotten Tomatoes Rating (Audience): 80% (96%) | Google Results "film title twist": 7, 920,000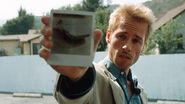 Memento unspools in reverse order, a tactic that takes a while to adjust to, before becoming a compelling vehicle to take us through Leonard Shelby's quest to find his wife's killer. A sufferer of short term memory loss, he cannot create new memories so inks his body with tattooed clues and carries a battered Polaroid camera to document new acquaintances. Enlisting the help of Teddy, he sets about tracking down the murderer at large. Then a sub-plot involving a man named Sammy Jankis, who also suffered the same affliction, arouses suspicion and turns out to in fact be Leonard's story.
He was the one who accidentally killed his wife. He's already tracked down many innocent men and subsequently killed them as well, yet in his muddlesome mind he forgets, and pins the blame elsewhere so he constantly has a goal in sight.
Major points are awarded to Christopher Nolan, for this Mobius strip of confusing narrative threads to tell the tale of a grieving man's inability to deal with death. It's one thing to stumble upon a unique method for storytelling - it's an incredible achievement to combine character arc, plot development and a killer twist all within the confines of the film's amnesia device.

Release: 2000 | Director: Christopher Nolan | Screenwriter: Christopher Nolan | Budget: $5 million | Box Office Gross: $39 million

IMDB Rating: 8.5 | Rotten Tomatoes Rating (Audience): 92% (94%) | Google Results "film title twist": 438, 000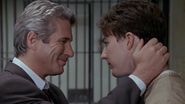 A cursory glance over the synopsis for Primal Fear suggests a typical courtroom drama, but don't be dissuaded. This is most definitely not a shouting match between opposing lawyers striving for the truth. Unfolding like a by-the-numbers thriller, Richard Gere's defense attorney Martin Vail is confronted by a wholly different type of evil than he's used to representing. For his latest case he is assigned sweet, stuttering altar boy Aaron Stampler who's behind bars for murdering the local archbishop. So far, nothing out of the ordinary. That is until Aaron's mental complexities reveal he has a multiple personality disorder. Switching from his main Aaron persona to his dark and dangerous 'alter' Roy, Vail still manages to successfully defend his client and wangle a not guilty verdict from the jury on an "insanity" defense. In the final wallop when Edward Norton's astonishing skills come into play, it transpires that Aaron isn't the main personality. Roy is. And furthermore, Roy isn't actually schizophrenic; the bumbling Aaron was merely a guise he created so he could get away with cold-blooded murder.

Release: 1996 | Director: Gregory Hoblit | Screenwriter: Steve Shagan, Anne Biderman | Budget: $30 million | Box Office Gross: $102 million

IMDB Rating: 7.7 | Rotten Tomatoes Rating (Audience): 74% (89%) | Google Results "film title twist": 140,000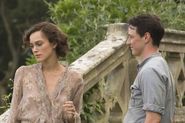 An English period drama doesn't seem the likeliest environment for a curve in its final stretch, but Atonement manages to sling a meta-twist into proceedings right at the film's denouement. The seemingly straightforward story is told by youngster Briony Tallis (Saoirse Ronan) who drives a wedge between her sister Cecilia (Keira Knightley) and her lover Robbie Turner (James McAvoy) when she accuses him of raping her sibling. He's carted off to prison and winds up enlisting in the army. Still, the lovebirds finally reunite before he is shipped off to France, and a teenage Briony makes amends for her wrongdoing. The sting comes when it is revealed that actually the pair both perished in the war, and never did meet again. Their second chance was conjured up from the mind of Briony, who, lest we forget, is narrating the entire movie. As twists go, it deserves its own category. Similarly to Fight Club, this World War II tale possesses an unreliable narrator who's responsible for the deflated feeling of woe by the time the truth is finally set free.

Release: 2007 | Director: Joe Wright | Screenwriter: Christopher Hampton | Budget: $30 million | Box Office Gross: $129 million

IMDB Rating: 7.8 | Rotten Tomatoes Rating (Audience): 83% (80%) | Google Results "film title twist": 374,000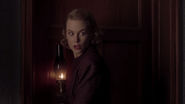 A secluded isle in Jersey is the location for this supernatural ghost story that is a sorely underrated scary-as-hell horror. From the eerie towering rooms, and fog-filled grounds of the mansion Grace Stewart inhabits with her children, the tone is damn sinister before any spooky shenanigans take place. With her husband away at war, Grace's attempts to shelter her sunlight-sensitive children from the paranormal entity playing tricks on them spurs on a number of creepy sequences that culminate in the final, genius twist. It turns out for poor Grace that it is she and her children who are ghosts, and the 'spooks' goading them are in fact the house's new residents. That's not the worst part. The final sting in the tale reveals why the three died after the family patriarch left for battle; Grace couldn't cope with his absence so smothered her two children then shot herself.

Release: 2000 | Director: Alejandro Amenabar | Screenwriter: Alejandro Amenabar | Budget: $17 million | Box Office Gross: $210 million

IMDB Rating: 7.6 | Rotten Tomatoes Rating (Audience): 83% (77%) | Google Results "film title twist": 153,000,000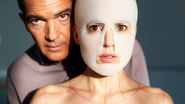 Spanish director Pedro Almodovar leads his legions of fans into the bizarre world of famed plastic surgeon Dr. Robert Ledgard (Antonio Banderas) and delivers an incredulous twist that's the true definition of jaw-dropping. At first a typical Almodovarian soap opera, we see Ledgard's work on artificial skin demonstrated via a series of experiments carried out on a young woman he keeps captive in his house named Vera. Through a tangled web of plot lines, the truth comes to light; Vera was once a young man named Vicente, who Robert mistakenly believed to have raped his daughter Norma. Instead of reporting him to the police, he captures him and spends six years (up until the beginning of the movie) subjecting him to gender reassignment surgery. And who does Vincente/Vera resemble? Robert's dead wife, Gal. How Almodovar manages to execute the varying plot threads, and there are many unmentioned here, is astonishing. Much like Ledgard's perfect skin creation - that twist is a finely-tuned work of art.

Release: 2011 | Director: Pedro Almodovar | Screenwriter: Pedro Almodovar | Budget: $13.5 million | Box Office Gross: $31 million

IMDB Rating: 7.6 | Rotten Tomatoes Rating (Audience): 81% (84%) | Google Results "film title twist": 31,400,000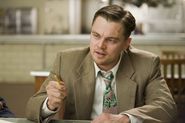 What's most impressive about Martin Scorsese's gothic asylum thriller Shutter Island is the fact that it's a heart-pounding whodunnit that's wrapped inside an even bigger mystery. Just when you think you've cracked the riddle, the last layer is revealed that exposes a fantastic ploy by the asylum's doctors. The couple of US Marshals who lead the story, Teddy Daniels (Leonardo DiCaprio) and Chuck Aule (Mark Ruffalo) head to Ashcliffe Hospital to locate missing patient, Rachel Solando. Later, we discover that Daniels is in fact a patient at the asylum, incarcerated for murdering his wife after she drowned their three children. His "investigation" was a detailed role-playing game initiated by his doctors - one of whom was his partner "Chuck" - in an attempt to rehabilitate him. It's an unexpected turn that warrants a repeat viewing.

Release: 2009 | Director: Martin Scorsese | Screenwriter: Laeta Kalogridis | Budget: $80 million | Box Office Gross: $295 million

IMDB Rating: 8.1 | Rotten Tomatoes Rating (Audience): 69% (76%) | Google Results "film title twist": 244,000
10
High Tension (Switchblade Romance)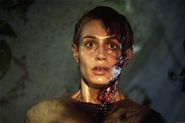 The French New Wave of horror was spurred on in part by Alexandre Aja's High Tension (known as Switchblade Romance in the UK), a gory, bloodlust pic that shatters nerves mid-way through with its totally unprecedented plot swerve. Beginning as most worthy horrors do with a seemingly normal scenario, it opens on school friends Marie and Alex en route to the latter's family countryside home for a weekend of study. That evening a crazed homicidal maniac attacks the isolated abode and murders Alex's family, and Marie takes it upon herself to hunt him down. Except, it turns out, the unkempt killer is actually Marie. In a bizarre turn of events it's revealed that she was the one responsible, picking off Alex's loved ones so she might finally have a shot at the girl of her dreams. While at times nonsensical, and under scrutiny particular sequences do push the boundaries of the plausible, it still makes for a cracking plot turn.

Release: 2003 | Director: Alexandre Aja | Screenwriter: Alexandre Aja, Gregory Levasseur | Budget: $2.8 million | Box Office Gross: $6 million

IMDB Rating: 6.9 | Rotten Tomatoes Rating (Audience): 41% (67%) | Google Results "film title twist": 2,530,000
GOAT Staff Score - Film Plot Twist
The candidates have been assigned a raw score across a range of criteria. The raw scores have been weighted to reflect the impact that each individual criterion has on the 'Final GOAT Score'. Only weighted scores are displayed in this table. -->TURN DEVICE SIDEWAYS TO VIEW ON MOBILE-->
| | Shock Factor (25%) | Creativity (25%) | Believabilty (15%) | Acting (15%) | Critical Response (10%) | Fan Response (10%) | Raw Score | Final Goat Score |
| --- | --- | --- | --- | --- | --- | --- | --- | --- |
| The Sixth Sense | 9 | 10 | 8 | 7 | 7 | 8 | 49 | 850 |
| The Usual Suspects | 10 | 7 | 6 | 10 | 8 | 10 | 51 | 845 |
| Fight Club | 8 | 9 | 5 | 8 | 9 | 9 | 48 | 800 |
| Memento | 7 | 8 | 4 | 3 | 10 | 7 | 39 | 650 |
| Primal Fear | 4 | 3 | 10 | 9 | 4 | 6 | 36 | 560 |
| Atonement | 3 | 6 | 9 | 5 | 6 | 4 | 33 | 535 |
| The Others | 5 | 4 | 7 | 6 | 5 | 3 | 30 | 500 |
| The Skin I Live In | 6 | 5 | 1 | 4 | 3 | 5 | 24 | 430 |
| Shutter Island | 2 | 2 | 2 | 2 | 2 | 2 | 12 | 200 |
| High Tension (Switchblade Romance) | 1 | 1 | 3 | 1 | 1 | 1 | 8 | 130 |
GOAT Verdict:
Winning the title of Greatest Film Twist Of All Time by a narrow margin, The Sixth Sense's gob-smacking ending is cinema at its very best. M. Night Shyamalan's debut rocked audiences back in 1999 with its slow-burning creepiness and jump scares. Despite the fact everyone you'll ever meet claims to have "guessed the twist" before the fact, don't be fooled; no-one saw it coming. Its brilliant execution is a true testament to the keen art of misdirection, with the first-time filmmaker using many simple tricks to draw attention away from Dr. Crowe's ghostly fate. In retrospect, upon repeat viewing, the truth that Malcolm is just another soul in limbo seems so obvious. Yet cinemagoers the world over just didn't put two-and-two together when the tearful little Cole told his psychologist he saw dead people. And that's why those who say they knew all along are just covering their butts. Everyone was duped.