What is the greatest film fan theory of all time?
1
Inception - Is Cobb still dreaming?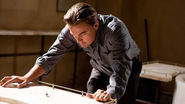 Christopher Nolan's 2010 mind-melder twisted up the minds of its audience while telling a melodramatic tale of grief and loss. Leading the story is Leonardo DiCaprio's Cobb, a recent widower who infiltrates people's dreams to plant ideas. His risky line of work sees him and his associates descend through a series of Matryoshka-esque levels of dream states, which can become problematic when trying to maintain a grip on reality. In order to keep a clear head, each person in the dream must keep a totem - an item which lets them know where they are. Someone else's unconscious or the real world.

The debate-inducing final scene sees Cobb's totem, a spinning top, on a table. If it spins endlessly then he's in a dream, and if it stops, he's in the real world. The infuriating part comes when Nolan cuts to black before we know for sure, prompting fans to settle the matter themselves. The biggest theory put forth - that unites all logic explained in the film - is that the spinning top was his dead wife's totem, not his. In fact, he never once states that it's his because it's actually his wedding ring. Every time he is in the dream, he's wearing it. Each time we see him outside of the dream, he's without it. Going on that rationale alone, the climatic final scene occurs in the real world. It's a solid theory with plenty of evidence to support it, even if it does detract from Nolan's open-ending.

Release: 2010 | Creator: Christopher Nolan | Budget: $160 million | Theory Basis: Prop

IMDB Rating: 8.83 | RottenTomatoes Score (Audience): 86 % (91%) | Metascore: 74 | Google Results ("film title fan theory"): 466,000
2
Pulp Fiction - What's In The Suitcase?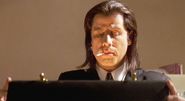 One of the oldest fan theories to sprout up concerning a cult favourite was borne from the central mystery surrounding Pulp Fiction; just what exactly is in Marcellus Wallace's suitcase? From the early era of the internet, this suggestion did the rounds via e-mail chains and quickly gathered steam. Through careful review of the film, many fans believe the suitcase holds something truly unique to Marcellus. From the beginning, when Jules and Vincent kill three men to retrieve it, right through to the diner shoot-out when Jules refuses to part with it, we know that the mystery item holds great value. So much so, that many believe the gold-light emitted from the case is actually the mobster's soul. During a scene between Wallace and Butch, the camera zooms in close on Marcellus' neck - showing a thin band aid. According to many, this is proof because certain lore suggests the removal occurs at the base of the head. Oh, and the matter of the 666 combination hints that he sold his soul to the devil. This corroborates Jules' earlier claims that God came down to stop the bullets from killing them - the divine trying to help them against satan. While co-writer Roger Avary has dismissed the idea stating it was simply diamonds, Tarantino himself took an alternate route saying that it's up to the fans to decide what's inside.

Release: 1994 | Creator: Quentin Tarantino | Budget: $8.5 million | Theory Basis: Prop

IMDB Rating: 9.0 | RottenTomatoes Score (Audience): 94% (96%) | Metascore: 94 | Google Results ("film title fan theory"): 394,000
3
The Thing - Childs is the Thing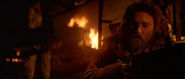 The end of John Carpenter's sci-fi horror leaves itself widely open to interpretation. Its ambiguous ending poses one vital question to the audience; who, if anyone, is The Thing? After the main bulk of scientists have perished at the hands of an ancient alien that perfectly mimics its host before killing them, there remain only two survivors. MacReady and Childs, who huddle together in the cold to wait and "see what happens." Carpenter has gone on the record repeatedly refusing to clear up the long-standing debate, but that hasn't stopped fans from trying to settle the matter for themselves. The most prevalent theory implies that Childs is in fact the murderous invader. The main clue is his breath. It's barely visible onscreen whereas MacReady's is. Second, many believe the bottle of liquor Childs chugs from is actually a Molotov cocktail made by MacReady as a test. As MacReady's laugh fades - suggesting The Thing did not detect the gasoline in the drink - Carpenter drops the biggest hint of all. Ennio Morricone's ominous theme for the beast lurches into the sound mix.

Release: 1982 | Creator: John Carpenter | Budget: $15 million | Theory Basis: Character

IMDB Rating: 8.2 | RottenTomatoes Score (Audience): 80% (92%) | Metascore: 75 | Google Results ("film title fan theory"): 149,000,000
4
Skyfall (Bond Franchise) - James Bond is a code name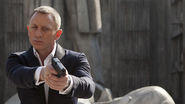 Since 1962, the character of James Bond has been played by six different actors starting with the 32-year old Sean Connery in Dr. No. The span of time from then until Skyfall's release is a whopping 50 years, which poses the question; how is it that Bond remains as studly as ever while all the supporting characters around him continue to age? A straightforward theory supposes that James Bond is merely a codename passed from agent to agent. When one Bond retires or is killed, the name and codenumber - 007 - are passed on to their successor. This further explains why the familiar faces who appear alongside the MI6 agent, namely Judi Dench's M and Desmond Llewelyn's Q, continue to age normally and never make reference to the fact that Bond is an entirely different person. Lending the series an edge of authenticity, it seemingly confirms why the personalities of all the Bonds throughout the years have been so different.

Release: 1962 | Creator: Sam Mendes | Budget: $200 million | Theory Basis: Character

IMDB Rating: 7.8 | RottenTomatoes Score (Audience): 92% (86%) | Metascore: 81 | Google Results ("film title fan theory"): 239,000
5
Blade Runner – Deckard is a Replicant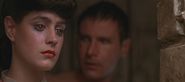 Perhaps the very first theory to circulate amongst fans of Ridley Scott's sci-fi noir, involved the humanity of LAPD enforcer, Rick Deckard (Harrison Ford.) A cop tasked with tracking down a handful of rogue Replicants (androids implanted with human memories), the question which continued to surround the film's outcome was pretty straightforward; is Deckard a Replicant? After two decades of discussion, Scott 'fessed up, admitting that yes he absolutely is. Visual evidence captured in a neat screen grab during Deckard's talk with fellow droid Rachel proves the unmistakable 'red eyes' only Replicants possess.

However, this didn't quell speculation about retired Bladerunner, Detective Gaff. After suffering an unknown physical ailment - hence his cane - Gaff was sidelined from his former role, and throughout the film feels resentment towards Deckard for getting his old job. His ill feeling is believed by many to be because Deckard was created and implanted with Gaff's memories after the detective became injured. Throughout the film, Gaff's origami creations he gives to Deckard are eerily reminiscent of Deckard's dreams (the unicorn in particular) because, well, they are actually Gaff's old memories. Carrying on the hunt for the Replicants, Deckard eventually nabs their leader Roy Batty, after which Gaff tells him "You've done a man's job." The highest possible compliment anyone could pay a Replicant. This theory holds true when revisiting the movie, and it's almost as if Scott had these little clues dotted throughout the film to deliberately reveal the truth.

Release: 1982 | Creator: Ridley Scott | Budget: $28 million | Theory Basis: Character

IMDB Rating: 8.2 | RottenTomatoes Score (Audience): 91% (91%) | Metascore: 88 | Google Results ("film title fan theory"): 318,000
6
The Shining - Moon Landing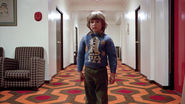 The amount of theories surrounding Stanley Kubrick's The Shining are so plentiful that an entire documentary, Room 237, was dedicated to their full investigation. Among those is one prevailing idea that fans have debated for years - Kubrick's involvement in the Apollo moon landings. As a filmmaker whose work is laboriously scrutinised due to his own attention to detail, the notion that he was behind the 'faked' footage of Americans landing on the moon is equally as intricate. According to theorist Jay Weidner, The Shining is packed with hidden admissions that all point to Kubrick's role as the director of NASA's legendary film. Apparently NASA were so desperate to beat the Russians to space, they enlisted the director to shoot a staged version so the US appeared more advanced than they were.

Symbolism Weidner uses to support his theory are found throughout the movie. The most obvious is Danny's infamous Apollo 11 sweater. Then there's the change of Room 217 (in the book) to Room 237 in the film which references the 237,000 miles from the Earth to the moon. That page Jack is furiously tapping away at in his typewriter is also a part of the conspiracy. "All work and no play makes Jack a dull boy" is a reference to A11 and Kubrick's stress over having to keep it a secret. The carpet patterns (designed to resemble Apollo 11's launching pads) and Danny's vision of the two murdered twins (the 'Gemini' missions came before Apollo) also factor in to what's a most intriguing - if far-fetched - theory indeed.

Release: 1980 | Creator: Stanley Kubrick | Budget: $19 million | Theory Basis: Thematic

IMDB Rating: 8.5 | RottenTomatoes Score (Audience): 92% (93%) | Metascore: 61 | Google Results ("film title fan theory"): 3,120,000
7
Game Of Thrones - Jon Snow's Heritage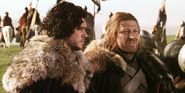 The sprawling network of characters in George RR Martin's fantasy world is so extensive it's easy for the author, and the creators of the HBO show, to mislead audiences. Perhaps one of the most often debated facts involves the bastard son of Ned Stark, Jon Snow. The story as it stands casts Stark as an upstanding gent who once strayed with another woman, resulting in his illegitimate child. But what if the truth about Jon's real parents has yet to come to light? This theory posits that when Ned's sister Lyanna was abducted by Prince Rhaegar Targaryen, the crazed monarch had sex with her, resulting in a son whose birth killed Lyanna. There's no doubt that if his true heritage came to light he would be slain. Remember Lyanna was also the love of Robert Baratheon's life, so his mission to avenge the death of his paramour would have seen him murder the innocent child. Hence, the honourable Ned shatters his upstanding reputation to protect his nephew. Fans have clung to this alternate history so much so that even Sean Bean - who played Ned - has hinted very, very strongly towards its accuracy.

Release: 2010 | Creator: David Benioff | Budget: $6 million (per episode) | Theory Basis: Character

IMDB Rating: 9.5 | RottenTomatoes Score (Audience): 96% (97%) | Metascore: 80 | Google Results ("film title fan theory"): 1,670,000
8
Ferris Bueller's Day Off - Cam's Imagination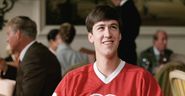 Ferris Bueller, the optimistic, happy-go-lucky hero of John Hughes' 80s teen comedy, is according to one theory, not even real. The story proper follows the titular prankster as he convinces his anxiety-ridden best friend Cameron to ditch school for the day to join Ferris and his girlfriend Simone for a romp around Chicago. Art galleries, parades, swanky restaurants - nothing is off the menu for the trio. If this long-standing theory is to be believed, both Ferris and Simone are in fact figments of Cameron's imagination. In order for the solemn teen to face up to his bullying father, he invents Ferris - a la Fight Club - as a representation of everything he longs for. A loving family, a beautiful girlfriend, and the unabashed freeness of spirit are all things Ferris possesses. By conjuring up a pretend best friend Cameron is able to evaluate his life in a 'what if?' scenario. It's one of the least far-fetched ideas in the study that seemingly makes the movie even better than before.

Release: 1986 | Creator: John Hughes | Budget: $5.8 million | Theory Basis: Character

IMDB Rating: 7.9 | RottenTomatoes Score (Audience): 80% (92%) | Metascore: 60 | Google Results ("film title fan theory"): 55,600
9
The Dark Knight - The Joker is a war veteran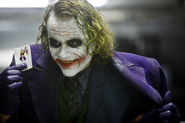 Christopher Nolan's ambitious second entry into the Batman canon brought a new strain of tyranny to Bruce Wayne's Gotham in the shape of his clownish adversary. His methods for total wanton destruction mark The Joker as a distinctly unique villain. Not content with typical goals of a comic book baddie - money, fame, sex - his patterns of mayhem hint toward a far more self-destructive streak, that could in fact be the result of post traumatic stress disorder. In the close examination of his tactics, comments and behaviour a group of keen fans believe that The Joker is in fact a veteran struggling to cope with life post-war - hinted at by his repeated phrase "You wanna know how I got these scars?" If that's not enough, when he confronts Harvey Dent in the hospital and tells him "A truckload of soldiers will be blown up, nobody panics because it's all part of the plan", die-hards have assumed this refers to a specific incident. One in which he was the only remaining survivor. Albeit with a facial disfigurement to remind him of the terrible tragedy.

Release: 2009 | Creator: Christopher Nolan | Budget: $185 million | Theory Basis: Character

IMDB Rating: 9.0 | RottenTomatoes Score (Audience): 94% (94%) | Metascore: 82 | Google Results ("film title fan theory"): 1,210,000
10
Batman Forever / Batman & Robin – "In-Universe"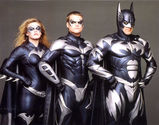 After Tim Burton's darkly comic Batman features, Batman and Batman Returns, the next two entries into the caped crusader franchise were a major disappointment. Gawdy and silly, Joel Schumacher left the noir charm of Burton's world behind and crafted a brightly-lit bubblegum universe for Batman's adventures to continue in Batman Forever and Batman And Robin. Aside from the change in director, could the real shift in tone be because Schumacher's two films are actually "in-universe"? This theory stems from the end of Returns, when Bruce Wayne believes Catwoman to be dead he sinks into despair and essentially sells himself out. Literally. Fans have posited that as Wayne is seen as a buffoon at the end of his tether, he gives up his life rights and has his story brought to life on the big screen. If we believe this, then the campy nature of Schumacher's installments is intentional, as they exist within Burton's original Batman universe as a joke on Wayne. This would explain the hyper-real colour palette, the big star power dominating the pics, and why Batman's suit had to have rubber nipples. There has to be one coherent theory to at least explain that travesty.

Release: 1995, 1997 | Creator: Joel Schumacher | Budget: $225 million (combined) | Theory Basis: Intertextual

IMDB Rating: 5.4/3.6 | RottenTomatoes Score (Audience): 41% (33%) / 11% (16%) | Metascore: 51 / 28 | Google Results ("film title fan theory"): 16,900,000
GOAT Staff Score - Film Fan Theory
The candidates have been assigned a raw score across a range of criteria. The raw scores have been weighted to reflect the impact that each individual criterion has on the 'Final GOAT Score'. Only weighted scores are displayed in this table. -->TURN DEVICE SIDEWAYS TO VIEW ON MOBILE-->
| | Originality (30%) | Mind Boggle Factor (30%) | Credibility (20%) | Critical Response (10%) | Popularity (10%) | Raw Score | Final GOAT Score |
| --- | --- | --- | --- | --- | --- | --- | --- |
| Inception | 9 | 10 | 9 | 7 | 4 | 39 | 860 |
| Pulp Fiction | 10 | 8 | 5 | 6 | 10 | 39 | 800 |
| The Thing | 5 | 7 | 7 | 5 | 8 | 32 | 630 |
| Skyfall | 7 | 4 | 8 | 10 | 2 | 31 | 610 |
| Blade Runner | 2 | 6 | 10 | 8 | 9 | 35 | 610 |
| The Shining | 4 | 9 | 1 | 9 | 1 | 24 | 510 |
| Game Of Thrones | 3 | 5 | 6 | 3 | 6 | 34 | 450 |
| Ferris Bueller's Day Off | 6 | 3 | 4 | 2 | 7 | 22 | 440 |
| The Dark Knight | 8 | 2 | 3 | 4 | 3 | 20 | 430 |
| Batman (the awful ones) | 1 | 1 | 2 | 1 | 5 | 10 | 160 |
GOAT Verdict:
Without a doubt, the title of Greatest Fan Theory Of All Time goes to the Cobb Totem Theory from Inception. Any attempts to unravel the varying levels of reality Cobb and his cohorts venture into are troublesome at best, as the twisting turns taken by the plot make it practically impossible to determine the truth of the end scene. By analysing the presence of Cobb's wedding ring, fans have been able to pinpoint the crux of the argument; is Cobb still in the dream? Playing into the complex world Christopher Nolan created, the idea relies on the film's pre-existing logic to make its case. If the spinning top was indeed his totem, then why does his wedding ring disappear and re-appear so frequently as he travels from dream to reality? Add onto that the fact that he never once refers to his own keepsake, only his wife's, and this theory sheds nigh-on indisputable proof that by the end of the cerebral adventure, Cobb is at long last with his children. In the real world.