What is the greatest fictional food of all time?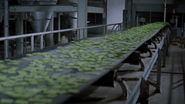 It's portable. It's stylishly-colored. It's inexpensive. Best of all, it's extremely nutritious and contains only organic plankton. The obvious problem, of course, was that soylent green wafers were everything except the latter. In the most basic sense, soylent green was a food, and those who ate it were pleasantly surprised by its nutrient-dense and satisfying ingredients. Crowds clamored to get their hands on soylent green, since it was considered the tastiest and most nutritious in a line of soylent products, including soylent red and yellow. Aside from a few minor missteps in its base components, these tiny wafers were the optimal solution to overpopulation, a lack of food, and a rapidly-depleting Earth. Some modern brands have attempted to create replica versions of soylent green, but it's doubtful that the taste could be the same without one special additive.

Year of Appearance: 1973 | Franchise Origin: Soylent Green | Production Company/Author: Metro-Goldwyn-Mayer

Description: A thin, green wafer, supposedly formed from millions of energy-rich plankton | Intended Dining Audience: Citizens of a near-future, overpopulated Earth | Real-world Equivalent: Wheat crackers or seaweed chips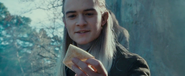 Author J.R.R. Tolkien was a combat veteran as well as a renowned fantasy author, and while many of his wartime experiences informed The Lord of the Rings in its theme and content, one must wonder if his experience with military rations influenced Lembas. Wrapped in an attractive green leaf and almost never given to non-Elves, Lembas was a staple of the Elven people, famed for its exquisite taste and nigh infinite shelf life. Sharing these squarely-shaped loaves was a sign of great trust between an Elf and their friend, and in a way, Lembas came to represent the mysticism of the Elves as much as a sense of bonding and cultural connection. Even if the flavor was only average, there are very few Lord of the Rings fans who would pass up teatime with an Elf and their lembas offerings.

Year of Appearance: 1954 | Franchise Origin: The Lord of the Rings | Production Company/Author: J.R.R. Tolkien

Description: A long-lasting, extremely nourishing baked good meaning "waybread" in Elvish, commonly sealed in a leaf-wrapping | Intended Dining Audience: Immortal elves, travelers | Real-world Equivalent: Hardtack
3
Narnian Turkish Delight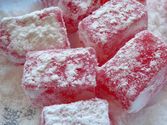 Upon first glance, many might assume that Narnian Turkish delight is the same as standard Turkish delight. The crucial distinction, however, lies in the flavor and addicting composition of the Narnian variety. C.S. Lewis' The Lion, the Witch, and the Wardrobe presented Turkish delight as a sweet, heavenly dessert that could only exist within Narnia's magical confines. When children around the world discovered that it was a real treat, they tried it - and were swiftly repulsed. Real Turkish delight tends to be made with flavors such as rose and pistachio, and the Narnian version's elevated levels of sweetness and White Witch-concocted additives made it a far more appealing and mystical substance. Turkish delight may exist in grocery stores and specialty shops around the world, but the enchanted dessert from Narnia can never be replicated in this world.

Year of Appearance: 1950 | Franchise Origin: The Chronicles of Narnia | Production Company/Author: C.S. Lewis

Description: Enchanted and impossibly delicious cubes of Turkish delight, created with a supernaturally addictive flavor | Intended Dining Audience: Edmund, as part of the White Witch's nefarious plot to uncover information | Real-world Equivalent: Turkish delight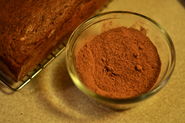 As any fan of the Dune franchise can tell you, the spice must flow. Melange, produced by the sandworms on the planet of Arrakis, was so important that it was simply known as "the spice," surpassing all other contenders for the label. Melange had an appearance and scent resembling cinnamon, but its effects were wildly different. Melange granted its users the ability to see into the future for a short period of time, influencing their judgment and enhancing their mental capabilities beyond any other known substance. Without melange, the space-faring navigators were unable to make trips through deep space, and the God-Emperor Muad'dib was unable to rule over his people with total foresight. Dune sparked an interest in the questions of prophecy and future vision, and although melange was eventually portrayed as a dangerous catalyst of madness, nothing could stop legions of Dune fans from lusting after its power.

Year of Appearance: 1965 | Franchise Origin: Dune | Production Company/Author: Frank Herbert

Description: An incredibly rare and aromatic spice capable of inducing brief bouts of prescience and mental focus | Intended Dining Audience: Wealthy and powerful stakeholders on the planet Arrakis, space-faring navigational pilots | Real-world Equivalent: Cinnamon or turmeric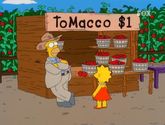 Some food hybrids make natural sense, such as peanut butter and jelly, or beans and rice. Others are simply created for the sake of entertainment, such The Simpsons' tomacco plants. A tomacco, as demonstrated in the series, is a blend of a tomato and tobacco, which creates a glossy red exterior and a desiccated interior. Residents of Springfield were repulsed by its taste, but the vegetable's addictive nicotine content kept them coming back for more. In fact, the plant was even desired by a massive tobacco conglomerate throughout its starring episode. Although the tomacco may have been disgusting in regards to taste, it also represents one of the strangest hybrids ever seen, and it served as the inspiration for a scientifically-minded fan who managed to create a real-life tomacco.

Year of Appearance: 1999 | Franchise Origin: The Simpsons | Production Company/Author: Fox Broadcasting Company

Description: A hybridized blend of tomatoes and tobacco, granting the product a red exterior with a dried brown interior (accompanied by a revolting and habit-forming flavor) | Intended Dining Audience: Nicotine-addicted buyers at Homer's farmstand, later the young demographic for a cigarette company | Real-world Equivalent: Tomato or tobacco
6
Bertie Bott's Every Flavor Beans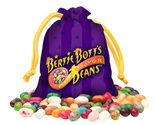 It may be hard to believe, but a candy with flavors such as earwax and grass is one of the most appealing treats in a fantasy franchise. When these treats say "every flavor," they truly mean it, since their flavors run the gamut from the enticing to the nauseating. Readers and filmgoers were first shown these curious jelly beans on the Hogwarts Express, when Harry Potter and his friends decided to enjoy a few magical candies before arriving at school. Part of the intrigue behind these candies was how diverse their flavors truly were, since one bite could leave you gagging, and another could make you crave more. They were a perfect introduction to the world of wizardry as a foreign culture, but also provided a sense of familiarity and common interest in the world of sugary treats.

Year of Appearance: 1997 | Franchise Origin: Harry Potter | Production Company/Author: J.K. Rowling

Description: Bean-shaped confectionaries with flavors ranging from peppermint to vomit | Intended Dining Audience: Potential wizards aboard the Hogwarts Express, visitors of Diagon Alley | Real-world Equivalent: Jelly beans

Nothing makes an underwater hamburger more appealing than branding its naysayers as heretics. The Krabby Patty, as prepared and delivered by the infamous Spongebob Squarepants, was one of the most nostalgia-fueled fictional foods in cartoon history. Generations of viewers were tempted by the cartoon diners' overwhelming desire for the burger, and even more were drawn in by the Krabby Patty's trademark secret recipe. Despite numerous recipe-heist attempts, the burger's delicious secrets were never revealed, leaving viewers to gauge its overall taste through Spongebob's attention to detail and impeccable cooking performances. In fact, the Krabby Patty's reputation for excellence was able to make viewers forget that its underwater preparation probably left it beyond soggy. There may not be anything that's particularly noteworthy about the burger on the surface, but the Spongebob mythos turned this fast food staple into a cultural icon.

Year of Appearance: 1999 | Franchise Origin: Spongebob Squarepants | Production Company/Author: United Plankton Pictures, Nickelodeon Animation Studios

Description: A hamburger with lettuce, pickles, lettuce, tomatoes, ketchup, cheese, and a secret sauce which has never been revealed | Intended Dining Audience: Patrons of the Krusty Krab, located in Bikini Bottom | Real-world Equivalent: Diner-prepared hamburgers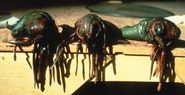 If something is good enough for a Hutt crime lord, it's good enough for the average sci-fi viewer. In Jabba's palace, a variety of strange creatures rejoiced in the festivities and musical numbers, but an even stranger selection waited in the liquid-filled bowls around Jabba's dais. One of these peculiar critters was the Klatooine Paddy Frog, a small and decidedly ugly-looking amphibian treated like roasted cashews. Throughout the palace sequence and in expanded universe material, Jabba ate handful after handful of these creatures, which had such an off-putting taste that they were typically soaked in a flavored liquid before being served to the Hutt. These frogs may not be making the grocery list for Sunday dinner, but they're one of the most exotic finger foods in the entire galaxy.

Year of Appearance: 1983 | Franchise Origin: Star Wars | Production Company/Author: Lucasfilm

Description: Slimy, tentacle-bearing amphibians consumed by Hutts, typically marinated in flavored brandy before serving | Intended Dining Audience: Hutt crimelords, including the infamous Jabba the Hutt | Real-world Equivalent: Goliath frogs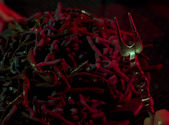 Some foods are enjoyed for their fine consistency, while others are appreciated for a subtle and elegant flavor profile. In the world of Star Trek, however, some delicacies were consumed while still alive to savor the creature's death throes. The Klingons, known as the trademark warrior species and forehead models of the Trek mythos, enjoyed bowls of serpent worms known as gagh. Gagh tasted horrendous, even to most Klingons, and found its value in the actual feeling of the meal, much like the consumption of raw oysters. Outsiders occasionally tried gagh, and some (such as Jean Luc Picard) declared the dish to be a matter of acquired taste. The dish could be roasted or stewed, but most diners preferred to consume the gagh while raw, if only to savor the creature's last moments in their full glory (and horror).

Year of Appearance: 1989 | Franchise Origin: Star Trek: The Next Generation | Production Company/Author: Paramount Domestic Television

Description: A dish formed from raw or stewed serpent worms, considered enjoyable due to the spastic movements during the worms' deaths | Intended Dining Audience: Klingon warriors, rarely humans or other species able to ignore its taste | Real-world Equivalent: Fried maggots or worms, occasionally prepared in Southeast Asia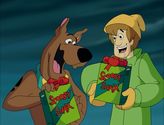 Anybody who has spent an appreciable amount of time around children knows that dog treats are a curious fixation. Most of these treats resemble baked goods for humans, and if dogs are so eager to have them, why not humans? These treats, made famous by the dog detective Scooby Doo, elevated this fascination to a new level. Anywhere this cartoon crew went, a box of Scooby Snacks was never far behind. In many cases, a Scooby Snack seemed to endow the eater with a sense of courage and motivation, which helped significantly in the battle against ghosts and ghouls. From time to time, Scooby Doo's partner Shaggy would also partake in the treats, which raised one question: how do they taste to a human? And perhaps more importantly, how many children have eaten dog treats to answer this question?

Year of Appearance: 1969 | Franchise Origin: Scooby Doo | Production Company/Author: Hanna-Barbera Productions

Description: Small, densely-formed dog treats that comes in an attractive green package | Intended Dining Audience: A mystery-solving and articulate canine, frequently fellow detective Shaggy | Real-world Equivalent: Dog biscuits
GOAT Staff Score - Fictional Food
The candidates have been assigned a raw score across a range of criteria. The raw scores have been weighted to reflect the impact that each individual criterion has on the 'Final GOAT Score'. Only weighted scores are displayed in this table. -->TURN DEVICE SIDEWAYS TO VIEW ON MOBILE-->
| | Perceived Taste (30%) | Foreignness (20%) | Aesthetics (20%) | Prevalence in Franchise (15%) | Franchise Reception (15%) | Raw Score | Final GOAT Score |
| --- | --- | --- | --- | --- | --- | --- | --- |
| Soylent Green | 7 | 10 | 7 | 10 | 3 | 37 | 745 |
| Lembas | 8 | 5 | 8 | 4 | 10 | 35 | 710 |
| Narnian Turkish Delight | 10 | 2 | 9 | 5 | 4 | 30 | 655 |
| Melange | 6 | 4 | 5 | 9 | 9 | 33 | 630 |
| Tomacco | 5 | 8 | 6 | 2 | 5 | 26 | 535 |
| Bertie Bott's Every Flavor Beans | 3 | 6 | 4 | 6 | 8 | 27 | 500 |
| Krabby Patty | 9 | 1 | 10 | 8 | 2 | 30 | 460 |
| Klatooine Paddy Frog | 4 | 9 | 1 | 3 | 6 | 23 | 455 |
| Gagh | 1 | 7 | 2 | 1 | 7 | 18 | 330 |
| Scooby Snacks | 2 | 3 | 3 | 7 | 1 | 16 | 300 |
GOAT Verdict:
The truth cannot be concealed any longer: soylent green is people. Created from the remains of deceased humans, these unassuming green wafers provided the main fuel source for an overpopulated society with far too little concern for their food. Although the wafers looked relatively appealing, the discrepancies in their plankton protein numbers ultimately unraveled the human element behind their manufacturing, and the system collapsed. Until that point, however, soylent green was a viable food source to both the film's denizens and the viewers in the theater. Audience members, even to this day, likely tried to imagine what soylent green tasted like, and how recognizable its starring ingredient could be. If not for the wafer's unfortunate additive, it could have solved the problem of world hunger in a lasting manner. Waves of imitation crackers and gag products have emerged as a result of soylent green's clever design, and the film's main theme of eating without thinking has carried the wafer's legacy into the 21st century.