What is the greatest fictional alien species of all time?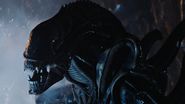 When you hear the word "alien," this may be the first creature that comes to mind. Envisioned by H.R. Giger and brought to life in Ridley Scott's 1979 masterpiece, Alien, the Xenomorph is a perfect example of a species created to kill and reproduce. The Xenomorph lingers in the public consciousness because of its inherently foreign nature and design, lacking any sense of empathy, understanding, or even justification. All of its life stages are strange and violent, from the spindly face-hugger and its egg-laying within the host, to the chest-burster which tears through the victim's ribcage and slithers free. The Xenomorph evolved to kill in all conditions (even space), and is generally only spotted moments before launching an assault on the bearer of a bleeping motion tracker. Worst of all, there is almost nowhere to hide from this species. Air ducts make a handy highway for the creature, and nuclear power cores only serve to insulate its eggs.

Debut: 1979 | Franchise of Origin: Alien

Physical Appearance: Fully mature specimen has a bipedal stance, a segmented torso and tail, a long and curved skull with a protruding tongue, shiny black exoskeleton and no visible eyes. | Abilities: Agile and capable of movement in confined spaces, can survive extreme cold and heat, produces acidic blood, pervasive and able to quickly reproduce. | Crowning Achievement: Destruction of the Nostromo (and its crew) by a single specimen.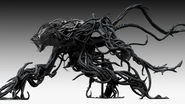 Most people who saw the Mimics in All You Need is Kill, or the more popular film adaptation,Edge of Tomorrow, probably wished that they could borrow the aliens' powers for a day or two. Operating with a central mind and lieutenants known as Alphas, the Mimics can reset the day entirely if they lose an Alpha, or sense that defeat is imminent. The result is a streamlined and horrifying process of error correction, enabling the species to carry out assaults without a casualty or misstep on the frontlines. The Mimics employed one of the most innovative methods of tactical intelligence ever shown in a manga or film, and their big screen appearance –twitchy, flailing, and burrowing with impossible speed –only made them more unsettling in some of science fiction's finest action sequences.

Debut: 2014| Franchise of Origin: Edge of Tomorrow

Physical Appearance: Quadrupedal, black creatures with circular, razor-toothed maws and and a defensive covering of tentacles. | Abilities: Chronological manipulation and reversing the day's timeline to enhance battle planning and tactics, lightning-fast maneuvers and attack methods. | Crowning Achievement: Conquest of Mainland Europe using the Omega's time looping.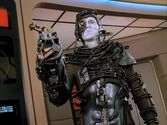 A myriad of memorable aliens have come from the Star Trek mythos, including the fan favorites: Klingons and Vulcans. Most of the species that the franchise created were humanoid in appearance, because makeup and special effects tend to be much more costly for more "outlandish" designs. Fortunately, a second-season episode of The Next Generationrewrote the rules of cookie-cutter alien design in unveiling the Borg, a collective based around assimilation and conquest. Characterized by murky green light, pallid skin tones, and hodgepodge machine prostheses all over the bodies of the assimilated, the Borg presented one of the largest threats ever shown to the Federation. Rather than seeking a reasonable end to their means, or even the political submission of the Federation, the Borg pursued a course of complete assimilation throughout the universe. Their collective mind enabled them to wage one of the most destructive wars in Trek history, and came close to eradicating the concepts of identity and personality in the process.

Debut: 1989 | Franchise of Origin: Star Trek

Physical Appearance: Based largely on the appearance of the assimilated host, but marked by pale skin, cybernetic attachments, emotionless faces, and exposed electric or hydraulic prosthetics. | Abilities: Centralized thought structure, can withstand extreme physical damage, capable of wiping personality and memory from assimilated subjects and building impenetrable space stations. | Crowning Achievement: Assimilating Captain Jean-Luc Picard.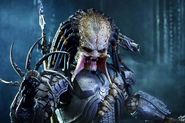 For every type of prey, there must be a hunter. This is the philosophy that forms the backbone of the Yautja warrior, better known by its informalname of Predator. The Predator may be known in contemporary media as the eternal enemy of the Xenomorph, lurking among the shadows and treetops for the perfect opportunity to take home a cylindrical skull. In their original form, however, the Yautja were presented as the perfect hunters of both aliens and humans, and sought prey that they consideredworthy of the hunt. Despite the primal presentation of Yautja, they are a sophisticated and space-traversing species. Their armament is practical and lethal, consisting ofadvanced technology such as shoulder-mounted lasers and wrist-fitted explosive devices, as well as more basic weapons such as spears and sharpened discs. Be careful of their camouflage – you can never really know how many are around you right now.

Debut: 1987 | Franchise of Origin: Predator

Physical Appearance: Muscular, bipedal hunters with ceremonial dreadlocks, fanged mandibles, oversized skulls and pale, spotted skin. | Abilities: Multiple modes of vision and scanning, invisibility and cloaking aids, target-tracking energy weapons, extreme strength and durability. | Crowning Achievement: Aiding humans in the defeat of a Xenomorph Queen.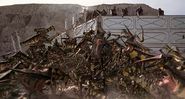 Bugs, for some reason, have never lost their "fear factor" in pop culture. Even in Robert Heinlein's original novel, the Bugs (known alternatively as Arachnids, or Archies) are a force to be respected and feared, even if their name begs for some revision. These yellow-and-black beasts wereable to put their hive-mind to good use and conquer multiple planets, including Pluto, before setting their sights on Earth. In the film version of Starship Troopers, these Bugs had their swarming capabilities on full display, overrunning Mobile Infantry defense posts in mere minutes and pausing only to extend their vast tunnel network. Despite their simplistic appearance, the Bugs often demonstrate military tactics and logic in how they situate their Brain, which control the blitzkrieg operations and help to orchestrate their conquest. Heinlein's creations may have started out in a serialized novel, but they linger in the minds of arachnophobes everywhere.

Debut: 1959 | Franchise of Origin: Starship Troopers

Physical Appearance: Striped yellow and black flesh, with a vaguely arachnid appearance and prominent head and front limb protrusions. | Abilities: Communicates with central hive-mind, can make use of organic spaceships for interstellar travel, capable of fielding larger and stronger varieties of the basic shock trooper. | Crowning Achievement: Razing of Buenos Aires during the Bug War.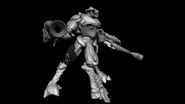 If there's anything more intimidating than a two-legged, armored killing machine with a screeching chest flap, it's an identical creature withthree legs. Multiple species emerged from The Culture series, including the Idirans, a religiously-motivated species bent on conquest and resisting the Culture's influence. The war between the Idirans and the Culture proved to be catastrophic in nearly every aspect, with hundreds of billions of casualties and an infrastructure that was essentially burned to the ground. The Idiransand their hardline views on religion and society drove them in war, and their reinforced outer plating carried the brunt of the combat. Their hermaphroditic forms enabled them to reproduce rapidly and fill the ranks with willing, murderous troops for the war against the Culture.When outside of fighting, however, the Idiransare biologically immortal. In the proper arena, it seems, the Idirans can even defeat death.

Debut: 1987 | Franchise of Origin: The Culture

Physical Appearance: Tall, tripedal hermaphrodites which have a third limb protruding from the chest, as well as an outer covering of keratin-like material to shield them from physical damage. | Abilities: Functionally immortal, able to receive and survive traumatic injuries, can produce deafening noises from a chest appendage. | Crowning Achievement: Launching a war against The Culture, which would later result in approximately 850 billion casualties.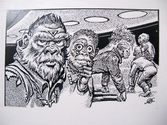 Much like the Protheans of Mass Effect fame, the Heechee are a species built upon enormous feats of engineering brilliance and dominance, such as advanced spacefaring vessels and machinery capable of converting basic elements into human-friendly meals. The Heechee's aesthetic presentation may not be as impressive as some of its competitors, but the true achievement of the species lies far from the corporeality. In fact, most members of their species came to shun their physical bodies.The Heechee perfected a method of storing a mind within the digital realm, granting them immortality while their consciousness remainedactive within the system. The Heecheeare masters of space, time, and burrowing deep underground to sleep in their cocoon beds. Before the pale giants of Prometheus, the Heecheewere the lone epitome of "galactic engineers."

Debut: 1977 | Franchise of Origin: Gateway

Physical Appearance: Short, humanoid creatures with dark and sleek skin, exceptionally wide legs, and ornamental patches of color all over their bodies. | Abilities: Broadcasting of thoughts and ideas over long ranges using specialized equipment, engineering knowledge that aids in the construction and maintenance of faster-than-light ships. | Crowning Achievement: Perfecting the upload of a being's consciousness into digital archives.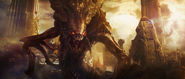 One of the most dreaded tactics in gaming history is the "Zerg rush." More accurately termed a Zergling rush, the strike relies on a small number of cheap, swift bugs to tear through an enemy base at the start of a Starcraft match. True to their lore, of course, the attack capitalizes on speed, surprise, and thousands of tiny teeth to secure victory. The Zergare a collective force of species engineered for brutality and infectious conquest, benefitting from all of the traits in deadly insects and taking none of the drawbacks. In their game of origin, the Zerg represent a highly adaptable faction with mutations rather than upgrades, and a foe with enough mobility to punish anybody who leaves a hairline fracture in their defenses. The Zerg are living proof that more is generally better.

Debut: 1998 | Franchise of Origin: Starcraft

Physical Appearance: Varying widely between species types within the Zerg collective, but largely defined by insect traits such as arthropodic movement, chitin coverings, numerous limbs, and egg sacs. | Abilities: Marshaling of tremendous numbers, recruitment and assimilation of various species into the collective army, terraforming of planets with the use of creep. | Crowning Achievement: Converting Sarah Kerrigan into the Queen of Blades during the Great War.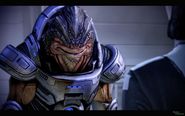 An alien species doesn't necessarily need a hive mind or ten legs to be intimidating. In fact, they can be just as terrifying when they kick down a door with a shotgun and tear things apart with their bare hands. The Krogan, one of the largest and most powerful races in Mass Effect, represent a lifetime of bitterness and training for combat. Despite their infection with the Genophage, which severely limited Krogan birth rates to stem their recruitment abilities, the Kroganremain a proud and deadly race operating within a clan structure. Krogan warriors tend to pack several sets of organs and possess an immunity to fear and nerve damage, enabling them to literally break through enemy lines and turn Collectors into insect pulp. If you played Mass Effect and had the good sense to recruit a Krogan into your party, you were rewarded with some of the gruffest voices and darkest humor in gaming history.

Debut: 2007 | Franchise of Origin: Mass Effect

Physical Appearance: Hulking, powerful creatures with a wide and prominent head, small eyes, and a scaled exterior, lending them an amphibious or reptilian appearance. | Abilities: Enhanced peripheral vision, duplicate internal organs, biological countermeasures for pain and paralysis, accelerated reproduction rate. | Crowning Achievement: Enduring the Genophage, which reduced Krogan birth rates to below 1%.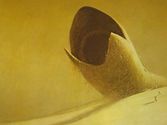 Worms may not hold much status on Earth, but in Frank Herbert's Dune, the massive sand worms that patrolled the sands of Arrakisare elevated to the status of divine beasts. The Fremen, living in moisture suits and eventually raising the boy who became Muad'Dib, revereShai-Hulud, which is better known as "giant-slithering-sand-worms" to the average reader (or viewer). These worms naturallyaid in the production of the miracle spice known as mélange, and are able to suddenly leap from the sands to swallow aircraft or spice-harvesting rigs in a single strike. Although rare, some among the Fremenare even able to ride the worms and use them as an efficient – albeit dangerous – form of transportation, symbolizing mastery over the desert and its unrelenting sands.

Debut: 1965 | Franchise of Origin: Dune

Physical Appearance: Incredibly massive worm-like anatomy, outfitted with durable outer skin and thousands of teeth within its maw. | Abilities: Produces the mind-altering substance called melange, can travel quickly beneath the sand, digests silicon and carbon-based entities. | Crowning Achievement: Swallowing a spice harvester whole.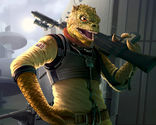 For the average moviegoer, the only recollection of a Trandoshan may be the yellow-skinned bounty hunter named Bosskonboard the Imperial Destroyer in The Empire Strikes Back. In the expanded universe, however, the Trandoshan has a rich and predatory history. These lizardlike hunters arethe natural enemy of the Wookie, and dedicate their existence to honorable murder and the pursuit – or service – of life debts. Their deity, the Scorekeeper, is an omnipresent force in Trandoshan society, and pushes the hunters to kill in exchange for eternal glory. Some of their other endeavors include slaving and mercenary work, which only increases their reputation as bloodthirsty and tireless creatures. If you ever need to hire a bounty hunter, the natural choice would be the species with a religious (and ultimately zealous)attachment to the lifestyle.

Debut: 1977 | Franchise of Origin: Star Wars

Physical Appearance: Bipedal reptilian creatures with snubbed noses, sharp teeth, beady eyes, and cranial ridges. | Abilities: Skillful tracking of targets, regrowth of amputated limbs, enhanced vision with infrared capabilities. | Crowning Achievement: Enslaving Kashyyyk during the reign of the Galactic Empire.
GOAT Staff Score - Fictional Alien Species
The candidates have been assigned a raw score across a range of criteria. The raw scores have been weighted to reflect the impact that each individual criterion has on the 'Final GOAT Score'. Only weighted scores are displayed in this table. -->TURN DEVICE SIDEWAYS TO VIEW ON MOBILE-->
| | Uniqueness (30%) | Deadliness (20%) | Strange Factor (20%) | Technological Prowess (15%) | Icon Status (15%) | Raw Score | Final GOAT Score |
| --- | --- | --- | --- | --- | --- | --- | --- |
| Xenomorphs | 10 | 11 | 11 | 2 | 11 | 45 | 935 |
| Mimics | 11 | 10 | 9 | 4 | 1 | 35 | 785 |
| The Borg | 7 | 6 | 10 | 9 | 7 | 39 | 770 |
| Yautja | 6 | 7 | 8 | 8 | 9 | 38 | 735 |
| Bugs | 4 | 9 | 7 | 3 | 10 | 33 | 635 |
| Idirans | 8 | 4 | 6 | 10 | 2 | 30 | 620 |
| The Heechee | 9 | 2 | 4 | 11 | 3 | 29 | 600 |
| The Zerg | 3 | 8 | 5 | 6 | 8 | 30 | 560 |
| Krogans | 2 | 5 | 2 | 7 | 4 | 20 | 365 |
| Shai-Hulud | 5 | 1 | 3 | 1 | 6 | 16 | 335 |
| Trandoshans | 1 | 3 | 1 | 5 | 5 | 15 | 260 |
GOAT Verdict:
The title of its origin movie alone should provide proof that the Xenomorph is the quintessential alien species. Everything about its design supports the notion of something strange, panic-inducing, and invasive. The creature moves in gravity-defying leaps along walls and metallic vents, and its eyeless, skinless, tongue-striking anatomy further amplifies the notion that the Xenomorph has nothing in common with the fleshyhumans it hunts. It dwells among the spaces that humans cannot and will not enter, and strikes without warning.In addition, the creature's drive to reproduce and expand its numbers is mindless, driven by the most basic and pitiless sense of survival instinct. There is no reasoning with the creature, and no way to bargain for your life. The Xenomorphturns your body into an incubation chamber, and turns murder into reproduction. The sheer body horror of having an egg forced down your throat – and subsequently waiting to have your chest wrenched open –gives the Xenomorph a well-earned air of fear, exoticism, and disregard for emotion. In every sense, both literally and figuratively, the Xenomorph is an alien – and the greatest one, at that.