What is the greatest extinct animal of all time?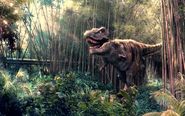 The tyrannosaurus, known by many names – including tyrannosaurus rex and T-Rex – was one of the largest and most powerful predators in the prehistoric world. This beast has been immortalized in a variety of films and novels, most notably Jurassic Park, and is perhaps the most well-known carnivorous dinosaur. The tyrannosaurus was an apex predator on the food chain, consuming almost anything it could catch and kill. This dinosaur moved using its impressive hind legs, but also possessed strong forearms, despite their limited reach. It was also able to bring enormous force to bear using its jaws, which were able to crunch through bone and other hard organic material to allow for unrestricted feeding. Considering the speed, size, and deadliness of these hunters, it's a wonder that any other land-dwelling dinosaurs were able to survive.

Scientific Name: Tyrannosaurus rex | Physical Description: A massive and bipedal dinosaur with a prominent skull, thick hind legs and a tail for balance, and undersized forearms. | Went Extinct: 65,000,000 years ago

Observed Habitats of Fossil Sites: North America, Mongolia | Closest Living Relative: Chickens | Fun Fact: With just one bite of its prey, the tyrannosaurus could consume an estimated 500 pounds of meat.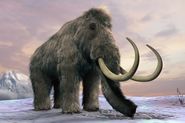 For many people, the woolly mammoth is the everlasting symbol of extinction in the animal kingdom. Its frequent appearance in natural history exhibits, typically paired with a band of spear-wielding hunters, is indicative of the impact that these giants had on the development of the human species. The meat from one of these creatures could likely sustain an entire group of ancient humans for several days or weeks, considering their six-ton weight. The woolly mammoth was a common presence throughout many of the world's colder regions, and over the years, researchers have been able to locate, identify, and analyze a massive amount of remains, leading to a complete and detailed picture of the mammoth. Regardless of what other creatures rise and fall over the eons, the mammoth and its intimidating tusks will always have a place in pop culture history (and wax museums).

Scientific Name: Mammuthus primigenius | Physical Description: Towering elephant-like creatures with tusks, a sizeable subcutaneous fat layer, and a thick coating of long, brown hair. | Went Extinct: 3,600 years ago

Observed Habitats of Fossil Sites: Global, excluding South America and Australia | Closest Living Relative: Asian Elephants | Fun Fact: Much like the process used to discern the age of a tree, it is possible to count the rings in a woolly mammoth's tusks to estimate the specimen's age.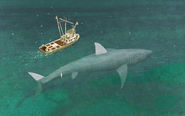 Long before the age of Jaws, a much larger and more terrifying shark roamed the waters. Inhabiting a large portion of the world's saltwater bodies and built like a swimming tank, megalodon followed the prehistoric trend of being a monstrous version of its extant relative, the great white shark. This ancient size increase, however, was reflected across all tiers of the food chain. At nearly 50 tons and 70 feet long, the amount of meat required to sustain one of these beasts had to be enormous. Researchers have speculated that megalodons consumed whales, dolphins, squids, and even their own kind, if the food became scarce enough. While it may have been fascinating to see one of these creatures in person, the majority of the world should be thankful that megalodon no longer lurks beneath the waves.

Scientific Name: Carcharodon megalodon | Physical Description: An enormous ancestor of the shark, growing well over 60 feet and possessing serrated rows of teeth. | Went Extinct: 2,600,000 years ago

Observed Habitats of Fossil Sites: Unknown, likely able to survive in any ocean due to warmer temperatures | Closest Living Relative: Great White Sharks | Fun Fact: Scientists estimate that megalodon's jaws could generate as much biting force as three lions combined.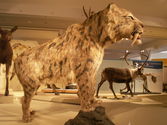 Smilodon, which is more popularly (and erroneously) known as the saber-tooth tiger, has become a favorite among extinct species due to its ferocious appearance and media-popularized connection with early humans. While scientists were not always sure about the coexistence of the two species, recent remains from Germany – dating over 300,000 years old – present a smilodon skeleton on the same excavated layer as wooden spears, which suggests convergence and also a hunting-based relationship. The smilodons were expert and agile hunters, and their enormous pairs of canines helped to carve out their place as predators – literally. The smilodon was, in actuality, an apex predator, and capable of hunting anything from horses to mammoths. While today's domesticated cats may have little in common with the smilodon, anybody who dangles a strand of yarn can still see a trace of the killer instinct.

Scientific Name: Smilodon gracilis | Physical Description: A low-lying, short-haired feline with pronounced teeth and powerful forelimbs. | Went Extinct: 500,000 years ago

Observed Habitats of Fossil Sites: North and South America | Closest Living Relative: Leopards | Fun Fact: According to the most recent fossil examinations, smilodons were likely susceptible to excessive amounts of drooling.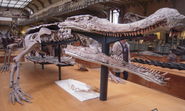 The world's marshes and delta areas have always been a breeding ground for predators, but sarcosuchus – the flesh crocodile – turned these wetlands into a personal feeding trough. Sarcosuchus is the 40-foot relative of the modern crocodile, equipped with thick outer scales, razor-sharp teeth, and an enormous set of jaws. Analysis of the creature's skull led researchers to the conclusion that sarcosuchus was unable to perform the infamous death roll maneuver, but a simple examination of the creature's size is enough to demonstrate that it was an exceptional hunter. In fact, sarcosuchus was probably one of the top predators in habitat, capable of hunting big game using stealth and swift ambushes. Much of the creature's traits were passed down to its far smaller relative, the Nile crocodile, but its full length and weight will never be matched by a modern day reptile.

Scientific Name: Sarcosuchus imperator | Physical Description: An aquatic reptile with thick, armored scales, webbed feet, and a protruding set of jaws, typically growing up to 40 feet long. | Went Extinct: 112,000,000 years ago

Observed Habitats of Fossil Sites: The Sahara, Brazil | Closest Living Relative: Nile Crocodiles | Fun Fact: Some experts have concluded that this giant crocodile continued to enlarge throughout its lifespan, and required 50 to 60 years to be considered fully grown.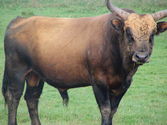 For humans living just a few thousand years ago, the aurochs was a critical source of food and leather. For humans today, it's a virtually unknown species, despite its obvious similarities with common cattle. The aurochs stood at almost six feet, and could weigh well over a ton. Because of this, earlier humans often sought to domesticate the aurochs. Research is still being performed on the success of these initiatives, but DNA has pointed to a divergence of species, with one of the animal's extant relatives being the bull. Most of these massive cattle died off in their wild form by the 13th or 14th century, with the last herds existing throughout Eastern Europe. By the time of severe endangerment, the aurochs were restricted to private grounds maintained by nobility, and they would eventually become extinct in the 17th century.

Scientific Name: Bos primigenius | Physical Description: A breed of large and horned cattle, usually covered in a coat of black or brownish hair. | Went Extinct: 388 years

Observed Habitats of Fossil Sites: Various locations throughout Europe, North Africa, and Asia | Closest Living Relative: Cattle | Fun Fact: Aurochs are some of the most prominent symbols in European Paleolithic artwork, including the famous Lascaux Cave paintings.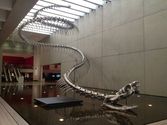 The modern day boa constrictor is able to use its powerful muscles, long body, and crushing weight to break the bones of its victims. Titanoboa, its prehistoric counterpart, used the same process – but with more than three times the length, and 20 times the weight. The remains of titanoboa, which have been identified as nearly 58 million years old, have only been found in Colombia. Its love of a warm climate and ample hunting camouflage likely prevented the spread of the snake into surrounding countries and regions, but it was certainly powerful enough to have made a mark on its local habitat. Some biomechanics experts, in fact, have theorized that the snake's own metabolic processes were powerful enough to heat it by four to six degrees Fahrenheit.

Scientific Name: Titanoboa cerrejonensis | Physical Description: A serpent weighing over a ton and measuring close to 40 feet, but otherwise remarkably similar to extant snake species. | Went Extinct: 60,000,000 years

Observed Habitats of Fossil Sites: Colombia | Closest Living Relative: Boa Constrictors | Fun Fact: The thickest segment of a titanoboa's body is estimated to have measured three feet.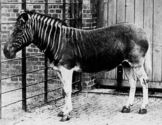 Upon first inspection, the quagga looks more like a sideshow circus gimmick than an actual animal. The animal's head and neck had the characteristic stripes of a zebra, while its body was decidedly more equine or donkey-like in nature. In truth, the quagga is actually a type of plains zebra, but marked by a decidedly unique aesthetic. Some illustrations of the quagga feature a tall and powerful-looking specimen, almost resembling a mare, but the majority of pictures – which feature living quaggas from the 19th century – display a shorter and stockier animal. The quagga existed throughout South Africa until its extinction in 1883, when the animal had become a popular attraction in zoos and wildlife conservatories. In contemporary circles, the quagga is remembered as a quirky but endearing cultural gem.

Scientific Name: Equus quagga quagga | Physical Description: A patchwork quadruped with a unique hybrid appearance, seemingly formed from a zebra's head and the body of a donkey or horse. | Went Extinct: 132 years ago

Observed Habitats of Fossil Sites: South Africa | Closest Living Relative: Plains Zebras | Fun Fact: The quagga had its genetic material studied in a groundbreaking 1984 procedure, making it the first extinct animal to receive DNA analysis.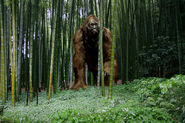 These days, the internet and tabloid media and obsessed with the concept of bigfoot. One possible explanation for the phenomenon, if traced back to its prehistoric roots, may be gigantopithecus, the largest ape in history. These creatures stood nearly 10 feet tall and roamed the forests of Asia, but surprisingly little is known about them. Their date of extinction is not precisely known, and much of the mystery surrounding them can be traced to the use of their remains by traditional Chinese medicine practitioners. A variety of Chinese markets and cities have been found in the possession of gigantopithecus remains, which has led researchers to believe that China was also the primary home for these giant apes. While mainstream science asserts that gigantopithecus has vanished from existence, armies of bigfoot hunters are presumably keen on proving otherwise.

Scientific Name: Gigantopithecus giganteus | Physical Description: A primate reaching almost nine feet tall, defined by its sturdy jaws and plant-grinding teeth. | Went Extinct: 100,000 years ago

Observed Habitats of Fossil Sites: China | Closest Living Relative: Orangutans | Fun Fact: Numerous gigantopithecus fossils have been found in Chinese markets, often sold as traditional medicine in complete pieces or in powdered form.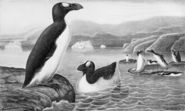 While many extinct species were known for their impressive size and power, the great auk – perhaps due to its relatively recent extinction – is an example of a creature that seemed destined to die out. Slow on land, flightless, and most often a source of food for neighboring species, it was a miracle that the great auk managed to survive into the 19th century. The great auk's status as a memorable extinct species is not derived from its abilities or its similarities to modern penguins, however. The great auk provided Neanderthals and Native Americans with significant amounts food, feathers, and bone material, making it one of the most useful species for the development of certain human populations. Today, the great auk lives on in their smaller counterpart, auks, which have developed a clumsy method of flight and are also a healthy and sustainable species.

Scientific Name: Pinguinus impennis | Physical Description: A three-foot-tall flightless bird resembling a modern penguin, typically displaying black plumage on its back and white on its stomach. | Went Extinct: 163 years

Observed Habitats of Fossil Sites: North America, throughout Northwestern Europe | Closest Living Relative: Auks | Fun Fact: While the great auk's extant descendant has developed wings for flight, their short length necessitates rapid flapping to remain airborne.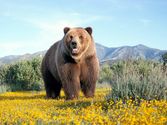 When most people think of bears, they imagine the wilderness of North America or Siberia, where a thick forest covering and cool mountain streams provide the perfect ursine habitat. The Atlas bear, however, is unique because it flourished far from those comforts. It existed as Africa's only native bear species, and despite contemporary species migration, no other bear has taken its place. Atlas bears, which had a similar appearance to modern brown bears but lacked a white mark on their nose, were often transported into the Roman Empire for use in entertainment and combat sports. While the actions of the Romans did not directly cause the extinction of the species, it did nothing to help its dwindling population. Today, the Atlas bear is remembered as a relic of Africa's diverse and often fragile ecosystem.

Scientific Name: Ursus arctos crowtheri | Physical Description: A short, bulky version of the modern bear, distinguished by its dark fur coat and reddish underside. | Went Extinct: 130 years

Observed Habitats of Fossil Sites: Morocco, Libya | Closest Living Relative: Black Bears | Fun Fact: One of the reasons for the Atlas bear's extinction can be found in Roman gladiatorial games, where the bears were used for entertainment and blood sports.
GOAT Staff Score - Extinct Animal
The candidates have been assigned a raw score across a range of criteria. The raw scores have been weighted to reflect the impact that each individual criterion has on the 'Final GOAT Score'. Only weighted scores are displayed in this table. -->TURN DEVICE SIDEWAYS TO VIEW ON MOBILE-->
| | Survival Capabilities (30%) | Unlike Species Today (20%) | Total Area Inhabited (20%) | Knowledge Advancement (15%) | Legacy (15%) | Raw Score | Final GOAT Score |
| --- | --- | --- | --- | --- | --- | --- | --- |
| Tyrannosaurus | 9 | 11 | 7 | 9 | 11 | 47 | 930 |
| Woolly Mammoth | 4 | 10 | 11 | 8 | 10 | 43 | 810 |
| Megalodon | 11 | 6 | 9 | 2 | 7 | 35 | 765 |
| Smilodon | 7 | 8 | 5 | 5 | 9 | 34 | 680 |
| Sarcosuchus | 10 | 4 | 6 | 4 | 4 | 28 | 620 |
| Aurochs | 1 | 3 | 10 | 11 | 8 | 33 | 575 |
| Titanoboa | 8 | 5 | 3 | 3 | 6 | 25 | 535 |
| Quagga | 2 | 9 | 1 | 10 | 5 | 27 | 485 |
| Gigantopithecus | 6 | 7 | 4 | 1 | 2 | 20 | 445 |
| Great Auk | 3 | 1 | 8 | 7 | 1 | 20 | 390 |
| Atlas Bear | 5 | 2 | 2 | 6 | 3 | 18 | 365 |
GOAT Verdict:
This dinosaur's name alone should prove its dominance. Tyrannosaurus, which already translates to tyrant lizard in Latin, is supplemented by Rex, meaning king. With the perfect storm of prefixes and titles, it's no wonder that the tyrannosaurus has become the most popular and memorialized extinct animal in history. Every feature of the animal appears to be a refinement of evolutionary predators, from a powerful set of jaws to massive, piston-like hind legs. With small forearms and a balancing tail, the dinosaur was able to maintain a solid posture for standing, running, or eating, and asserted its power through climbing the prehistoric world's food chain ranks. Whether mechanized in a Spielberg film or on display as a collection of towering skeletal remains in a museum, the tyrannosaurus is a captivating and intimidating icon of a world long gone, where the fight for survival created some of the largest and most ruthless predators in existence. Although it has disappeared from Earth, the tyrannosaurus will always endure in its cultural legacy and media presence. For this reason alone, the tyrannosaurus is the greatest extinct animal of all time.