What is the greatest date movie of all time?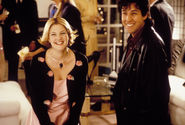 Frank Coraci struck gold when casting Adam Sandler in the lead role as The Wedding Singer, Robbie Hart. One of the comedian's best performances is largely due to his sizzling chemistry with co-star Drew Barrymore as happy-go-lucky waitress, Julia. The story unfolds as the recently-jilted Robbie befriends the soon-to-be-wed Julia, and the pair try to ignore the romance blossoming between them. Now coming up on its 20-year anniversary, the film manages to avoid the pitfalls of the modern romantic comedy with a zippy script and a stunning supporting cast. It's a bona fide feel-good flick, that weighs on the importance of good friendship as a solid foundation for an amorous relationship. Throw in the plentiful gags that still stand up today, and it serves as a truly classic date movie. Love and laughter take centre stage, because really, that's what's gonna land you that second date.

Release: February 13th, 1998 | Director: Frank Coraci | Genre: Romantic Comedy | Lead Actors: Adam Sandler, Drew Barrymore

IMDB Rating: 6.8 | Metacritic: 59 | Rotten Tomatoes (Audience): 67% (80%) | Memorable Scene: When Robbie serenades Julia with a self-penned love song.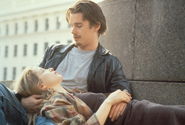 The first in Richard Linklater's "Before" trilogy bowed back in 1995, with Ethan Hawke and Julie Delpy cast as two twenty-somethings who meet while backpacking through Vienna and opt to spend the night together. As they wander the beautiful city, the pair succumb to the romantic appeal of being strangers in a strange land. Their instant chemistry drives their continued adventures into the night, as they trade stories, investigating their souls throughout those first heady moments of falling inextricably in love. It's not only a romantic drama about people finding each other, but a romance for people with a desire within to never stop questioning, never stop searching, and never stop traveling to fulfil the needs of the human spirit. Hawke and Delpy collaborated with Linklater before the shoot, with the script serving as a jumping off point for improvisation - a choice which makes their iconic love story seem all the more likely for them. Or indeed, for us.

Release: January 27th, 1995 | Director: January 27th, 1995 | Genre: Romantic Drama | Lead Actors: Ethan Hawke, Julie Delpy

IMDB Rating: 8.1 | Metacritic: 77 | Rotten Tomatoes (Audience): 100% (93%) | Memorable Scene: The pair share their first kiss; and Celine mocks Jesse.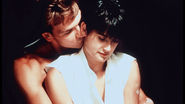 If there's one entry on this list that hankers to the mushy romantic in us all, it's got to be Jerry Zucker's 1990 supernatural tearjerker, Ghost. The story of hopelessly devoted couple, banker Sam Wheat (Patrick Swayze) and his girlfriend Molly (Demi Moore), goes off the rails when Sam is murdered in cold blood. With unfinished business to do - finding his killer - his spirit stumbles across Oda Mae Brown, a medium whom he proceeds to harangue into helping him. For all the flack Ghost gets for amping up the melodrama, it succeeds where most fantasy romances fail - by combining parts of multiple genres. It's at times a compelling thriller, a laugh-out-loud comedy, but above all it's a bleeding-hearts love story. Swayze and Moore's coupling provides the eye candy and wish fulfilment, but it's Whoopi Goldberg as the zany medium who steals the show making sure the laughs temper the tears.

Release: July 13th, 1990 | Director: Jerry Zucker | Genre: Romantic Thriller | Lead Actors: Patrick Swayze, Demi Moore, Whoopi Goldberg

IMDB Rating: 7.0 | Metacritic: 52 | Rotten Tomatoes (Audience): 74 %(80%) | Memorable Scene: Sam and Molly turn pottery into a messy form of foreplay.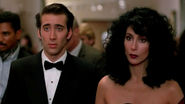 Italian-Americans in cinema aren't always wiseguys. As the leading characters in Norman Jewison's 1980s comedy prove, they're sometimes regular folk just looking for love. In a twist of fate, recently-widowed New Yorker Loretta (Cher) finds herself falling for her new fiance's brother, Ronny (Nicolas Cage.) Sidestepping the obvious rom-com formula, Moonstruck plays up the Italian stereotype without reducing any of the main characters to empty caricatures. The struggle for Loretta is brilliantly explored; should she suppress the feelings for her lover's brother, or take a risk? Of course, her parents (Olympia Dukakis and Vincent Gardenia in perfectly cast roles) offer their advice, but ultimately the love story wanders down its own path regardless. The palpable tension between the pair of would-be paramours - due to electrifying performances from Cher and Cage - is made all the more romantic by the old-school Italian soundtrack, that cements this as a simply meraviglioso date movie.

Release: December 18th, 1987 | Director: Norman Jewison | Genre: Romantic Comedy | Lead Actors: Cher, Nicolas Cage, Olympia Dukakis

IMDB Rating: 7.1 | Metacritic: 83 | Rotten Tomatoes (Audience): 92 % (81%) | Memorable Scene: Loretta visits Ronny at the bakery he works at and tears him a new one.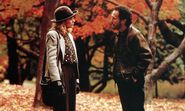 Mention When Harry Met Sally to anyone and the first thing their mind will inevitably shoot to is the now-infamous scene wherein Meg Ryan's Sally fakes a very loud orgasm in a deli. It's an iconic moment in cinema, that's so memorable it points to the fact that this modern era of rom-coms has seemingly forgotten how to break the mould. The trendsetters have to start somewhere, and Rob Reiner's 1989 romantic comedy hybridised Woody Allen's neuroses with traditional love story tropes to create a fresh look at modern relationships. In the role of Harry, Billy Crystal argues that men and women cannot be friends when he meets Meg Ryan's Sally, who believes its possible. Their conversations unravel and along the way the pair begin an affair, that causes them each to re-evaluate their stance. Both funny and refreshing, it's largely thanks to Nora Ephron's peppy script that it has emerged as a modern comedy classic.

Release: July 14th, 1989 | Director: Rob Reiner | Genre: Romantic Comedy | Lead Actors: Meg Ryan, Billy Crystal

IMDB Rating: 7.6 | Metacritic: 76 | Rotten Tomatoes (Audience): 88% (89%) | Memorable Scene: Sally's over-the-top fakegasm in a New York deli.
6
Eternal Sunshine of The Spotless Mind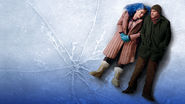 Charlie Kaufman's sci-fi script places Joel (Jim Carrey) and Clementine (Kate Winslet) into quite the predicament, when after their relationship dissolves Clem opts to have her memories of their courtship erased. It's only when Joel undergoes the same procedure - which deletes his memories in reverse - that he realises he wishes to save their relationship despite the way things ended. Michel Gondry's brightly-coloured inner world serves as the terrain in which the pair, real Joel and memory Clem, venture in order to ensure he can still remember her after the fact. It's a brilliant commentary on how we view the success or failure of a romantic endeavour, honing in on how a promising beginning can transform into a regrettable ending. A dose of fantasy mixed with the impossibility of re-starting a failed romance lends Eternal Sunshine an edge missing from most date movies; the chance to turn it all around.

Release: March 19th, 2004 | Director: Michel Gondry | Genre: Sci-fi Romance | Lead Actors: Kate Winslet, Jim Carrey

IMDB Rating: 8.4 | Metacritic: 89 | Rotten Tomatoes (Audience): 93% (94%) | Memorable Scene: Joel dives into his past as a young boy, while Clem ends up in the role of his mother.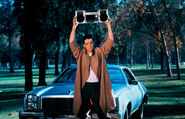 In Say Anything, John Cusack's Lloyd Dobler chooses a method of romantic wooing that's now planted firmly in the realm of popular culture. Raising his boombox high above his head, Peter Gabriel's In Your Eyes blaring from its tinny speakers, his struggling teen proves his love for the upper class Diane Court through the lyrics of a pop song. Director Cameron Crowe's coming-of-age tale surrounds itself with music as the two star-crossed teens attempt to navigate the social trappings that threaten their relationship. It's a story as old as time that benefits from two sparkling central performances. The chemistry between Cusack and Skye is so palpable that there's no doubt this pair belong together, in spite of the huge obstacles they face. An optimistic, feel-good slice of teenage life; the throes of adolescence have never been so beautifully realised.

Release: April 14th, 1989 | Director: Cameron Crowe | Genre: Romantic Drama | Lead Actors: John Cusack, Ione Skye

IMDB Rating: 7.5 | Metacritic: 86 | Rotten Tomatoes (Audience): 98% (85%) | Memorable Scene: Lloyd attempts to win over Diane by blasting Peter Gabriel beneath her window.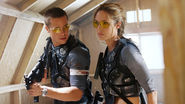 Before they became a global tabloid sensation, Brad Pitt and Angelina Jolie first sent sparks flying in Doug Liman's funtime romp, Mr. and Mrs. Smith. As a seemingly-normal pair of marrieds, their life consists of routine suburban activities. That is, until their true identities they each keep hidden from the other are unearthed. Their secret personas reveal that they're both assassins; who have been assigned a new hit - kill the other Smith. Perhaps the sole entry on this list that's a straight-up actioner, the mix of thrills and humour between the couple are charged with a kinetic chemistry that's lacking in other romantic offerings. The very definition of an unconventional date movie, it might have more choreographed fight scenes than a romantic comedy, but it'll get pulses racing. And that's what you want at the end of a date, right?

Release: June 7th, 2005 | Director: Doug Liman | Genre: Action | Lead Actors: Angelina Jolie, Brad Pitt

IMDB Rating: 6.5 | Metacritic: 55 | Rotten Tomatoes (Audience): 59% (58%) | Memorable Scene: With their identities exposed, the pair engage in a hilarious slapstick-y fight scene.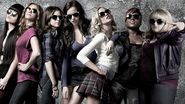 A musical first and foremost, Pitch Perfect emerged two years ago and has since risen in the ranks for film buffs, becoming a true cult comedy. In the movie, Anna Kendrick stars as Beca, a college student whose dreams of being a professional DJ are put on hold when she joins the university's acapella group, the Barden Bellas. Their journey to win the national finals is dotted along the way with a series of amusing hijinks and several sing-offs, all of which pack in humour from a variety of angles. Slapstick, wit, self-deprecation, visual gags amp up the chuckles, as the motley crew of women overcome various hurdles to make the final. Wrapped around the jokes is a sweet story of Beca's transformation, which is expertly handled as she realises the second the Bellas rise victorious that she just might be in love with her best friend. Invite that long-time crush over and who knows what might happen...

Release: September 28th, 2012 | Director: Jason Moore | Genre: Musical Comedy | Lead Actors: Anna Kendrick, Rebel Wilson

IMDB Rating: 7.3 | Metacritic: 66 | Rotten Tomatoes (Audience): 81% (83%) | Memorable Scene: The finals, when the Bellas revamped mashup brings the house down.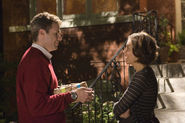 Quirky and sweet, Stranger Than Fiction tells the meta-tale of Harold Crick (Will Ferrell). A rigid IRS worker, his daily activities are narrated via voiceover as its made apparent his life offers him little in the way of surprise. That is, until it's revealed he's actually a character in a novel that's being written by Emma Thompson's manic author, who happens to be the person supplying the voiceover. As his work sees him cross paths with Maggie Gyllenhaal's kooky baker, he begins to realise just how much of a stick in the mud he's been. From Thompson's realisation that she's quite fond of her creation, to Harold's realisation he might be falling in love, there's many layers at work in a stand-out piece of comedy drama that's unlike anything you or your date will have seen.

Release: November 10th, 2006 | Director: Marc Forster | Genre: Fantasy Comedy Drama | Lead Actors: Will Ferrell, Maggie Gyllenhaal, Emma Thompson

IMDB Rating: 7.7 | Metacritic: 67 | Rotten Tomatoes (Audience): 72 %(85%) | Memorable Scene: In a witty romantic gesture, Harold brings baker Ana a bouquet of flours.
GOAT Staff Score - Date Movie
The candidates have been assigned a raw score across a range of criteria. The raw scores have been weighted to reflect the impact that each individual criterion has on the 'Final GOAT Score'. Only weighted scores are displayed in this table. -->TURN DEVICE SIDEWAYS TO VIEW ON MOBILE-->
| | Romance (30%) | Fun Factor (20%) | Amorous Atmosphere (20%) | Cultural Impact (15%) | Critical Acclaim (15%) | Raw Score | Final GOAT Score |
| --- | --- | --- | --- | --- | --- | --- | --- |
| The Wedding Singer | 8 | 9 | 8 | 8 | 6 | 39 | 790 |
| Before Sunrise | 9 | 3 | 10 | 3 | 10 | 35 | 725 |
| Ghost | 10 | 1 | 9 | 9 | 1 | 30 | 650 |
| Moonstruck | 6 | 6 | 7 | 6 | 7 | 32 | 635 |
| When Harry Met Sally | 7 | 4 | 6 | 10 | 5 | 32 | 635 |
| Eternal Sunshine Of The Spotless Mind | 4 | 7 | 4 | 5 | 8 | 28 | 535 |
| Say Anything | 5 | 2 | 5 | 7 | 9 | 28 | 530 |
| Mr. And Mrs. Smith | 2 | 8 | 2 | 4 | 2 | 18 | 350 |
| Pitch Perfect | 1 | 10 | 1 | 2 | 4 | 18 | 340 |
| Stranger Than Fiction | 3 | 5 | 3 | 1 | 3 | 15 | 310 |
GOAT Verdict:
The pairing of Adam Sandler and Drew Barrymore in this 1998 rom-com was such a successful feat, that the duo went on to star together in several subsequent films – but never did they recreate the bubbling chemistry that makes The Wedding Singer officially The Greatest Date Movie Of All Time. Looking back on Frank Coraci's wedding-fever gem it still stands as a hilarious expose of the chaos surrounding a couple's upcoming nuptials. Lodged in between the blossoming romance of Sandler's career-best performance as jilted singer-for-hire Robbie Hart and Barrymore's sweet waitress Julia, scene after scene of daft situational comedy spring forward. The rituals of pre-wedding organisation are addressed in a brilliant montage, largely thanks to supporting cast members Allen Covert, Christine Taylor and Alexis Arquette. A couple of cameos from Jon Lovitz and Steve Buscemi spike the chuckles with a dark streak; their cheeky turns thankfully prevent The Wedding Singer from heading into full-blown sentimentality. While there are moments of overstated romantic gestures, Robbie and Julia are so likeable you can't help but smile as the wedding singer finally gets to serenade the girl of his dreams.