What is the greatest cryptid of all time?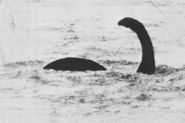 In the world of grainy video footage and still photographs, the Loch Ness Monster (also known as Nessie, to its many fans) is the reigning champion. Although the most famous image of the Loch Ness Monster was revealed to be a hoax just before the death of its photographer, the search for the fabled sea creature has only intensified over time. Throughout the 20th century, teams of scientists and researchers combed the loch multiple times, typically with the aid of sonar equipment and submersibles. The creature even attracted Hollywood producers, and due to several filming mishaps, full-size replicas of the Loch Ness Monster sank to the bottom of the loch (and were never recovered). Numerous theories have emerged in the debate over the creature's origins and possible survival tactics, and if nothing else, these dialogues signal that the legend of Nessie continues to grow beneath the loch's waters.

Origins: Debatably identified in 565, when an account by Saint Columba reported an attack by a sea-serpent on the River Ness. | Sighted In: Loch Ness, in Scotland | Appearance: An aquatic and serpentine creature with dark and glossy flesh, typically reported to possess limbs or fins of some sort | Number of Google Results for "Name": 2,040,000

Encounter Details: A 1970 submersible expedition into the Loch's depths, initiated as a joke, picked up sonar signals from a massive fleeing object. | Strange Fact: In 1933, a motorcyclist claimed to have struck the creature on a shoreline road.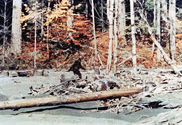 There have been so many reported sightings of Bigfoot – alternatively known as a Sasquatch – that the creature itself borders on parody. The creature's image has become so prevalent that it is, in essence, the epitome of the "monster-hunting" phenomenon, which has branched into mainstream television and internet circles. Driven by the grainy appearance of an ape-like creature in the 1967 Patterson-Gimlin film, thousands of determined Bigfoot seekers have combed the forests and mountainous expanses of Canada and North America. Although the majority of these expeditions result in no proof of the beast, and the "evidence" gathered is typically little more than a set of large footprints, the hunt for Bigfoot and his Sasquatch kin is more alive than ever before. So long as the fascination around this forest-dwelling creature remains, the world's longest-running hide-and-seek match will continue in the hills of North America.

Origins: Unknown, based in legends from the indigenous tribes of the Pacific Northwest. | Sighted In: Northwestern US, Canada, occasionally Eastern US | Appearance: An apelike creature with a prominent brow and forehead, typically hairy and extremely tall | Number of Google Results for "Name": 27,100,000

Encounter Details: A 1924 account described a band of apelike creatures (potentially referring to Bigfoot's species) assaulting a mining cabin with rocks and attempted entry. | Strange Fact: In 2012, an attempted hoax ended in tragedy when a ghillie-suited impersonator was struck by a car.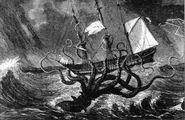 Since its inception, the Kraken has appeared in the nightmares of sailors around the world. The depth of the ocean can be daunting enough on the high seas, but the prospect of a colossal, tentacle-wielding beast beneath a vessel is horrifying. Centuries after the Kraken's first appearance in Norse sagas, it was reportedly seen throughout the seas around Scandinavia and the Atlantic, where it was believed to prey on passing crewmen and sink ships with ease. Many contemporary depictions of the Kraken have added especially alien features, including horns or a razor-toothed maw, since its initial shape (which is similar to a giant squid or octopus) has become normalized and less intimidating. If you ever venture across an ocean and try to imagine what waits beneath the waves, however, the Kraken's original form will be more than enough to haunt your dreams.

Origins: Featured in a 14th-century Norse saga known as Orvar-Oddr, presented under a different name. | Sighted In: Multiple oceans, coasts of Greenland | Appearance: An enormous octopoid creature (or cephalopod) capable of devouring entire ships | Number of Google Results for "Name": 21,600,000

Encounter Details: A 1781 description of the creature, written by a Swedish author, likened the Kraken to the biblical Leviathan. | Strange Fact: Krake, the Norwegian root of the word Kraken, refers to a sickly or warped animal.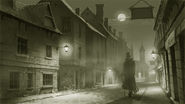 The stories surrounding Spring-heeled Jack may seem more like urban legends than cryptid reports, but the otherworldly nature of this far-leaping entity suggests something more mysterious and physical than just folklore. Spring-heeled Jack was spotted throughout London, Liverpool, and some surrounding areas, and the number of reports was so staggering that it prompted an official response from community leaders and law enforcement. In some stories, Spring-heeled Jack wore the clothes of a dapper gentleman, but in others, he was dressed in a fisherman's oilskin coat to disguise his burning red eyes and haunting features. Most of the public (and pop culture) has let Jack slide into obscurity, but the accounts of his reign of terror are still an indelible part of London, and make him one of the most acrobatic cryptids in existence.

Origins: Victorian-era reports of a ghost or demonic entity stalking the streets of Liverpool and London. | Sighted In: London and Liverpool, in England | Appearance: A thin, well-dressed urban wanderer with red eyes and sharpened nails. | Number of Google Results for "Name": 430,000

Encounter Details: An 1877 crowd in Lincolnshire supposedly surrounded the creature, which was cloaked in a sheep skin, and forced it to leap away in retreat. | Strange Fact: The Lord Mayor of London addressed the creature in an 1838 hearing, and after an overwhelming response from the public, dispatched policemen to hunt down the responsible entity.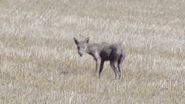 The only thing scarier than a vampire is a vampire in the shape of a hairless dog (or a scaly, cold-blooded humanoid, if you ascribe to other reports). The Chupacabra, a blood-sucking and nocturnal hunter originally reported in South America, is one of the most bizarre but frequently-encountered cryptids of all time. Although there have been dozens of reports of this creature, with many occurring in the Southern US, most are simply a misidentified and sickly canine. The Chupacabra's name refers to sucking the blood of goats, but this creature has been attributed to attacks on livestock of all varieties, including sheep and hens. While there has never been any concrete evidence presented in the search for a Chupacabra specimen (alive or dead), many South American farmers still swear by its existence.

Origins: Reportedly the cause of a 1995 attack on eight sheep in Puerto Rico, which left the livestock with multiple puncture wounds and devoid of blood. | Sighted In: Southern US, numerous South American nations, the Caribbean | Appearance: Ranging from a small, reptillian biped to a hairless and vaguely canine creature | Number of Google Results for "Name": 994,000

Encounter Details: Multiple Chupacabra sightings, which involve a hairless specimen attacking livestock, have been identified as canines with severe mange. | Strange Fact: Skeptic Benjamin Radford asserts that the Chupacabra's reported sightings were based on descriptions of an alien creature from the film Species.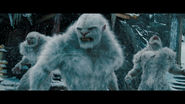 As the eastern counterpart to Bigfoot, the Yeti has a web of legends, mysteries, and expeditions around him. Some of the earliest mentions of the Yeti come from pre-Buddhist texts throughout Nepal and Tibet, and although the creature is reportedly most active in these countries, there have been scattered sightings throughout China, Russia, and beyond. The Yeti's white fur and intimidating build are enough to strike fear into the heart of any mountain climber, but one of its most terrifying aspects is its extensive folklore reputation. The Yeti, to the indigenous peoples of the Himalayas, was a deity of hunting and killing in the frigid mountain ranges. While there may not be any photographs of this albino creature in existence, there are some cases where it's more comforting to know as little as possible (especially when a creature's fur is the same color as the snow that surrounds you).

Origins: Component of Lepcha religion, serving as a God of the Hunt and stalking the Himalayas. | Sighted In: Russia, Nepal, Bhutan, Tibet, China, Mongolia | Appearance: A towering creature with simian features and pale fur | Number of Google Results for "Name": 48,500,000

Encounter Details: An accomplished trekker spotted a hulking Yeti-like creature in 1832, but later declared it to be an orangutan. | Strange Fact: A 2011 science conference, hosted in Russia, declared 95% certainty of the creature's existence.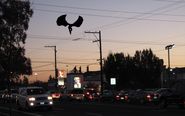 West Virginia, which may seem like a relatively uneventful state, also has the honor of hosting one of the most unsettling cryptids on record. Mothman, which was originally reported as a humanoid creature with wings and glowing eyes, has evolved into a local legend due to its bizarre appearance and wave of activity in 1966. After a few weeks of frequent sightings and contact with the citizens of Point Pleasant, Mothman seemed to drop away from the public eye, and was only mentioned again because of a bridge collapse the following year. Multiple novels and films have expanded upon the Mothman's reputation and legacy within the sleepy community of Point Pleasant, but for those who lived through the hysteria of 1966 and can still recall tales of its appearance, there's no need for embellishment.

Origins: A series of 1966 reports from West Virginia | Sighted In: Point Pleasant, in West Virginia | Appearance: A flying, bipedal creature with humanoid limbs and glowing red eyes | Number of Google Results for "Name": 596,000

Encounter Details: In 1966, a contractor reportedly shined a flashlight into the creature's eyes, only to find that they were eerily reflective. | Strange Fact: Point Pleasant erected a 12-foot statue of Mothman, crafted from metal, in 2003.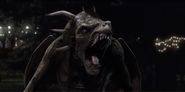 The general appearance of New Jersey may not seem like a breeding ground for cryptid sightings, but in the forested lower portions of the state – known as the Pine Barrens – there are plenty of eerie hiding places. The Jersey Devil is commonly depicted as a winged creature with the head of a goat or a deer, and has reportedly been sighted throughout the Pine Barrens for hundreds of years. Because of the creature's impressive speed and flight abilities, it has commonly been the subject of close capture attempts and hunting tales, but there has never been tangible proof of its existence (including a body). While the Jersey Devil may not appear in any photographs or brief clips of film, evidence of its legacy can be found in gift shops throughout the state.

Origins: Known as a dragon-like creature to the indigenous Lenni Lenape tribe. | Sighted In: New Jersey's forested coastal plains | Appearance: A winged, incredibly swift creature with claws and a mammalian head | Number of Google Results for "Name": 6,890,000

Encounter Details: Numerous witnesses claimed to see the Jersey Devil in 1909, and police were reportedly able to fire at the creature (without success). | Strange Fact: One of Napoleon Bonaparte's brothers reported seeing the Jersey Devil on his property in 1820.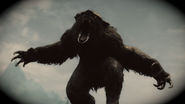 A creature with the appearance of a bipedal bear or werewolf may be an obvious cause for sensation, but the surprising aspect of the Beast of Bray Road is that its legacy has persisted for over fifty years without contemporary reports of the creature. In 1936 the most popular and frequently-cited incident occurred with this man-beast hybrid, and the story was later converted into a newspaper piece and nonfiction book publication. In 2002, the infamous Gable Film emerged, and appeared to depict an attack by the Beast of Bray Road. Although the authenticity of the film was finally refuted by the creators, it served as a powerful reminder of this cryptid's legacy in small-town Wisconsin, and prompted another generation of potential monster-seekers to take up the search.

Origins: A 1936 report out of Wisconsin. | Sighted In: Rural Wisconsin | Appearance: Either as a hulking, bear-like creature, or a bipedal canine (popularly known as a werewolf in local newspapers) | Number of Google Results for "Name": 106,000

Encounter Details: A 2002 hoax film recreated the appearance of an old home video, and showed the "Beast" attacking a man on a deserted road. | Strange Fact: In the 1990s, a newspaper reporter and skeptic set out to dismantle witness claims, but later became convinced by the story and published books on the topic.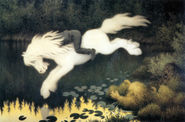 The Loch Ness Monster, in the worldwide sense, is Scotland's most famous creature. Within Scotland, however, the Kelpie is a cryptid of equal note, and has its roots in centuries of folklore. The Kelpie follows a trend of culture-specific monsters bound by a theme of mischief and water, and may have found its origins in scaring children away from the water's edge. The Kelpie's two main forms were an attractive human and a horse-like body, often outfitted with fins for swimming, or a covering of algae. The Kelpie could lure its victims into the water using its alluring humanoid appearance, where it would then drown the victim. The Kelpie is a constant presence in Scottish tales and literature from previous centuries, and with all the attention focused on Nessie, it may finally find some breathing room in the lochs of Scotland.

Origins: Scottish folklore, which spoke of a water-dwelling demon that appeared in both human and equine forms. | Sighted In: Lochs and ponds throughout Scotland | Appearance: Alternating between a human and horse-like form | Number of Google Results for "Name": 990,000

Encounter Details: Sir Walter Scott's 1810 poem, The Lady of the Lake, describes a river demon rising from the water. | Strange Fact: Kelpies may have been fabricated as a method of scaring children away from dangerous bodies of water.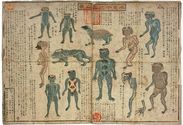 Japanese legends are practically overflowing with oddities and curious creatures. The Kappa, which belongs to an overarching family of tricksters and demonic entities within Japanese folklore and traditional storytelling, is a creature marked by its childish but reptilian appearance, as well as a turtle-like carapace. Its scaly body may create the appearance of aquatic mastery, but the Kappa – according to folklore – is powerless without the reservoir of water in its skull cavity. Japanese children (especially in older generations) are always prepared for a duel with the Kappa, which is prone to anything from tripping villagers to drowning younger victims. Of course, the Kappa is too outlandish and attention-seeking to secretly exist in the modern age, but considering the Kappa's horrendous "pranks," perhaps that's a good thing.

Origins: Japanese folklore, which depicts Kappa as capable of either mischief or outright violence | Sighted In: Japan | Appearance: Youthful and humanoid, but with reptilian skin, a carapace, a beak, and a flattened skull containing water. | Number of Google Results for "Name": 80,900,000

Encounter Details: Lacking distinct sightings, but in popular legends, Kappa are known for dragging curious visitors underwater and drowning them. | Strange Fact: Friendly Kappa will reportedly irrigate farms and bring fish to their human allies.
GOAT Staff Score - Cryptid
The candidates have been assigned a raw score across a range of criteria. The raw scores have been weighted to reflect the impact that each individual criterion has on the 'Final GOAT Score'. Only weighted scores are displayed in this table. -->TURN DEVICE SIDEWAYS TO VIEW ON MOBILE-->
| | Sighting Prevalence (30%) | Historical Significance (20%) | Eerieness (20%) | Realism / Existence Potential (15%) | Contemporary Legacy (15%) | Raw Score | Final GOAT Score |
| --- | --- | --- | --- | --- | --- | --- | --- |
| Loch Ness Monster | 10 | 9 | 5 | 9 | 11 | 44 | 880 |
| Bigfoot | 11 | 7 | 3 | 11 | 10 | 42 | 845 |
| Kraken | 6 | 11 | 10 | 8 | 7 | 42 | 825 |
| Spring-heeled Jack | 8 | 10 | 11 | 7 | 1 | 37 | 780 |
| Chupacabra | 9 | 3 | 9 | 5 | 9 | 35 | 720 |
| Yeti | 5 | 8 | 2 | 10 | 8 | 33 | 620 |
| Mothman | 7 | 2 | 7 | 3 | 6 | 25 | 525 |
| Jersey Devil | 4 | 4 | 8 | 4 | 5 | 25 | 495 |
| Beast of Bray Road | 2 | 1 | 7 | 6 | 3 | 19 | 355 |
| Kelpie | 3 | 6 | 1 | 2 | 2 | 14 | 290 |
| Kappa | 1 | 5 | 4 | 1 | 4 | 15 | 285 |
GOAT Verdict:
The Loch Ness Monster's claim to fame is not necessarily in its veracity, but in the widespread wishful thinking that defines its existence. Thousands of filmmakers, researchers, biologists, and zoologists have descended on Loch Ness over the past centuries, and whether their outlooks are skeptical or accepting of the creature's presence, the fact remains: Nessie is a cultural phenomenon. Its origins may stretch back to the pre-medieval times, but the expeditions to uncover this sea beast have only grown more involved and more resource-intensive in modern times. Millions of dollars in radar, sonar, and aerial reconnaissance assistance have been poured into the search, and despite the continual failure to unearth any appreciable evidence, the scientific community seems just as interested in settling the mystery as Nessie's devoted fans. The Loch Ness Monster may be a prehistoric creature that continues to thrive, it may be an elaborate hoax, or it may be a demonic creature lurking beneath the waters of the loch, carefully avoiding all detection. Whatever the true case may be, the Loch Ness Monster is the greatest cryptid of all time.