What is the greatest Christmas-Adjacent movie of all time?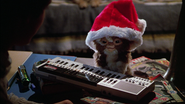 This Christmas classic is all about the Holiday cheer and fear simultaneously. It's also one of the only family horror movies in existence, allowing seasoned horror buffs to induct their children to the screams without bringing forth too many nightmares – or causing irreparable trauma and damage. This film is all about the Holidays in that Gizmo, the original mogwai monster bought from a Chinese antique shop who spawns the rest, is given from father to son as a Christmas present. All is cute and fuzzy until some of the basic rules of mogwai maintenance is broken, and Gizmo spawns a frenzied gaggle of evil gremlins who try and take over the town. The film starts off on Christmas, and the metaphor of sweet Gizmo turning into a bunch of evil parasites could be about the commercialism associated with Christmas - or I'm reading too much into it, and it's actually just about cute monsters.

Release: 1984 | Running Time: 106 minutes | Director: Michael Finnell | Notable Actors: Zach Galligan, Phoebe Cates, Hoyt Axton, Polly Holliday, Frances Lee McCain, Frank Welker, Howie Mandel | Genre: Horror Comedy

Themes: Be careful what you wish for, and take sage advice literally. | Seasonal Elements: The film starts on Christmas, as Gizmo, the initial gremlin, is given as a Christmas gift, and there are Holiday decorations throughout the movie.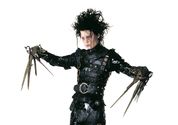 This Tim Burton classic starts off as a Christmas story, told one snowy night to a little girl. The mythical fantasy focuses on a suburban family in Florida adopting a creepy-looking man, played by Johnny Depp, who was created in a lab with scissors for hands. As the family grows fond of Edward Scissorhands, the daughter, Kim, grows more than fond and starts to develop a crush. All is well until her jealous boyfriend starts messing with Edward and trying to frame him for crimes, and things go spiraling out of control, leading to Edward being chased back up into his castle and Kim faking his death. The story ends on Christmas, and then the frame story ends with an explanation of why it snows in Florida now – because Edward is chiseling away at his ice sculptures on the top of the hill in his castle. This feel-good family film is great for Christmas, as it's appropriate and serves as a reminder of all that is good about love and acceptance, without beating you over the head with Holiday cheer.

Release: 1990 | Running Time: 105 minutes | Director: Tim Burton | Notable Actors: Johnny Depp, Winona Ryder, Dianne Wiest, Anthony Michael Hall, Kathy Baker, Vincent Price, Alan Arkin | Genre: Romantic Dark Fantasy

Themes: love, acceptance, magic | Seasonal Elements: The whole story is framed as a child's bedtime story to explain while it snows, and the climax of the body story happens at Christmas time.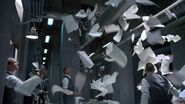 This bizarre, surrealist masterpiece by Terry Gilliam is probably one of the strangest Holiday films ever made. Sam, a bored government drone, decides to make life more interesting one day by learning more about a woman who mysteriously appears in his dreams, even though he is thwarted at every turn. The plot sounds normal enough, but the imagery, scenery and bizzaro-world big-brother style universe is extremely odd, and the style, typical of Gilliam, is off-the-wall and cartoonish. This counts as a Holiday film because the whole thing takes place between Christmas and New Year's Eve. The end of the movie is absolutely mind-boggling, but also visually stunning.For the most part, this works as a family film, but it might be better as pretty background imagery for larger gatherings, as the plot is a bit hard to follow.

Release: 1985 | Running Time: 143 minutes | Director: Terry Gilliam | Notable Actors: Jonathan Price, Robert De Niro, Katherine Helmond, Ian Holm, Bob Hoskins, Michael Palin, Kim Greist | Genre: Surreal Science Fiction, Satire

Themes: Threats of conformity and uniformity | Seasonal Elements: The film takes place around Christmas time, on Christmas Eve and day.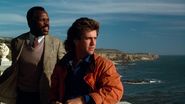 Everybody knows Lethal Weapon, or at least a more recent parody version of the film's plot – two cops with very different police styles and home lives are forced to be partners, and through that unlikely partnership, are able to catch a criminal. But what people forget is, this is actually a Christmas film. The movie takes place during The Season, with decorations and trappings all around despite the blood and gore, and climaxes on Christmas day, when the formerly suicidal Martin Riggs (Mel Gibson) goes to the home of partner Roger Murtaugh (Danny Glover) to celebrate the Holidays. He has realized that life is worth living despite the tragedy that had befallen his wife, and has a renewed sense of goodness in the world. There are some rougher scenes in this film as far as violence and crime go, but it can be a fun watch for the older Christmas day crowd.

Release: 1987 | Running Time: 110 minutes | Director: Richard Donner | Notable Actors: Mel Gibson, Danny Glover, Gary Busey, Mitchell Ryan, Tom Atkins, Traci Wolfe, Darlene Love | Genre: Action

Themes: Good prevailing over evil | Seasonal Elements: The film ends happily on Christmas day.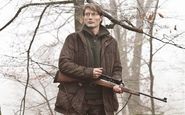 This interesting Danish film stars Mads Mikkelsen, now of Hannibal TV show fame, as Lucas, a quiet man who lives in a small Danish community and has recently divorced from his wife. Things are rough for Lucas as he tries to maintain a relationship with his teenage son despite his relationship change, but they start looking up when he begins to date a teacher from the local kindergarten where he volunteers. However, his relationship is soon tarnished beyond repair when he is wrongly accused of molesting one of the children in the class. This is an odd film, because it's not an exploitation style movie where you watch all these bad things happen to a good person, nor is it a happy-go-lucky, feel-good movie. It is more about touching on the raw nerves and emotions of the viewer and highlighting the problems with small-town mindsets and mob mentality. The Christmasy part has to do with the season when then film takes place and the climactic events that happen on Christmas Eve.

Release: 2012 | Running Time: 115 minutes | Director: Thomas Vinterberg | Notable Actors: Mads Mikkelsen, Alexandra Rapaport, Thomas Bo Larsen, Annika Wedderkopp | Genre: Drama

Themes: anti-mob mentality, human nature | Seasonal Elements: The film takes place around Christmas time, and is shot on Christmas.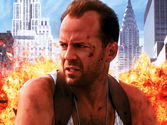 Everyone knows this as the greatest action Christmas movie ever. Bruce Willis does not disappoint as a policeman who finds himself in the right place at the right time, and is able to save his estranged wife's office building from a terrorist attack singlehandedly. This movie starts off like any Christmas rom-com, with Willis's character wanting to make amends with his sweetheart around the Holidays, and he does a lot better than saving Christmas or getting a great gift, as he is able to save her life and the lives of most of her coworkers. Of course it is sappy, unnecessary violent, and completely unbelievable, but that is what makes this story so much fun to watch, and it can be added to the repertoire as a yearly classic. Check this out as a good old cheesy action movie suitable for an older Holiday crowd.

Release: 1988 | Running Time: 132 minutes | Director: John McTiernan | Notable Actors: Bruce Willis, Alan Rickman, Alexander Godunov, Bonnie Bedlia | Genre: Action

Themes: One man with enough passion can overcome an impossible situation, love conquers all, be prepared to be badass in any situation | Seasonal Elements: The movie takes place on Christmas Eve, and the corporation is attacked during a Christmas party.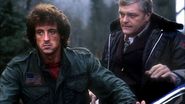 This movie isn't too Christmasy, but it all takes place around the Holidays in a small town in Washington State, and the decorations in the background, along with the beautiful scenery, really set the tone for the film. The story isn't really a story – it's just the main character, Rambo, going totally nuts on a whole town of small-minded cops and trying to kill them all, only to be arrested by the military police at the end. This spawned the entire successful Ranbo franchise, which has been known to have Holiday connotations. It's a classic action movie with some added Christmas cheer.

Release: 1982 | Running Time: 93 minutes | Director: Ted Kotcheff | Notable Actors: Sylvester Stallone, Richard Crenna, Brian Dennehy | Genre: Action, Psychological Thriller

Themes: Don't push an unstable person, be kind to those who served out country, don't be judgmental, as you might be judging a homicidal war vet | Seasonal Elements: The movie is filmed in the winter and there are Christmas decorations everywhere in the background during the film, as well as a lovely winter landscape.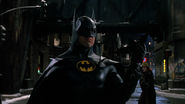 This Tim Burton Batman film is one of the more successful from the franchise, and focuses on Batman fighting arch-villains Catwoman and The Penguin. The fact that the film takes place during the Holidays is appropriate, since The Penguin lives in an icy lair under the city. Throughout the whole movie, there are epic shots of Batman standing proudly and grimly, with festive Holiday decorations flashing and glittering in the background. This film is a ton of fun and although the Holidays are only alluded to throughout and not the central focus, it's still a great movie for that time of year.

Release: 1992 | Running Time: 126 minutes | Director: Tim Burton | Notable Actors: Michael Keaton, Danny DeVito, Michelle, Pfeiffer, Christopher Walken | Genre: Superhero Film

Themes: Good prevailing over evil | Seasonal Elements: Takes place at Christmas time.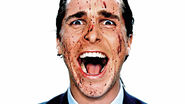 This movie, adapted from the Bret Easton Ellis novel, follows Patrick Bateman (Christian Bale) as he goes from successful business tycoon to out-of-control serial killer. The whole thing takes places at Christmas times, and one of the scenes of Bateman's classic freak-outs is at a Christmas party. Some of the memorable kills also take place against a snowy landscape. While there's not a ton of Christmas magic dripping off the screen, there is enough connotation in there to justify watching this every year. This odd film is sad, funny, and outrageous, and will bring on plenty of Holiday screams to become your new family tradition.

Release: 2000 | Running Time: 102 minutes | Director: Mary Harron | Notable Actors: Christian Bale, Willem Dafoe, Jared Leto, Josh Lucas, Chloe Sevigny, Samantha Mathis, Matt Ross, Bill Sage, Cara Seymour, Justin Theroux, Guinevere Turner Reese Witherspoon | Genre: Psychological Thriller

Themes: True evil hides, corruption of the business world | Seasonal Elements: Set around Christmas time; one of the major events is a Christmas party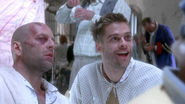 This sci-fi classic, also by Terry Gilliam, is about a dystopian future where a virus has been released that freezes the earth and kills most of the human race. James Cole (Bruce Willis) is a man living underground in one of the surviving colonies, and he is sent back in time to try and stop the virus from spreading in the first place. His search takes him after a group called the 12 Monkeys, a terrorist organization who is rumored to have caused the attack, only to learn that there is actually something much more sinister going on. This science fiction story happens around Christmas time, featuring parties, festivities, and decorations, and carries the message of faith in humanity at all costs, despite our flaws.

Release: 1995 | Running Time: 127 minutes | Director: Terry Gilliam | Notable Actors: Bruce Willis, Madeleine Stowe, Brad Pitt, Christopher Plummer | Genre: Science Fiction, Dystopian Fiction

Themes: Human empathy, animal rights, the human condition | Seasonal Elements: Set around Christmas time, released in theaters right after Christmas.
GOAT Staff Score - Christmas-Adjacent Movie
The candidates have been assigned a raw score across a range of criteria. The raw scores have been weighted to reflect the impact that each individual criterion has on the 'Final GOAT Score'. Only weighted scores are displayed in this table. -->TURN DEVICE SIDEWAYS TO VIEW ON MOBILE-->
| | Holiday Cheer (20%) | Christmas Themes (20%) | Strength as a Film (20%) | Story (15%) | Holiday Imagery (15%) | Family Appropriateness (10%) | Raw Score | GOAT Score |
| --- | --- | --- | --- | --- | --- | --- | --- | --- |
| Gremlins | 10 | 8 | 6 | 9 | 10 | 10 | 53 | 865 |
| Edward Scissorhands | 8 | 5 | 10 | 8 | 9 | 9 | 49 | 805 |
| Brazil | 6 | 7 | 7 | 7 | 8 | 8 | 43 | 705 |
| Lethal Weapon | 5 | 6 | 9 | 10 | 4 | 7 | 41 | 680 |
| The Hunt | 9 | 10 | 3 | 2 | 6 | 5 | 35 | 610 |
| Die Hard | 7 | 9 | 2 | 1 | 7 | 3 | 29 | 510 |
| Rambo: First Blood | 3 | 3 | 8 | 4 | 5 | 2 | 25 | 435 |
| Batman Returns | 4 | 4 | 1 | 3 | 3 | 6 | 21 | 330 |
| American Psycho | 2 | 1 | 5 | 6 | 2 | 1 | 17 | 290 |
| 12 Monkeys | 1 | 2 | 4 | 5 | 1 | 4 | 17 | 270 |
GOAT Verdict:
Our pick for the absolute best Non-Holiday Holiday movie is Gremlins. As far as a film that is great for the family, packs a wallop story-wise, and doesn't wear you out with sappy Holiday cheer, while still keeping the Eggnog flag flying, this one takes the cake. The creepy yet adorable little pests are good for a scare and a thrill as well as a laugh, and the setting will make your Holidays feel more festive. The story of the Gremlins is a great tale of caution for keeping the Christmas giving modest and under control, lest you end up with a gremlin infestation. The film is also classic, and has been extremely influential in multiple genres, both realistic and fantastical.While many of the movies on this list are great stories with subtle Holiday undertones, Gremlins is undoubtedly the Greatest Of All Time.