What is the greatest cathedral of all time?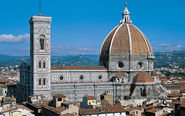 In some cases, a single feature can define an entire structure. For the Santa Maria del Fiore, also known as the Florence Cathedral, the Duomo is this feature. This prominent dome was the result of numerous engineers and architectural proposals, but the driving force behind its construction was Filippo Brunelleschi. This Florentine architect devised a method of octagonal ring support for the dome, capable of supporting several tons of material and providing the cathedral with its much-needed uppermost covering. Favoring a sleek and clean variation on Gothic architecture, the Renaissance builders managed to create a dome that stood (ostensibly) without any exterior support. Within the cathedral, an extensive crypt system and gorgeous Renaissance artwork, including The Last Judgment, provide a breathtaking counter to the structure's outer appearance. As a true gem of Florence and its cultural history, the Santa Maria del Fiore is certainly greater than the sum of its parts.

Year of Completion: 1436 | Location: Florence, Italy | Style: Gothic-Renaissance | Height: 114.5 m | Width: 38 m

Historical Fact: Site of an assassination attempt on two of the famed Medici family members, succeeding in killing Giuliano de' Medici but merely injured Lorenzo.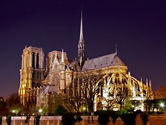 With nearly 13 million visitors per year, the Notre Dame Cathedral in Paris stands a head above its regional competition in both presentation and popularity. This iconic cathedral has been immortalized in literature, cinema, and music, and has captured the imagination of both pilgrims and artists since its completion. Although its style may have been elegant and stable in the original 1163 blueprints, which were approved under Louis VII, the truly defining feature of Notre Dame – its flying buttresses – were not proposed and added until a later date. Much like the other monumental cathedrals of Europe, Notre Dame stood as a symbol of achievement and strength. This magnificence, however, was often the cause of its targeting in events such as the French Revolution, where biblically-themed statues were beheaded and altars were vandalized or looted. Regardless of its dark moments, the modern Notre Dame is every bit as spectacular as its nascent form, and stands as a marvel of engineering and art alike.

Year of Completion: 1345 | Location: Paris, France | Style: French Gothic | Height: 96 m | Width: 69 m

Historical Fact: Temporarily dedicated to the Cult of Reason and the Cult of the Supreme Being during the 1793 French Revolution.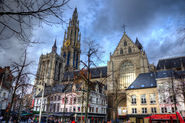 As the patron and breeding ground for a tremendous amount of Renaissance composers, the Cathedral of Our Lady in Antwerp has always been considered a significant institution for its artistic endeavors as well as its bold features. The cathedral's main spire looms over the rest of the building, and a massive assortment of bells (49 in total) rest within its towers. It isn't difficult to see why the Cathedral of Our Lady served as one of the most significant historical flashpoints between Catholicism and Protestantism in Antwerp, where its unchallenged architecture and command over the city drew as many looters as it did pilgrims. In modern times, this cathedral attracts more visitors than ever before, and the Belgian government's repair and restoration program ensures that this monument will survive the ages.

Year of Completion: 1521 | Location: Antwerp, Belgium | Style: Gothic | Height: 123 m | Width: 75 m

Historical Fact: Fell into Protestant hands and suffered widespread looting during the Eighty Years' War.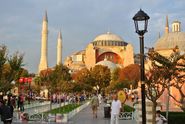 One of the oldest and most stunning cathedrals in history is Istanbul's Hagia Sophia, meaning "Holy Wisdom" in Latin. Constructed during Justinian's reign in the Byzantine Empire, this domed structure and its flanking spires has endured the ages in various iterations, beginning its service as an Eastern Orthodox church before becoming an Ottoman-controlled mosque, and finally being converted to a secular museum in the early 20th century. Despite the Ottoman covering of its various mosaics and paintings with new imagery, the Hagia Sophia remains as a poignant display of intersecting faiths and cultural shifts within Anatolia. War, fire, earthquakes, and extensive looting were not enough to cripple the Hagia Sophia in the eyes of Islam, Christendom, or the secular community, and today it stands as a cultural relic in Turkey's largest city.

Year of Completion: 537 | Location: Istanbul, Turkey | Style: Byzantine | Height: 55 m | Width: 73 m

Historical Fact: Converted to an Islamic Mosque by the Ottomans in 1453.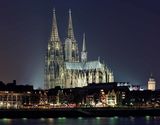 This German cathedral is not remarkable because of its deviation from form, but rather because of its adherence to form, and subsequent perfection of the Gothic style. The Cologne Cathedral took nearly 630 years to reach full completion, but the time was well-spent, judging by the structure's soaring spires and immaculate Latin cross layout. Of course, the structure's extensive history and urban placement also made it a centerpiece for conflict. Numerous bombs struck the cathedral during World War Two, and a number of infantry engagements took place directly around its walls, but a series of 1956 repairs managed to restore the cathedral to its former glory. Today, the Cologne Cathedral and its twin spires, flying buttresses, and interior arches remain as endurant as ever, and the cathedral stands as a Gothic masterpiece on the banks of the Rhine.

Year of Completion: 1880 | Location: Cologne, Germany | Style: Gothic | Height: 157 m | Width: 86.5 m

Historical Fact: Damaged by 14 Allied bombs during World War Two, but remained intact.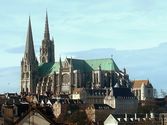 One of the most visually arresting cathedrals in France, the Chartres Cathedral, is also the cathedral which came closest to obliteration. Targeted by the Allies during World War Two as a tactic of denying the Germans a forward observation post, it was spared only by an officer who personally refuted the reconnaissance reports and halted the bombings. The Chartres Cathedral was also saved from destruction during the French revolution, when its statues were desecrated and it was considered for demolition. In spite of numerous fires and brushes with ruin, the cathedral stands as a precise and aesthetically-pleasing monument to a turbulent history. The extensive use of flying buttresses, an inlaid labyrinth design, and three-story nave have given the Chartres Cathedral its rightful place as one of the most impeccable medieval cathedrals in existence.

Year of Completion: 1220 | Location: Chartres, France | Style: French Gothic | Height: 113 m | Width: 32 (nave) / 46 m

Historical Fact: Had its glass removed before the Nazi invasion of France to prevent damage.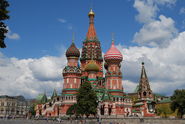 Upon first glance, St. Basil's Cathedral may seem to owe more of its exterior to the Taj Mahal than conventional European cathedrals. This colorful and inspired cathedral, located in Moscow's Red Square, is the melding of ambiguously Byzantine architecture, and a divergence from almost every other style in both Roman Catholicism and Eastern Orthodox structures. St. Basil's Cathedral may not be the largest building of its kind, but its design, which mirrors the rising tendrils of a bonfire, is both unprecedented and beyond imitation. In 1928, the cathedral was seized from Eastern Orthodox ownership and converted to a museum as part of the state's campaign against theism, and it currently stands as a museum. Even without its religious component, the cathedral is a beautiful and complex testament to unconventional architecture.

Year of Completion: 1929 | Location: Moscow, Russia | Style: Byzantine-inspired | Height: 47.5 m | Width: 40 m

Historical Fact: Forcibly seized from the Church and converted to a state-held property in 1929.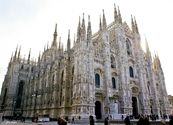 Six centuries after its original commissioning, the Milan Cathedral was officially completed and recognized as the most massive cathedral in Italy. Size is not the cathedral's only strength, though. During its long and eventful construction (which included the patronage of Spanish conquerors and Napoleon, among others), the Milan Cathedral was still a sight to behold, and reflected the combined inspiration of dozens of architects, designers, and outside influences. A gilded Madonna statue stands triumphantly atop the cathedral, and its front façade is a sweeping, commanding, and ultimately awe-inspiring usage of pillars and spires. The Italian Gothic influences are present throughout the structure, but its most striking feature is the boldness in its design, which capitalizes on the beauty of several styles but revels in its uniqueness.

Year of Completion: 1965 | Location: Milan, Italy | Style: Italian Gothic | Height: 108 m | Width: 92 m

Historical Fact: Required nearly 600 years to be completed, in spite of numerous funding attempts (some of which were carried out by Napoleon).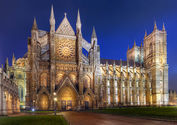 For England alone, there is no dispute regarding the supreme church structure. Westminster Abbey, which has been the central stage for everything from royal coronations to the Anglo-Saxon abdication of power, is a fundamental thread running through English history, religion, and society. With a completion dated before the 10th century, Westminster Abbey is also one of the oldest cathedrals in the country. A set of towers guard the front façade, and within its walls, soaring arches and rows of windows allow a wealth of light into the nave. Centuries of political coups and renaming have removed the structure's distinction as a cathedral, converting Westminster Abbey into a church. This is a semantic shift, however, and Westminster Abbey's flawless Gothic style and ambitious construction make it a top contender as a cathedral.

Year of Completion: 1090 | Location: Westminster, London, England | Style: Gothic | Height: 69 m | Width: 47 m

Historical Fact: Housed Oliver Cromwell's body until the corpse was removed, decapitated, and placed in a gibbet.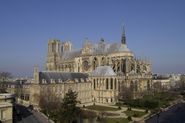 France is dotted with an array of impressive cathedrals, but the cathedral at Reims manages to stand out with its front façade alone. Its dual towers stand over 80 meters tall, and a set of rose window arrangements gaze down above the cathedral's doorways. The Reims Cathedral makes use of expertly-implemented arch and pillar motifs, inviting visitors to view the interior and its collection of tapestries and relics, as well as the remains of a labyrinth within the nave. However, because of the cathedral's proximity to the frontlines during the First World War, it suffered greatly from enemy artillery and subsequent fires. Restoration efforts were launched after the war. Regardless of some remaining damage and ongoing repairs, the Reims Cathedral is one of the most polished and tenacious churches in modern France.

Year of Completion: 1275 | Location: Reims, France | Style: French Gothic | Height: 81 m | Width: 34 m

Historical Fact: Home to a now-destroyed labyrinth, which housed the names of the structure's architects.
11
St. Patrick's Cathedral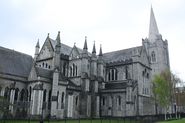 Although Ireland may not have been the economic powerhouse of Europe during the Renaissance or its preceding years, it possessed a rich cultural legacy which manifested in structures such as St. Patrick's Cathedral. This Dublin landmark, which is also the largest cathedral in Ireland due to its spire, was completed at the end the 12th century. Throughout its history it served a variety of worshipers, including Anglicans and groups of emigrating Huguenots. The cathedral never suffered major assaults from war or raiding, but shifting political regimes, endless religious contention, and fires threatened to destroy the structure from within, often literally. St. Patrick's Cathedral continues to serve as a place of worship, as well as a national heritage site with special importance to government functions such as funerals and holidays.

Year of Completion: 1191 | Location: Dublin, Ireland | Style: Gothic | Height: 103 m | Width: 56.4 m

Historical Fact: Jonathan Swift, famed satirist and author, served as the Cathedral's Dean for 32 years.
GOAT Staff Score - Cathedral
The candidates have been assigned a raw score across a range of criteria. The raw scores have been weighted to reflect the impact that each individual criterion has on the 'Final GOAT Score'. Only weighted scores are displayed in this table. -->TURN DEVICE SIDEWAYS TO VIEW ON MOBILE-->
| | Architectural Merit (30%) | Height (20%) | Historical Significance (20%) | Modern Reception (15%) | Aesthetic Value (15%) | Raw Score | Final GOAT Score |
| --- | --- | --- | --- | --- | --- | --- | --- |
| Santa Maria del Fiore | 11 | 9 | 8 | 7 | 7 | 42 | 880 |
| Notre Dame de Paris | 10 | 5 | 7 | 11 | 8 | 41 | 825 |
| Cathedral of Our Lady | 2 | 10 | 2 | 2 | 4 | 20 | 775 |
| Hagia Sophia | 8 | 2 | 11 | 8 | 10 | 39 | 770 |
| Cologne Cathedral | 7 | 11 | 5 | 5 | 9 | 37 | 740 |
| Chartres Cathedral | 9 | 8 | 4 | 9 | 6 | 36 | 735 |
| St. Basil's Cathedral | 5 | 1 | 10 | 10 | 11 | 37 | 685 |
| Milan Cathedral | 6 | 7 | 6 | 6 | 5 | 30 | 605 |
| Westminster Abbey | 4 | 3 | 9 | 4 | 3 | 23 | 465 |
| Reims Cathedral | 3 | 4 | 3 | 1 | 2 | 13 | 275 |
| St. Patrick's Cathedral | 1 | 6 | 1 | 3 | 1 | 12 | 230 |
GOAT Verdict:
The Santa Maria del Fiore may exist within Italy's borders, but finding distinct forerunners to this masterpiece anywhere in Italy (or Europe in general) is a challenge. Finding better examples of its smooth and effortless façade are nearly impossible. The Florentine basilica is an exemplary model for engineering with domes and structures that lack visible exterior supports, and Brunelleschi's design has endured as one of the most inventive and advanced solutions ever produced in architecture. The vibrant colors, tiling, and accents of the Duomo and its surrounding walls help to lure the eye around and reveal the intricate nature of the façade, which is comprised of decorative statues, arches, ledges, and portals. Regardless of contemporary innovation and the modifications to cathedral design which came after the Santa Maria del Fiore, there is no comparison to the brilliance and stylistic commitment involved in its construction. Brunelleschi's vision of a neat and "weightless" dome design continues to marvel and amaze its modern viewers, especially when matched with the perfection its brickwork and mortar application. The Santa Maria del Fiore is a hallmark of Renaissance progression, a tribute to practical engineering, and the greatest cathedral ever built.