What is the greatest animal camouflage of all time?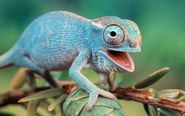 In this day and age, chameleon has become synonymous with the art of camouflage. The chameleon's most distinctive and memorable trait is the ability to cycle through skin colors using pigments within its cells. Although the chameleon is a reptile, it evidently isn't beyond showing its feelings, since darker skin tones can indicate distress or even anger. The chameleon's vision seems tailor-made for a lurking, camouflaged predator, since it can see ultraviolet light as well as visible light. While wearing its most effective color palette and perching among the branches, the chameleon can swivel its eyes to give it unparalleled 360-degree vision, placing it a head (and eyeball) above its competition. When it comes to camouflage, the chameleon doesn't just blend in – it becomes its environment.

Order: Squamata | Physical Description: Low, stout bodies with thin legs, dual ridges along the cranium, eyes capable of independent movement | Camouflage Detail: Stippled pores capable of changing colors in accordance with surroundings, or to reflect emotional response

Natural Habitat: Warm, tropical environments, savanna sprawls, mountainous steppes | Diet: Crickets, ants, sometimes leaves | Fun Fact: A chameleon's tongue can strike at prey with 41 G's of acceleration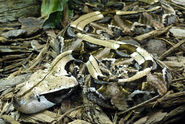 Lurking in meadows, desert rock clusters, and the riverbanks of sub-Saharan Africa, the viper is a formidable and well-concealed predator that profits from lying around. There are four subfamilies of the viper, but all of them share a serpentine design and recognizable triangular head. The viper's primary offense is its venom, which is delivered using a complex and highly-evolved system of hollow fangs, but its passive defense is the most unique and interesting aspect of its anatomy. A viper's camouflage manifests in its scales, which are grooved down their center and prevent light from reflecting off its surface. Its colors can be dark or light, but the pattern has a jagged, natural presentation, and can trick the eyes of unsuspecting prey as easily as human observers. This camouflage, coupled with the serpent's extreme skill in evasion and hiding, makes the viper the perfect stalker.

Order: Squamata | Physical Description: Thick, muscular bodies, large and triangular heads, keeled scales | Camouflage Detail: Irregularly colored scales with a matte surface

Natural Habitat: Varies based on subspecies, ranging from arboreal environments to tropical rainforests | Diet: Mice, lizards, birds | Fun Fact: The majority of viper subspecies give birth to live offspring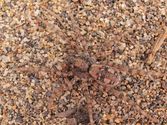 Arachnophobia is a prevalent fear in modern society, and the stunningly effective camouflaging ability of the world's collective spider population is just one more reason to embrace your irrational arachnid fear. Spiders come in a myriad of sizes, shapes, and danger levels, but some of their most effective variations are outfitted with camouflage that can conceal them in forest branches, rainforest leaf bundles, and colorful flowers. Many spiders have developed bizarre striping or dotting patterns to dissuade larger predators, but others have become masters of embracing their own smallness and swift design, content to lie in wait in bushes or rocks for their next victim. So far, science has not been able to uncover a spider that blends in perfectly with the color of bedroom walls and is able to vanish in an instant, but there's a strong argument to be made for this breed's existence.

Order: Araneae | Physical Description: Widely differing, but defined by eight legs, a smaller central body, multiple eyes and mandibles | Camouflage Detail: Diverse assortment of patterns, colors, and silhouette-distorting designs

Natural Habitat: Deciduous forests, deserts, fields, rainforests, jungles | Diet: Flies, grasshoppers, snakes | Fun Fact: The Goliath birdeater, aside from its obvious name, is capable of producing a hissing noise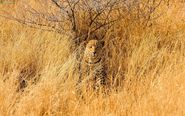 As the largest felines in South America, leopards have a reputation to uphold. Fortunately, they defend their title with extraordinary hunting abilities, incredible speed, and power in both pouncing and biting. The leopard can be found throughout the world, roaming the tundra and mountains with a pale undercoat to match its snowy surroundings. The leopard's trademark spots are the defining feature of its fur and iconic appearance, and help the feline to blend in as it creeps through brush, tall grass, and the rust-colored expanses of the savanna. At one time, the leopard roamed North America, primarily in the southern states, but extinction left the creature in the rainforests and dense sprawl of the South American wilderness, where its exceptional quickness allowed it to hunt efficiently and thrive. If you can see this hunter coming, it's probably too late.

Order: Carnivora | Physical Description: Quadrupedal feline stance with long, muscular legs, pale fur and extensive black dotting, short and raised eyes | Camouflage Detail: Nonuniform black spots and brown patches of fur over a lighter base coat

Natural Habitat: Safari and similar bush territory, mountain ranges, rainforests | Diet: Fish, monkeys, antelopes | Fun Fact: The infamous Leopard of Panar slaughtered over 400 humans before being hunted down and killed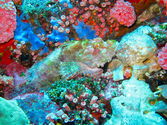 Stepping on an underwater rock can be painful enough, but stepping on the fish that resembles a rock can be fatal. The stonefish, colloquially named for its appearance and ability to mimic the surrounding static features, is the perfect survivor because of its unassuming exterior. Although these fish may not grow past two-and-a-half feet in length, their reservoirs of neurotoxins are strong enough to induce extreme agony in its victims, and if left untreated, can result in death. The stonefish makes its home among coral and the more crowded areas of underwater sanctuaries, where swaying algae and rock formations provide a natural home for its dappled and seemingly decaying body. Much like a real rock, the stonefish has the appearance of a small boulder crusted with moss. It's deceptively clever – and shockingly painful.

Order: Scorpaeniformes | Physical Description: Bloated with spiny protrusions and a crusted outer covering, obscured and beady eyes, a wide mouth | Camouflage Detail: Layered bands and splotches of dark colors, gnarled outcroppings to replicate stone

Natural Habitat: Coral reefs and aquatic zones with adequate rock or plant shelter | Diet: Crustaceans, small fish | Fun Fact: Vinegar is said to ease the agony of a stonefish's neurotoxin-laden sting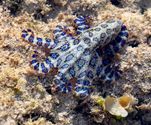 The octopus is one of the few camouflaged creatures that rely on its pattern for pacifism. Dwelling among the coral reefs and the murky depths of the ocean, the octopus acts as a decoration in some regards, contorting its body and tentacles to take on the appearance of its surroundings, and make it less noticeable to passing predators. The mimic octopus, however, uses its eponymous gift of mimicry to launch attacks on hapless prey. At times, the mimic octopus will take on the appearance of the ocean floor to scour for its meals, and in other moments, it will impersonate a more benign creature to lure its prey into a state of lessened awareness and concern. The octopus, through millions of years and evolutionary R&D, has become a master of theatrics.

Order: Octopoda | Physical Description: Bulbous head and pronounced eyes, eight arms with rows of suction cups | Camouflage Detail: Shifting exterior which attempts to mimic the surrounding environment or disguise the octopus' form

Natural Habitat: Shallow aquatic areas and coral reefs, deep-sea zones | Diet: Crabs, worms, clams | Fun Fact: Octopuses have special rights afforded to them in the scientific community, and cannot be operated upon without the use of anesthetics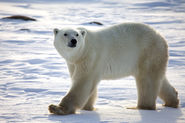 For a creature large enough to kill most other mammals on the Earth, it might seem counterproductive to employ camouflage. In the case of this arctic bear, however, camouflage is not meant to avoid predators. Instead, it's meant to avoid the prey. These massive apex predators rely on their heavy white fur to traverse the ice and snow without being detected, placing their primary prey – submerged seals – in a state of unsuspecting danger. Each time the seals surface for air, the polar bears are quick to swipe at their prey and drag them onto the ice. These beasts do not shed their winter coats for a darker version once summer arrives, but in general, their everlasting shade of fur serves them very well. These bears are the masters of the frozen flats and frigid waters, excelling in hunting, hiding, and fishing for their breakfast.

Order: Carnivora | Physical Description: Hulking quadrupedal mammals with thick white fur, black eyes and noses, and stocky legs | Camouflage Detail: Pale white fur which blends in with the surrounding snow and tundra

Natural Habitat: Arctic coastlines and aquatic zones along the continental shelf | Diet: Cliff-dwelling birds, ringed or bearded seals | Fun Fact: Polar bears are nearly invisible when viewed using infrared technology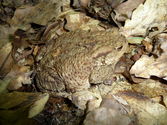 The toad has been subjected to a variety of reputation-based abuses in human history, with most of its dignity being boiled away in occult recipes and fairy tales. Regardless of its mainstream perception, the toad is a practiced master in the art of camouflage, and employs some of the most practical methods in hiding itself among swamp reeds and low grass. The toad's stippled exterior helps to break up its form, and its dry flesh prevents moisture from glistening and alerting nearby predators. Its skin and eyes are colored with dark, rich tones, concealing it as it hides in leaf litter or decaying wood chips. The toad is a creature that has been tailored perfectly to its environment, and although it will never be the hunting champion of the forests or fields, it's a truly remarkable survivor.

Order: Anura | Physical Description: Short legs, a pronounced snout, dark and dry mottled flesh | Camouflage Detail: Use of wart-like bumps and deep shades of green and brown across its skin

Natural Habitat: Grass, fields, and woodland scrub | Diet: Insects, worms, or even smaller snakes and mice | Fun Fact: In taxonomy, toads are actually a type of frog rather than a separate species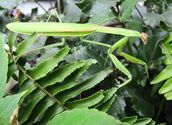 Many people may be familiar with the "praying" variety of mantis, but there is a staggering amount of mantis types, and all of them possess their own quirks and adaptations. Some mantis species have developed a wider thorax to mimic the appearance of a leaf, while others have been able to form their bodies to resemble more threatening organisms. The mantis on its own is far from harmless, in the context of the insect world, with a powerful set of forelegs and mandibles capable of decapitating its tiny prey. Other mantis species have made use of their ambush potential by blending into things such as lichen-covered tree branches, hunting with the slow and graceful gait for which the mantis is known. Just be grateful that these camouflaged killers are as small as they are.

Order: Mantodea | Physical Description: Long, slender bodies with thin antennae and prominent forelegs | Camouflage Detail: Use of expanding legs and thoraxes to mimic larger prey or foliage

Natural Habitat: Forests, grasslands, tropical expanses | Diet: Scorpions, rodents, frogs | Fun Fact: During the mating process, a female mantis will typically kill and consume its male counterpart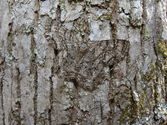 Very few organisms have the variety and alien nature of the moth. There are well over 100,000 species of these flying cloth-eaters around the world, and most of them come equipped with decorative and inspired camouflage patterns that can either frighten predators or hide the moth among tree bark and grass. Some of these flying marvels have evolved to display a pair of unsettling eyes on their wings, which creates the illusion of a far larger organism, while others have developed a disturbing facsimile of a human skull across their back. The moth, in defiance of its fragility and attention-drawing wingspan, is one of the most versatile and omnipresent organisms on the face of the Earth. This widespread existence, in some degree, is probably due to its never-ending wardrobe of camouflage variations and mutations.

Order: Lepidoptera | Physical Description: Large, expansive wings with assorted patterns, including a skull on the famed Death's Head moth | Camouflage Detail: Unique designs across wings, typically mimicking the eyes of larger predators or the camouflage of another creature

Natural Habitat: Salt marshes, woodlands, fields | Diet: Nectar, perspiration, rotting fruits | Fun Fact: Many moths emerge from their cocoon, reproduce, and die without ever eating
GOAT Staff Score - Animal Camouflage
The candidates have been assigned a raw score across a range of criteria. The raw scores have been weighted to reflect the impact that each individual criterion has on the 'Final GOAT Score'. Only weighted scores are displayed in this table. -->TURN DEVICE SIDEWAYS TO VIEW ON MOBILE-->
| | Concealment Ability (30%) | Durability (20%) | Pattern Uniqueness (20%) | Adaptability (15%) | Hunting Prowess (15%) | Raw Score | Final GOAT Score |
| --- | --- | --- | --- | --- | --- | --- | --- |
| Chameleon | 10 | 5 | 10 | 7 | 4 | 36 | 765 |
| Viper | 7 | 8 | 8 | 5 | 8 | 36 | 725 |
| Spider | 9 | 3 | 5 | 10 | 7 | 34 | 685 |
| Leopard | 5 | 9 | 4 | 9 | 9 | 36 | 680 |
| Stonefish | 8 | 6 | 9 | 4 | 5 | 32 | 675 |
| Octopus | 6 | 7 | 6 | 8 | 3 | 30 | 605 |
| Polar Bear | 1 | 10 | 1 | 2 | 10 | 24 | 430 |
| Toad | 4 | 4 | 3 | 6 | 1 | 18 | 365 |
| Mantis | 3 | 2 | 2 | 3 | 6 | 16 | 305 |
| Moth | 2 | 1 | 7 | 1 | 2 | 13 | 265 |
GOAT Verdict:
There is a brilliant subtlety in the chameleon's design, which seems to encourage the reptile to surrender its own appearance and conform to its surroundings. In this nuanced interpretation, however, there's a lot of boldness and ingenuity. The chameleon's skill in manipulating its skin tone goes a step beyond camouflage, and takes it into the realm of total concealment. In matters of hunting, the chameleon makes use of its superb eyesight and range of vision, as well as its lightning-fast tongue. The chameleon doesn't have to worry about crossing a patch of the field that lacks a specific tone of grass coloration. With a simple flush of the skin, the chameleon can adapt to any environment, no matter how much it varies in texture or pigment complexity. There are a handful of other organisms which can match the chameleon in its ability to disappear using effective camouflage, but the chameleon surpasses these competitors with its mobility, versatile exterior, and talent in color mimicry. If you look stare long enough, you'll see that the chameleon is the greatest camouflaged animal of all time.