What is the greatest adult cartoon of all time?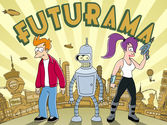 This show was engineered by Simpsons creator Matt Groening to allow for the creative control and free reign he was never able to have with his first series. The show centers around Frye, a young pizza delivery man who accidently gets cryogenically frozen on New Year's Eve while out on delivery. He wakes up in 31st century New York, and this becomes the premise of the show. Frye works as an interstellar cargo deliveryman for a mad scientist who is actually his far-removed grandson, even though the frozen Frye is much younger than he is. He also makes best friends with Bender the evil robot, voiced by John DiMaggio, and falls in love with a one-eyed mutant woman. The show is canonical in that characters form relationships and things change, although most episodes follow the typical cartoon formula of a large conflict building to a resolution at the end of the episode. The show also tackles relevant political topics, parodying 21st century issues with 31ist century ones.

Creator: Matt Groening | Time on Air: March 28, 1999 – September 4, 2013 | Voice Stars: Billy West, Katey Sagal, John DiMaggio, Lauren Tom, Phil LaMarr, Tress MacNeille, Maurice LaMarche, David Herman | Channels Aired: Fox (1999–2003), Comedy Central (2008–2013) | Run Time: 22 minutes

Premise: A goofy pizza delivery guy from the year 2000 is accidently frozen on New Years Even and wakes up in 31st century New York, where the story takes place. He works the same occupation in the future, running delivery of cargo to other planets. | Appeals To: sci-fi fans, general humor, political and social commentary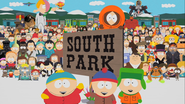 One of the longest running shows of all time, South Park has been on the air since 1997 and it is still going strong. The premise focuses on four young boys, Stan, Kyle, Cartman, and Kenny, who live in the fictional town of South Park, Colorado. They have to deal with the annoying nuances of everyday life, which always reflect the bigger picture with the world at large. The show is largely realistic, but often contains depictions of Satan, Jesus, and other mythical figures walking among the living, and has drawn some serious controversy for their treatment of U.S. politics and religious figures. The show is done in a collage-animation style, and most of the voicing is done by the creators, Trey Parker and Matt Stone. The show started out completely non-canonical, with Kenny being killed each episode and then appearing in the show again the next week, but with the most recent season, they have actually started carrying on jokes and recurring themes.

Creator: Trey Parker, Matt Stone | Time on Air: August 13, 1997 – present | Voice Stars: Trey Parker, Matt Stone, Mary Kay Bergman (1997–1999), Isaac Hayes (1997–2005), Eliza Schneider (1999–2003), Mona Marshall (2000–present), April Stewart (2004–present) | Channels Aired: Comedy Central | Run Time: 22 minutes

Premise: Four young boys growing up in the fictional town of South Park Colorado encounter ridiculous scenarios that mirror issues in the larger world in their everyday lives. | Appeals To: fans of social commentary and political humor, those who love standard cartoons like The Simpsons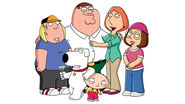 Probably the best known of the adult animation world, Family Guy took TV audiences by storm in 1999 when it first aired. Rhode Island native Seth MacFarlane hit a serious nerve when he introduced this goofy New England family to the viewing world. Each character on the show is distinct and dynamic, from Peter, the father, who is fat and idiotic and his similar son Chris, to Stewie, the evil and demonic baby and Brian, the family dog, who is a failed writer and womanizer. However, despite the overwhelming initial success, the show has received some criticism. Many of the jokes rely on cut scenes where the characters imagine something that happened in the past, in which cases the humor does not relate to the present storyline. The events also don't match up and the characters never develop. Macfarlane has created one other very successful show, American Dad, about a family in the F.B.I., and also a flop, The Cleveland Show which was a spinoff of Family Guy

Creator: Seth MacFarlane | Time on Air: Original run: January 31, 1999 – November 9, 2003 Second run: May 1, 2005 – present | Voice Stars: Seth MacFarlane, Alex Borstein, Seth Green, Mila Kunis, Mike Henry, Patrick Warburton | Channels Aired: Fox, Adult Swim (episode 50), BBC Three (episode 147) | Run Time: 20–23 minutes

Premise: A family in a small Rhode Island town trying to get by and live a middle class lifestyle, but Peter, the dad, is especially dumb, Meg, the daughter is unpopular, Chris, the son, is not very bright either, and Stewie, the baby is diabolically evil. | Appeals To: parody and satire, dark humor, blue humor, plays to the same crowd as The Simpsons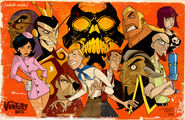 This odd and extremely unique cartoon follows the life of Dr. Venture, a retired "boy adventurer" similar to Johnny Quest who is now a scientist living in a military bunker. He has two sons, Dean and Hank, who have actually died numerous times from horrible accidents, so they are really clones, and the family always has a bodyguard living with them. This show is extremely canonical and actually tells a pretty deep and layered story that has yet to be fully resolved, as the series is still ongoing. However, while this may be the case, it doesn't skimp in the laughs department either. All of the characters are witty and goofy, and there are a ton of odd minor characters, like the cross-dressing Sargent version of Hunter S. Thompson, and Dr. Venture's arch nemesis, a butterfly-themed supervillain called The Monarch and his partner, Dr. Girlfriend. This show does a great job telling a good story, getting more than a few laughs, and parodying old-school action/adventure shows while staying relevant with modern comedy.

Creator: Jackson Publick (Christopher McCulloch), Doc Hammer | Time on Air: Pilot: February 16, 2003, Official: August 7, 2004 – present | Voice Stars: James Urbaniak, Patrick Warburton, Michael Sinterniklaas, Christopher McCulloch, Doc Hammer, Steven Rattazzil, Dana Snyder | Channels Aired: Adult Swim | Run Time: 22-24 minutes

Premise: A retired boy adventured is now a major scientist living in a compound with his two sons and raising them as a single father, only they aren't his original sons, but clones, and they have to live with a bodyguard to keep them safe from international espionage and supervillains. | Appeals To: sci-fi fans, adventure and action fans, those who like a comedy that tells a good story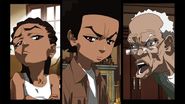 The Boondocks was adapted from a popular comic strip of the same name by creator Aaron McGruder, which explains the anime-inspired feel of the show. The plot focuses on an African-American grandfather, voiced by John Witherspoon, and his two grandsons, Riley and Huey. They are from the inner city in Washington, D.C. but finally got the money together to buy a place in the suburbs. Huey is very politically and socially conscious and all about black rights and solidarity, while Riley couldn't care less and is focused on shallow, material gains and his gangster credibility. The results of this dynamic are as hilarious as they are politically charged, and the show has caught a lot of flack as well as a lot of respect. While it's been censored and protested for having an episode where Martin Luther King says the n-word and for perpetuating stereotypes, it also received the NAACP image award. McGruder's bottom line is to portray the struggles of African Americans with no sugar coating as to any problems he sees within his race, and the result is one of the few adult animations geared towards black people, as well as one of the funniest shows ever.

Creator: Aaron McGruder | Time on Air: November 6, 2005 – June 23, 2014 | Voice Stars: Regina King, John Witherspoon, Cedric Yarbrough, Gary Anthony Williams, Jill Talley, Gabby Soleil | Channels Aired: Adult Swim | Run Time: 22 minutes

Premise: An African American family living in the suburbs of Washington D.C. tries to come to terms with their opposing views. The grandfather has old-school values and questionable morals, young Huey Freeman is reasonable and an advocate for fair treatment and black rights, while Riley, his brother, tries to fit in with the gangster/thug stereotype, to the horror of Huey. | Appeals To: fans of political commentary, dark family humor, one of the few grown-up cartoons geared towards African Americans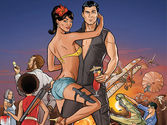 This is one of the more recent animated shows to air; it didn't officially go live until 2010. Archer is a young and attractive spy who loves to drink and womanize, even when it gets in the way of his high-profile secret agent job with ISIS where he works for his mother. The show focuses on character relationships and humor, but it also tells a bigger story about espionage and adventure, all the while parodying the ridiculousness of some aspects surrounding covert operations and homeland security. The humor is dry and a little mean, but H. John Benjamin, the beloved voice actor who also does Bob on Bob's Burgers, drives every line home with his deadpan delivery.

Creator: Adam Reed | Time on Air: Pilot sneak peek: September 17, 2009, Official: January 14, 2010 – present | Voice Stars: H. Jon Benjamin, Judy Greer, Amber Nash, Chris Parnell, Aisha Tyler, Jessica Walter, George Coe, Adam Reed, Lucky Yates | Channels Aired: FX | Run Time: 19–21 minutes

Premise: A son and his mother are part of a spy organization that works behind the scenes to keep American safe, but Archer, the son, is an alcoholic and a womanizer, which gets in the way of his spy work | Appeals To: sci-fi fans, action and adventure fans

This beloved Mike Judge creation was so solid while it lasted, and many of us still can't fully accept that it is gone. It sounds very similar to the other family-centered adult animations: patriarch Hank Hill struggles to sell propane and propane accessories and raise his son and support his wife in a small Texas town. But the very premise of the show is different in that Hill is not a bumbling idiot or a lush like Peter in Family Guy or Homer in The Simpsons – he's a good old-fashioned American with values who is struggling to keep up with the changing times. You love and feel for the family as the show goes on, from Hank's son Bobby's love for the theater that the family struggles to accept, to Hill's niece Luanne's coming of age story. All the humor in the show is centered around love and understanding instead of the harsher black humor of more modern cartoons, and the action unfolds almost like an old Western or a soap opera.

Creator: Mike Judge, Greg Daniels | Time on Air: January 12, 1997 – May 6, 2010 | Voice Stars: Mike Judge, Kathy Najimy, Pamela Segall Adlon, Brittany Murphy, Johnny Hardwick, Stephen Root, Toby Huss | Channels Aired: Fox | Run Time: 21–23 minutes

Premise: A family in Texas learns to get along in a world with modern values that contrast with the simplicity of their patriarch, Hank Hill. He has to deal with his wife and niece being a bit more progressive and liberal and his son liking acting and food more than sports. He also has to try and appease his cranky old war general grandfather. | Appeals To: fans of the sitcom and darker family humor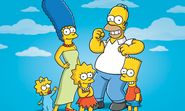 A show that almost needs no introduction, The Simpsons is the longest running animated series of all time, including children's cartoons, and it is also one of the most beloved. None of these other shows would exist without the Simpsons, it's true. This was the first show to make the humor based on a dysfunctional family with issues, and so many of the jokes have become so timeless that they don't even need the context of television anymore. However, the show is in a bit of an odd place because creator Matt Groening has somewhat abandoned it, claiming he no longer has the creative control he wants and he's not very involved with the show anymore, and many feel it has been on the air for too long and Fox won't let it die because they are too keen on the profits it brings. Still, despite all this, the show has good ratings and still does well each season.

Creator: Matt Groening | Time on Air: December 17, 1989 – present | Voice Stars: Dan Castellaneta, Julie Kavner, Nancy Cartwright, Yeardley Smith, Hank Azaria, Harry Shearer | Channels Aired: Fox | Run Time: 21–24 minutes

Premise: A nuclear family consisting of parents, a son and daughter, a baby, and a dog and cat live their day-to-day lives in a generic town called Springfield. The joke is that they are literally nuclear, since the father, Homer, works in a power plant. | Appeals To: cultural humor, political commentary, American humor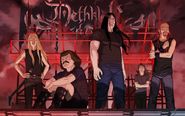 This Adult Swim exclusive is based on the idea that a death metal band – instead of being underground and obscure – have managed to become the most popular media powerhouse in the whole world, and are the seventh largest economy, including developed nations. The ridiculousness of this is to parody how absurd celebrity has become, and how odd this would look if someone besides a blond pop star had this much power and influence. The show is absolutely hilarious, especially if you follow pop culture or are a metal fan and can get some of the more obscure jokes and jabs. There is also a dark subplot where an evil group is trying to take control of the world, and the fictional band from the show, Deathklock, have actually morphed into a real musical project that tours and puts out albums. The show relies on incredibly dark and gory humor mixed with almost slapstick comedy, and is definitely an acquired taste, but for those who can relate to the cultural elements portrayed, it was a long time coming.

Creator: Brendon Small, Tommy Blacha | Time on Air: August 6, 2006 – present | Voice Stars: Brendon Small, Tommy Blacha, Mark Hamill, Victor Brandt, Malcolm McDowell | Channels Aired: Adult Swim | Run Time: 11 minutes (2006–2008; 2012–present), 21 minutes (2009–2010)

Premise: A death metal band, instead of being underground and not very well-known, is one of the largest economies in the world and more successful than any pop star. There is also a backstory about an illuminati-like plot to take over the world. | Appeals To: metal fan inside-jokes, pop culture humor, political satire
10
Aqua Teen Hunger Force
Aqua Teen is by far one of the strangest shows on TV, on any channel. A milkshake, an order of fries, and a wad of uncooked meat live in a house together in New Jersey, where they have a neighbor they ignore and get into fights over typical roommate issues. However, they are also superheroes who have powers and are sometimes called to fight evil aliens and other invaders. The show has gone by several names now, and the writing is very surreal; the show can take odd turns and veer off at strange moments, leaving the viewers asking what exactly happened. This show is pretty edgy and probably won't appeal to everyone who likes Family Guy or South Park, but for those more open to odd humor, it can be a real treat.

Creator: Dave Willis, Matt Maiellaro | Time on Air: Episode 1 sneak peek: December 30, 2000, Official: September 9, 2001 – present | Voice Stars: Dana Snyder, Carey Means, Dave Willis, Matt Maiellaro, George Lowe, C. Martin Croker | Channels Aired: Adult Swim | Run Time: 11-12 minutes

Premise: A milkshake, an order of fries, and a wad of uncooked meat live together in a house in New Jersey. Beyond that, not much is clear and the plot changes often. It is never really certain if these characters are superheroes or if they just have delusions of grandeur, although they do interact with aliens and one of them has powers. | Appeals To: fans of the dark and surreal, those with an odd sense of humor
GOAT Staff Score - Adult Cartoon
The candidates have been assigned a raw score across a range of criteria. The raw scores have been weighted to reflect the impact that each individual criterion has on the 'Final GOAT Score'. Only weighted scores are displayed in this table. -->TURN DEVICE SIDEWAYS TO VIEW ON MOBILE-->
| | Overall Humor (20%) | Story (20%) | Social Commentary (20%) | Animation Style (15%) | Cast (15%) | Cultural Appeal (10%) | Raw Score | GOAT Score |
| --- | --- | --- | --- | --- | --- | --- | --- | --- |
| Futurama | 8 | 7 | 8 | 7 | 7 | 8 | 45 | 750 |
| South Park | 5 | 5 | 9 | 9 | 5 | 6 | 39 | 650 |
| Family Guy | 7 | 9 | 3 | 8 | 3 | 10 | 40 | 645 |
| The Venture Bros. | 2 | 10 | 7 | 10 | 1 | 7 | 37 | 615 |
| The Boondocks | 10 | 2 | 10 | 5 | 2 | 4 | 33 | 585 |
| Archer | 1 | 8 | 6 | 2 | 10 | 5 | 32 | 530 |
| King of the Hill | 4 | 6 | 5 | 3 | 9 | 3 | 30 | 510 |
| The Simpsons | 6 | 3 | 4 | 6 | 6 | 2 | 27 | 460 |
| Metalocalypse | 9 | 1 | 2 | 4 | 8 | 1 | 25 | 430 |
| Aqua Teen Hunger Force | 3 | 4 | 1 | 1 | 4 | 9 | 22 | 325 |
GOAT Verdict:
The greatest adult cartoon show of all time, according to TheGOATSeries.com is Futurama. This cartoon has it all when it comes to story, laughs, and relatability to real life. The show is undoubtedly funny, pulling from Matt Groening's seemingly endless storehouse of humorous situations, and striking a perfect balance between edgy/shocking and safe/fun. It's also a really great science fiction story, pulling from some awesome tropes, containing some really deep episodes as well as goofy ones, and actually advancing the story as far as relationships between characters and overall achievements. On top of all that, it also provides relevant parody, managing to touch on several sci-fi and literature references each episode while also including political commentary. By far, this is the best and most effective animated series targeting an adult audience we've ever seen.