Who is the greatest action movie hero of all time?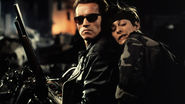 Nothing could be more perfect for an action film than a walking, talking, gun-toting machine. Model 101, better known as The Terminator, is one of the only non-human action heroes to become accepted into the folds of pop culture. In fact, he's one of the only non-organic heroes, as well. Model 101 was initially sent back in time to kill John Connor, but in his best known role – as seen as The Terminator 2 – he serves as the reprogrammed protector of John and Sarah Connor, as well as one of the most stone-faced heroes to ever grace the genre. Model 101 survives numerous explosions, impalement by an advanced prototype, and being crushed multiple times, all while retaining his neutral expression and testosterone-fueled voice. In spite of his character being an emotionless machine, Model 101 is arguably the role that Arnold Schwarzenegger was born to play.

Most Recognizable Film Appearance: Terminator 2: Judgment Day | Played By: Arnold Schwarzenegger | Year of Release: 1991 | Director: James Cameron | Box Office Gross: $519.8 million

Defining Trait: Performing evasive maneuvers and shooting from a motorcycle without making facial expressions | Main Enemy: T-1000 Model | Most Memorable Action: Offering a final thumbs-up while descending into a pit of molten metal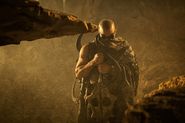 Vin Diesel's role in the action film genre has shifted numerous times throughout the years, with some of his most memorable roles found in The Fast and the Furious and xXx. Pitch Black, however, introduced Vin Diesel as an otherworldly warrior known as Riddick. Aside from being constantly hunted and possessing eyes that glowed in the dark, Riddick presented himself with a gravelly voice, a merciless combat style, and a fearless attitude that helped him to survive among convicts and subterranean creatures alike. In subsequent films, Riddick's role was expanded and altered, but his core personality – defined by violence, speed, and survivability – changed remarkably little. Calling him a hero may be questionable, but in the eyes of the survivors that he helped to escape a doomed desert world, the title is well-earned.

Most Recognizable Film Appearance: Pitch Black | Played By: Vin Diesel | Year of Release: 2000 | Director: David Twohy | Box Office Gross: $53.1 million

Defining Trait: Luminous white eyes that grant nocturnal vision | Main Enemy: Winged, darkness-dwelling aliens | Most Memorable Action: Killing a fellow inmate using only a tea cup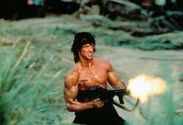 Sylvester Stallone's shirtless warrior, Rambo, is a perfect combination of 1980s action tropes. Characterized by his shirtless, muscular appearance and an omnipresent headband, Rambo is a compelling character because of his origins and the way in which he views combat. As the series' first film title implies, Rambo's motivation to fight back in First Blood comes from his wounding at the hands of a cruel police officer. His motives in the original film may not revolve around stopping a global threat or taking down a terrorist cell, but his methods rival that of any Navy SEAL operator, highlighting his skill with everything from a bow and arrow to a belt-fed machine gun. Rambo may be the ultimate example of a mindless, loud action film, but there's a sense of beauty in its purity.

Most Recognizable Film Appearance: First Blood | Played By: Sylvester Stallone | Year of Release: 1982 | Director: Ted Kotcheff | Box Office Gross: $125.2 million

Defining Trait: Outshooting a marksman in a helicopter using his bow and arrow | Main Enemy: National Guard and State Police forces | Most Memorable Action: Cauterizing an open wound using gunpowder
4
Batman (Christian Bale version)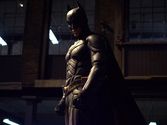 Although Christian Bale's Batman may be the target of jokes because of the character's extreme voice, there's no denying the intimidation factor and intensity in Christopher Nolan's vision of the superhero. Marked by an impressively-designed suit of armor, a high-tech spin on Batman's loadout and capabilities, and a brutal combat style that returned Batman to his nocturnal hunting origins, there are very few aspects of Christian Bale's character that don't belong in an action film. This incarnation of Batman is well-suited to a Gotham riddled by crime syndicates and violence, where an array of hand-to-hand combat techniques mesh with lightning-fast strikes from the darkness itself. Older generations of the Batman character may have played up his origins and commitment to justice, but Christian Bale's Batman embodies the fearsome (and action-oriented) side of the caped crusader.

Most Recognizable Film Appearance: The Dark Knight | Played By: Christian Bale | Year of Release: 2008 | Director: Christopher Nolan | Box Office Gross: $1.05 billion

Defining Trait: Speaking in a raspy and hoarse voice | Main Enemy: The Joker | Most Memorable Action: Preventing Ra's al Ghul's runaway train from detonating within Gotham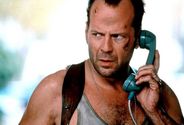 When Die Hard was first released, it didn't break many molds in regards to the action genre. Bruce Willis's character, John McClane, was the standard detective with a martial problem and a cynical view of the world. But once the firing broke out in Nakatomi Plaza and McClane's outer shirt came off, his true personality shined through. Full of wit, dry humor, and the shooting skills of a well-trained police officer, McClane represents the everyman with a dose of courage and world-weariness. In subsequent films, Willis played the role with an increasing dose of sardonic commentary, as well as a constant focus on McClane's aging in relation to his back-breaking stunts. John McClane is not the action hero forged in the fires of special operations combat; he's the action hero born from one extremely bad day in Nakatomi Plaza.

Most Recognizable Film Appearance: Die Hard | Played By: Bruce Willis | Year of Release: 1998 | Director: John McTiernan | Box Office Gross: $140.7 million

Defining Trait: Fighting through a terrorist-held building with a white tanktop and shoulder holster | Main Enemy: Hans Gruber's terrorist operatives | Most Memorable Action: Declaring he has new weapons by painting the message onto the corpse of a henchman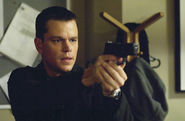 Finding a bank number tattooed on your neck is the start of a promising thriller, but this premise also sets off one of the most adrenaline-filled and clever action films in existence. The Bourne Identity was the beginning of Jason Bourne's path to uncovering his origins and evading mysterious pursuers, but Bourne's top-notch fighting abilities and masterful firearm usage immediately ramped up the thrills and cut out the monotony of the standard origin tale. Jason Bourne's proficiency in self-defense, vehicular evasion, and international navigation are just a few of the things that propel him into the upper tier of action movie heroes. While most heroes rely on their muscles and a pair of sunglasses to define their character, Bourne profits from a life of avoiding attention, and using his low profile to seize his next opportunity.

Most Recognizable Film Appearance: The Bourne Identity | Played By: Matt Damon | Year of Release: 2002 | Director: Doug Liman | Box Office Gross: $214 million

Defining Trait: Able to turn anything from a pen to a leather-bound book into a melee weapon | Main Enemy: Operation Treadstone agents | Most Memorable Action: Disarming and incapacitating 2 members of the Zurich Police after being roused from sleep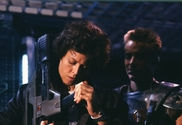 With a cat on one shoulder and an alien-shredding pulse in her hands, Ellen Ripley became one of the most recognizable and unabashedly rugged women in the action genre. Her initial appearance in Ridley Scott's Alien presented her as a capable and no-nonsense crew member onboard the Nostromo, and after a few pulse-pounding hours with the xenomorph specimen, she emerged as the lone survivor. Subsequent films added to the iconic value and survival prowess of Ripley, pitting her against everything from a human-alien hybrid to a queen alien (which she battled in a powered exo-suit, no less). Ripley's hardened exterior and terse dialogue offers no apologies for her social skills, which carries a no-nonsense edge that could rival or surpass any contemporary action hero. She may not be the most intimidating action hero to grace the screen, but she's certainly one of the toughest.

Most Recognizable Film Appearance: Alien | Played By: Sigourney Weaver | Year of Release: 1986 | Director: James Cameron | Box Office Gross: $180 million

Defining Trait: Ability to wield a pulse-rifle | Main Enemy: Xenomorphs | Most Memorable Action: Blasting a queen alien into outer space with the use of an airlock
8
James Bond (Sean Connery version)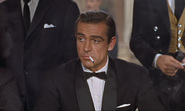 The unrivaled master of suaveness and style under fire is Bond – James Bond. Starring in countless films and played by a staggering number of actors, this English spy has more than proven himself as a veteran of both espionage and action films. Sean Connery's Bond, in particular, is the epitome of staying cool and collected while on duty. Whether in a skiing gun battle, the clutches of a mastermind's laser contraption, or beside a "Bond girl" in a Shanghai pub, Bond serves as a paragon of the genre, and makes as much use of his martial arts prowess as his endless list of gadgets. Connery's version of Bond is arguably the most charming and confident agent of the series, marked by the distinctive accent and smirk that spelled doom for any domination-seeking villain or his henchmen.

Most Recognizable Film Appearance: Dr. No | Played By: Sean Connery | Year of Release: 1962 | Director: Terence Young | Box Office Gross: $59.5 million

Defining Trait: Taking martinis shaken, not stirred | Main Enemy: Dr. Julius No, among other masterminds | Most Memorable Action: Escaping from a vertically-encroaching laser beam
Nobody who grew up in the age of Bruce Lee could ignore the tremendous talent and dedication of the martial arts legend. Responsible for bringing martial arts to the masses and capturing the fury of his craft on film, Bruce Lee's skill set made him the ideal choice for a character based around martial arts perfection. Lee, the protagonist of Enter the Dragon, took on an illegal brothel operation with little more than his feet and his fists, and won. The result is a fast-moving, harder-hitting warrior with a body as sharp and toned as his combat maneuvers, as well as one of the best hand-to-hand action heroes of all time. In recent years, action films – particularly from Asia – have harkened back to Lee and his swift, unarmed method of fighting.

Most Recognizable Film Appearance: Enter the Dragon | Played By: Bruce Lee | Year of Release: 1973 | Director: Robert Clouse | Box Office Gross: $25 million

Defining Trait: Dispatching multiple opponents without any weapons (or a shirt) | Main Enemy: Mr. Han and his henchmen | Most Memorable Action: Defeating Mr. Han in a hall of dizzying mirrors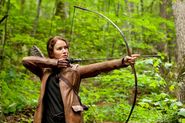 Young adult fiction is generally not cited as the birthplace of memorable action heroes, primarily because it has a tendency to gloss over some of the action genre's hallmark violence. The Hunger Games is a rare exception in this regard, since it's both comfortable and willing to portray the violence of its titular arena competition. Katniss Everdeen, the young underdog from an impoverished district of society, quickly rose to action hero fame with her skillful bow shots and resourcefulness on the battlefield. Despite competing with fellow competitors who could kill her without mercy, Katniss Everdeen's policy in battle was one of magnanimity and, in some cases, mercy. Rather than succumbing to the kill-or-be-killed nature of the games, her focus remained on the true enemy: those who had orchestrated the competition. Considering Katniss's unique blend of combat and compassion, it's no wonder she's a leader among action heroes.

Most Recognizable Film Appearance: The Hunger Games | Played By: Jennifer Lawrence | Year of Release: 2012 | Director: Gary Ross | Box Office Gross: $691.2 million

Defining Trait: Extreme marksmanship with a bow | Main Enemy: Fellow district-born competitors in the annual Hunger Games | Most Memorable Action: Using an arrow to detonate a ring of mines around an enemy encampment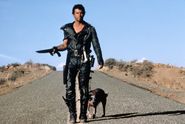 Something about a supercharged police cruiser, a crop of loosely-shaven facial hair, and a fully loaded shotgun just feels right in an action movie. Max Rockatansky, better known as Mad Max, was the prevailing enforcer of law and order in a post-apocalyptic Australia. Mel Gibson's character was a force to be reckoned with, policing the wasteland in a mix of death-defying car handling, visceral shootouts, and harsh but necessary judgment. In the original film's sequel, The Road Warrior, Max took on a band of water-seeking barbarians, and managed to pack a shocking amount of explosions, one-liners, and stunt crashes into just 96 minutes. Mel Gibson's legendary and gruff performance helped to solidify Mad Max as a wanderer, a warrior, and one of the genre's greatest heroes.

Most Recognizable Film Appearance: Mad Max | Played By: Mel Gibson | Year of Release: 1979 | Director: George Miller | Box Office Gross: $99.7 million AUD

Defining Trait: Patrolling with a sawed-off shotgun and black leather uniform | Main Enemy: Nightrider's motorcycle gang | Most Memorable Action: Forcing an enemy gang leader's vehicle into an oncoming truck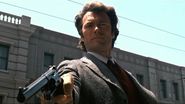 Asking somebody if they feel lucky has never been – and will never be – as cool as Clint Eastwood's rendition of the question. Harry Callahan, the leading character of the Dirty Harry series, is one of the most hard-boiled detectives ever put to film, and practically oozes with concentrated grit. The first film in the series, appropriately titled Dirty Harry, saw Callahan hunting the killer known as Scorpio. Nothing was off the proverbial table, including torture or a shoot-out chase through a crowded area, and Callahan's drive to take down the killer couldn't be dampened by bullet wounds or a leg full of shotgun pellets. Dirty Harry single-handedly popularized the revolver for a modern audience, and tossed "punk" back into the pop culture lexicon for decades to come.

Most Recognizable Film Appearance: Dirty Harry | Played By: Clint Eastwood | Year of Release: 1971 | Director: Don Siegel | Box Office Gross: $35.9 million

Defining Trait: Carrying a Smith & Wesson Model 29 revolver | Main Enemy: The serial killer Scorpio | Most Memorable Action: Tempting a suspect to find out how many rounds were left in his revolver
GOAT Staff Score - Action Movie Hero
The candidates have been assigned a raw score across a range of criteria. The raw scores have been weighted to reflect the impact that each individual criterion has on the 'Final GOAT Score'. Only weighted scores are displayed in this table. -->TURN DEVICE SIDEWAYS TO VIEW ON MOBILE-->
| | Fighting Ability (30%) | Charisma (20%) | Weapon Handling (20%) | Durability (15%) | Pop Culture Legacy (15%) | Raw Score | Final GOAT Score |
| --- | --- | --- | --- | --- | --- | --- | --- |
| Model 101 | 12 | 5 | 8 | 12 | 9 | 46 | 935 |
| Riddick | 9 | 9 | 11 | 5 | 2 | 36 | 775 |
| John Rambo | 6 | 1 | 12 | 11 | 11 | 41 | 770 |
| Batman | 10 | 6 | 4 | 10 | 7 | 37 | 755 |
| John McClane | 5 | 11 | 10 | 4 | 8 | 38 | 750 |
| Jason Bourne | 11 | 3 | 9 | 7 | 3 | 33 | 720 |
| Ellen Ripley | 8 | 7 | 7 | 6 | 6 | 34 | 700 |
| James Bond | 2 | 12 | 5 | 3 | 12 | 34 | 625 |
| Lee | 7 | 4 | 1 | 8 | 10 | 30 | 580 |
| Katniss Everdeen | 3 | 10 | 6 | 9 | 1 | 29 | 560 |
| Max Rockatansky | 4 | 2 | 3 | 2 | 5 | 16 | 325 |
| Harry Callahan | 1 | 8 | 2 | 1 | 4 | 16 | 305 |
GOAT Verdict:
There's little to be said about Model 101 that cannot be gleaned from simply looking at him. Arnold Schwarzenegger's chiseled face and shades-concealed eyes provided the perfect humanoid appearance to The Terminator, allowing the audience to connect with the machine despite the menacing skeleton beneath. Model 101's immortal one-liners, whether in the original (where he played the villain) or the subsequent sequels, were just one of the things that resonated strongly throughout the film. Model 101 represents the ultimate form of strength, durability, and detached coolness in the action movie genre, and his atypical personality – a slow and fumbling attempt to connect with humans – makes for one of the most enjoyable action heroes in years. Of course, Model 101 also has the added benefit of being a manifestation of redemption, since his reprogrammed mission objectives and eventual friendship with John Connor lead him to garner as much humanity as sympathy. Model 101 has it all: an ultra-strong metal frame, a mind built for shooting and destroying, a deadpan comedic delivery, and the honor of being the greatest action movie hero of all time.